The Spectre 13 is certainly attractive.
With a ceramic white finish and pale gold detailing, it stands out immediately. Read our HP Spectre 13 Review.
Compared with the rather masculine black and metallic surfaces featured on most portable PCs, it may take of getting used to, but if anything it looks even more expensive than it is.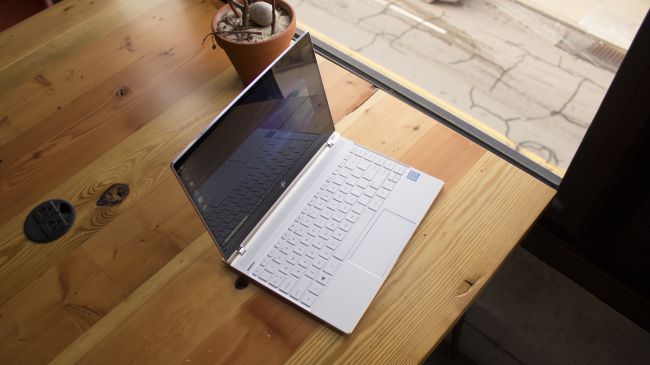 And what's inside does justify the price tag.
There is no 'entry-level' Spectre 13 – this configuration is as cheap as it gets, and includes Intel's latest i7-8550U quad-core processor, one of the fastest chips you're likely to see in a laptop and a lot more powerful than last year's.
Eye-catching design, smooth performance and a punchy screen
There's still a big gap between the performance levels of processors in modern desktop PCs and laptops.
In our tests, this machine struggled to match the likes of the i3-8100 (see opposite page).
Even so, it's enough to keep Windows 10 rattling along and make jobs like photo editing perfectly possible.
There's no separate graphics card, but the integrated UHD Graphics 620 GPU will run most 3D games smoothly if you turn down the resolution and detail, even if the skinny
Spectre gets rather warm while doing so.
How skinny? Well, it's 10 per cent thinner and lighter than the Dell XPS 13, which currently costs £ more with the same processor but half the storage.
Impressed yet?
You can get cheaper versions of the XPS 13, but only if you make do with Full HD rather than a 4K touchscreen.
HP includes that as standard, and this panel covered nearly 96 per cent of the sRGB range in our tests, which is good, even if the likes of Apple's Retina Display can tempt graphics pros with a wider colour range and greater accuracy.
For the rest of us, the Spectre's screen is bright and punchy and is actually slightly sharper.
Excellent Bang & Olufsen-branded speakers complete the audio-visuals, and for more mundane tasks the keyboard is superb, with enough travel and feedback to ensure you can type at full speed.
You might be wondering where this near-ideal laptop dropped a star.
Well, it may be slimmer than the competition but it only lasts half as long. In our video-playback test, the battery gave up just before the five-hour mark.
That may not put everyone off, but it's a significant flaw.
VERDICT:
Best price
HP Spectre 13 (2018) Review
It's a shame about the battery life, but this is a very capable laptop in a beautifully compact format with few other flaws
Add your review
MORE DEALS

See also THE COMPLETE GUIDE TO…OLED laptops
ALTERNATIVE:
With a similar configuration but half the SSD capacity, this runs slightly faster and lasts 10 hours
SPECIFICATIONS
1.8GHz Intel Core i7-8550U processor • 8GB memory • 512GB SSD • 13.3in 3840×2160-pixel touchscreen • Webcam • 802.11ac Wi-Fi • USB 3.1 port • USB 3.1 Type-C port • 2x Type-C Thunderbolt 3 ports • USB Type-A adapter • HDMI adapter • Windows 10 • 10.4x308x224mm (HxWxD) • 1.11kg