Asus ROG Strix GL702ZC – Bucking the usual trend for gaming laptops to be based on Intel CPUs and Nvidia GPUs, Asus' ROG Strix GL702ZC has an all-AMD core spec. It doesn't use the latest 2nd Gen Ryzen silicon, but it does have an 8-core Ryzen 7 1700 at its disposal, along with a Radeon RX 580 GPU. Asus intends this system to be used for multimedia and creative tools as well as gaming. To that end, this 3GHz CPU has eight cores and 16 threads via SMT, and it can hit a turbo peak of 3.7GHz.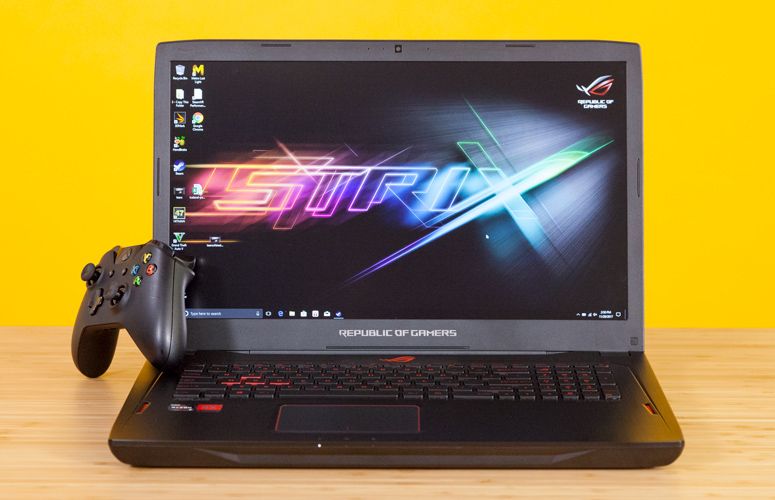 The 1700 supports twice as many threads as Intel's Core i7-7700HQ, which is used in most gaming laptops, although it has a quicker turbo peak of 4GHz. Meanwhile, the Radeon RX 580 has 2,304 stream processors, 4GB of memory and Asus has reduced the clock speed from 1257MHz to 1077MHz, so it doesn't overheat in the laptop.
The rest of this Strix laptop's specification is more in tune with mobile sensibilities. There's 16GB of DDR4 memory, a 256GB SSD and a 1TB hard disk. Disappointingly, though, the memory is single-channel.
The components are all installed inside a typical Asus Strix design: you'll find logos, dramatic slashes and plenty of air vents. The keyboard has a red backlight, and there's a crimson ring around the touchpad.
Build quality is mixed. The screen feels a little flimsy, and there's a bit of bounce around the trackpad. The base is stronger, but the similarly priced, Intel-based Dell Inspiron 15 7000 Gaming was sturdier in all departments, while also being nearly a centimetre slimmer and 0.5kg lighter.
The Asus' extra size doesn't mean easy internal access or more ports either. Asus says it's possible to get inside this machine, but we couldn't get the base to budge. External connections are fine, though, with three USB 3 ports, a USB 3.1 Type-C socket, plus HDMI and mini-DisplayPort outputs.
The Dell didn't have DisplayPort, but it was possible to remove the base panel by taking out a single screw. On the plus side, the Asus' keyboard is fine. The buttons have 1.6mm of travel, which is 0.2mm more than the Dell, and the buttons have a firm, consistent and rapid action – mechanical units still rule the roost, but this is one of the better membrane laptop keyboards we've used.
The key action is surprisingly quiet too, and the base is sturdy. They're paired with a smooth touchpad and a couple of buttons that are shallow and snappy. Our only complaints with the keyboard are that the cursor and number keys are slimmed down,
It has a Ryzen 7 1700 CPU, along with a Radeon RX 580 GPU
and the power button is on the keyboard itself. Also, while the backlight is adjustable, the LEDs aren't RGB.
Performance
The Ryzen 7 1700's extra cores gave it an advantage in multithreaded tests. Its video encoding result is miles ahead of the Dell's i7-7700HQ, which bodes well for heavily multithreaded productivity software, However, the Ryzen's lesser single-core speed saw it falter. The Asus scored 28,956 in image editing – but the Dell managed 36,280. Another disappointment is the Kingston SATA SSD, which returned disappointing read and write speeds of 441MB/sec and 405MB/sec, much slower than the latest NVMe drives.
Meanwhile, the desktop-class Radeon RX 580 GPU is fine for gaming at the laptop's native 1080p resolution too, with minimums over 40 fps in both Fallout 4 and The Witcher 3. The 29fps minimum in Deus Ex: Mankind Divided is only borderline playable, but a little tweaking in the graphics settings will sort it out. There were only minor differences between the Asus and the aforementioned Dell, with its GeForce GTX 1060 Max-Q graphics system.
That said, while the Asus can play games at1080p, you'll struggle to get some games running consistently at 60fps to take advantage of the screen's 60Hz FreeSync. The IPS screen stretches its 1080p resolution across a 17.3in diagonal too, which is great. Its brightness level of 391 cd/m2 is huge, and the black level of 0.34cd/m2 is fine.
The former figure is better than the Dell, while the latter is worse, so while the Asus may seem punchier, the Dell will prove more adept with dark shades. The Asus' contrast level of 1,150:1 is great too, and not far off the Dell's screen. It maintains those levels well too; its backlight uniformity only varied by around 7 per cent, which is excellent. Colour results are mixed. The Asus' delta E of 8.4 is average, and its colour temperature of 7,688K is cooler than the Dell. However, the Asus rendered 83,7 per cent of the sRGB gamut – miles more than the Dell's 56.7 per cent. All in all, the Asus has a decent screen, especially for a laptop of this price.
SPECIFICATIONS
CPU 3GHz AMD Ryzen 7 1700
Memory 16GB 2400MHz DDR4
Graphics AMD Radeon RX 580 4GB
Screen size 17.3in 1,920 x 1,080 IPS FreeSync 60Hz
Storage 256GB SanDisk SD8SN8U256G-1002 SSD, 1TB hard disk
Weight 3 kg
Ports 3 x USB 3,1 x USB 3.1 Type-C. 1 x audio jack, HDMI, mini-DisplayPort, SD card reader
Networking Dual-band 80211ac Wi-Fi
Dimensions (mm) 415 x 280 x 34 (W x D x H)
Operating system Windows 10 Home 64-bit
Warranty One year parts and labour return to base
The speakers are surprisingly punchy as well, with loads of volume and bass, despite the lack of a subwoofer. The bass masks the top end a little, which makes audio sound a little muddy, but they're otherwise fine. We can't say the same for the battery though. The Asus lasted for 50 minutes in a gaming test and an hour in an application benchmark. That's less than half the longevity of the Dell, but it's not surprising when the Asus uses desktop components.
This machine isn't a good thermal performer either. The CPU and GPU idle delta Ts of 25'C and 27'C are high, and those figures rose to 47'C and 57'C when gaming. In a full- system test, the CPU delta T topped out at 71'C with the GPU running 8'C cooler. Those figures are too high for comfort, but at least no heat made its way to the outside. The big issue is noise. The Asus was louder than the Dell in a gaming scenario, and the Strix's noise went up another notch in a full-system test. The GL702ZC sounds louder than almost any other laptop we've tested recently, like a throwback to older gaming laptops. Even the wrist rest vibrated as the fans spun up.
If you're running this machine at full pelt, you'll struggle to drown the noise out with speakers or a headset. Throttling was evident too, with the CPU's cores jumping between 1.5GHz and 3.2GHz. None of that's a surprise when the Ryzen 7 1700's TDP of 65W is 20W higher than Intel's mobile CPUs, but it shows the downside of using AMD desktop components in a laptop.
Conclusion
The Asus ROG Strix GL702ZC's desktop processor may deliver great multi-threaded performance, but this power- hungry CPU, as well as the desktop Radeon RX 580 GPU, also contribute excessive heat and noise.
The Asus also looks lumbering when compared with the Dell, which offers comparable gaming pace and single- threaded speed in a slimmer, lighter, quieter and more accessible design. It's great to see some new ideas in the gaming laptop arena, but right now you're better off settling for a laptop with a mobile Intel CPU.
MIKE JENNINGS
VERDICT
The use of desktop components proves problematic in several areas, while offering little advantage in terms of performance.