Quadral Platinum M40 – Last time we saw a Quadral speaker, it walked off with the laurels, but can this technical tower do the same?
If any loudspeaker in this group looks as if it means business it's this one. It certainly isn't the largest here, but with its exposed, overtly hi-tech flavored drivers the overall appearance has a slightly intimidating vibe that contrasts perfectly with the remarkably inert, hand-polished black piano gloss enclosures.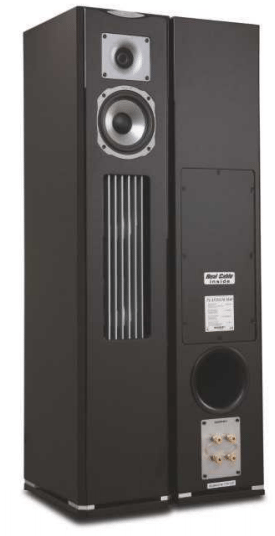 See also:
A true four-driver, three-way, bass-reflex design, the M40 pairs its 135mm aluminium-coned midrange driver with two 170mm aluminium-coned bass drivers. These are the ones behind bars mounted into a separate tuned pressure chamber – an enhanced form of reflex loading -with the aim of creating a more controlled, harder-hitting bass response. The interestingly named RiCom V ring radiator tweeter, which is said to have taken two years to develop, has a phase 'pin', a tuned rear transmission chamber and an annular diaphragm of titanium. Quadral claims that this produces character-free treble output with broad dispersion.
The quoted system frequency extremes are comfortably the widest of the group, the 28Hz lower limit being just 2Hz shy of the GoldenEar Triton Five, while the 50kHz frequency ceiling is way up in the ultrasonic region. High-quality 'Real Cable' internal wiring is used throughout and the bi-wireable binding posts are very nicely engineered.
Quadral Platinum M40: Sound quality
Somewhat contrary to expectations, the M40 is very much the character speaker of the group and just a little bit 'Marmite'. This has nothing to do with any glaring colourations. On the contrary, its overall clarity and powers of resolution are remarkable. That extraordinary quoted bandwidth spec seems well justified in practice, too. The M40 goes very low with power and control and the top end is as clean as a whistle. What sets it apart is what happens in the middle, that seems to be a function of its voicing.
There are a few mid-forward speakers in this group, but none has what Td call a mid 'bubble', a strong tendency to over-project in the presence region. As a consequence, Van's voice is fabulously intelligible but it's almost as though he's sitting in your lap. Also, while the opening massed strings on Memory Lane are crisp and clear, they also sound a bit steely and lack warmth.
With the otherwise hugely entertaining Yes track, Jon Anderson's vocal sounds positively disembodied. Yes, it's taut and propulsive but relentlessly on the front foot and in your face. Again, I get the impression it's voiced to sound immediate and exciting more than natural.
Everything seems just a little too fat and shiny and close to be true. So in body and tone Oscar Peterson's piano sounds lovely, but the notes aren't locked down, they're floating above the speakers in that 'plus 10 percent' presence bubble.
Quadral Platinum M40: WHO IS QUADRAL?
Established at the end of the seventies, Quadral rapidly rose to prominence largely thanks to the attention-grabbing Titan, a monster transmission-line design combining thunderous bass with the charms of a ribbon tweeter. It was conceived by Helmut Schaper as a benchmark for all comers and to remain a high-end flagship with key technologies trickling down the range.
Chief development engineer Berndt Stark joined in 1998 and was keen to promote new technologies like the pressure chamber reflex principle, as well as Quadral ALTIMA membranes and RiCom tweeters. He also favours cabinets that blend in as part of the furniture without compromising the company's traditional sonic aspirations, described as "neutrality of sound, balance and richness of detail, harmony with all types of music systems, above-average clarity and party exuberance".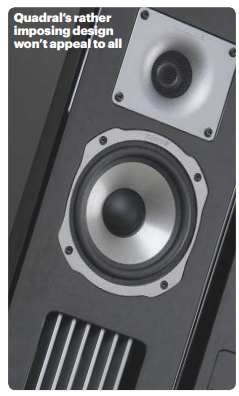 Quadral Platinum M40: OUR VERDICT
PROS:
Tremendous darity with fast propulsive bass
CONS:
Slightly scary appearance; overprojected
WE SAY: A forceful performer not without appeal, but smoother performances are elsewhere in the group
Quadral Platinum M40: DETAILS
PRODUCT
Quadral
Platinum M40
ORIGIN
Germany
TYPE
3-way floorstander
WEIGHT
22kg
DIMENSIONS
(WxHxD)
210 x1,000x 317mm
Quadral Platinum M40: FEATURES
• RrCom-V tweeter
• 135mm aluminium mid driver
• 2x 170mm aluminium bass drivers
• Quoted sensitivity: 89dB/1W/1m (8ohm)