DEVIALET PHANTOM GOLD review – The third member of the Devialet Phantom family is the most extreme and ambitious. David Vivian has never heard anything like it…
A whole new thing". That's what a car magazine colleague called McLaren's P1 hybrid hypercar when he experienced it for the first time.
In fact, so frequently were his usual 'supercar' frames of reference being pulled out of shape or simply blown apart as he drove it round the Yas Marina Grand Prix circuit in Abu Dhabi, he couldn't stop saying it (he was being filmed).
See also:
It would make an apt strap line for Devialet, the Paris-based high-end audio brand. In 2010, it introduced the world to an unprecedented type of analogue-digital hybrid integrated amplifier design that fused Class A purity with efficient, cool-running, compact Class D power and demolished the complacent industry notion that progress only ever happened in incremental baby steps.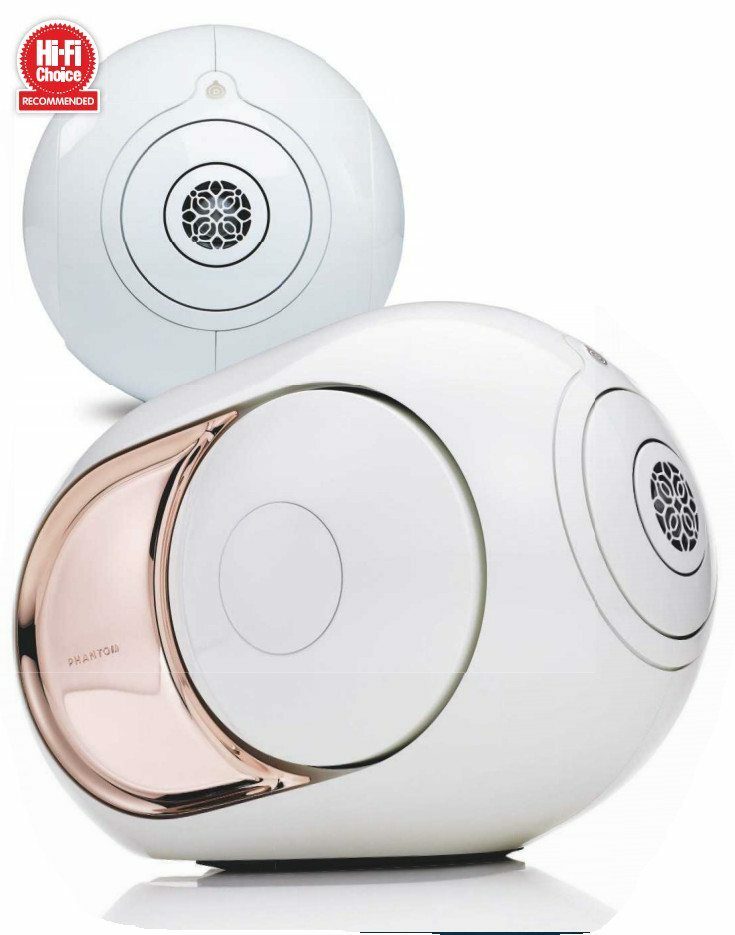 The only system that can damage my hearing, and several internal organs.
The D-Premier – a 240W-per-channel, wall-mountable slab of chromium-plated minimalism with on-board DAC, streamer and phono stage – was a whole new thing that grew into a whole new family (the current Expert range of amps) and set Devialet on the path to becoming the most awarded brand in the history of hi-fi.
But that wouldn't have happened quite so quickly without the company's second model line, arguably even more radical and game changing, and certainly more affordable, than its debut products.
The Devialet Phantom 'Implosive Sound Centre' reimagines the rather sprawling and untidy sub-hi-fi world of networked, wireless, multi-room speakers as a kind of supersonic sound bomb resembling a long exposure photo of a fancy ten pin bowling ball hurtling down the alley with the 'pins', to follow the image through, representing what might previously have been thought of as the opposition, mere seconds from being smashed out of the frame.
And I do mean smashed. Of the many innovative technologies incorporated into the Phantom, arguably the most eye catching are the pumped power stats attributed to the physically shrunken ADH (Analogue Digital Hybrid) amp design lifted from the company's domestic high-flyers rated at 750W for the Phantom, 3,000W for the Silver Phantom (HFC400) and a barely believable 4,500W for the Gold Phantom tested here.
Better make that 9,000W of peak power as I've got two, which with the help of the Dialog wi-fi sharing center, I will run in stereo in my modestly sized listening room.
The Silver Phantoms proved to be every rounded centimeter the revolutionary product claimed when we reviewed a pair back in August 2015. It'll be helpful to recap why they are so extraordinary. Don't be fooled by the modest size or the apparent simplicity of the white ABS-skinned capsule form, the Phantom is audio engineering at its most densely packaged. Shoe horned into 12-litre volume is the breakthrough amp tech, a DAC, a wi-fi streamer and the numerous speaker components – all achieved without any internal wiring. There isn't the room for any. And the 11.4kg weight puts to bed any idea that, in common with conventional speakers, the Phantom is full of air.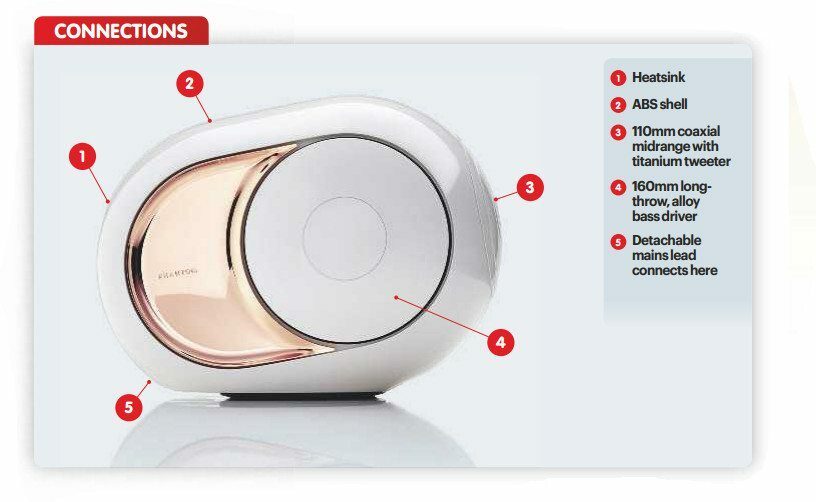 The way it works is rather fabulous and a ground-up physics re-think that took years of R&D and a roomful of smart engineers to figure out. Each Phantom packs four drive units. The 'imploding' drivers that form the 'cheeks' are perhaps more accurately termed exceptionally long-throw, force-cancelling bass units that work in tandem and under far higher pressures than conventional drivers to reach down to a claimed 14Hz in the Gold Phantom, which is knocking on the door of infra bass and the sort of low end usually only achievable with hulking towers or subwoofers. This being the case it has to be particularly rigid and so is made from 0.4mm-thick 5754-grade aluminium rather than more fashionable cone materials that would literally crumble under the pressure. As the drivers do their thing laterally and are self-cancelling, the Phantom itself remains inherently stable (no Newtonian equal and opposite reaction) and essentially vibration free.
DEVIALET PHANTOM GOLD review: Dead clever
Formed from the same type of alloy as the bass drivers, but 0.1mm thinner to reduce moving mass is the powered 110mm curved white midrange ring that surrounds the tweeter in a coaxial arrangement. For the Gold Phantom, the Silver model's 25.4mm aluminium dome is replaced by a superior titanium design, which extends the claimed frequency ceiling from 25 to 27kHz and is similarly recessed behind a fixed metal grille.
Both the tweeter and midrange ring are angled upwards at 11.5° for a better spread of sound.
Going for gold The Gold Phantom also adds an extra 1,500W to the Silver's already 'ample' 3,000W via the same proprietary ADH technology. The approach uses analogue Class A voltage amplification working in parallel with digital Class D current dumpers, weaving the benefits of a Class A delicacy and resolution with Class D drive and muscle. To fit it all in, it has a dedicated ADH chip in which the analogue stages of each core have been miniaturised. The chip also incorporates Devialet's Magic Wire topology. This embeds its own 24-bit/ 192kHz DAC, replacing the Texas Instruments PCM1798 chip from the Silver, but with the same goal to keep noise and distortion to a minimum.
DEVIALET PHANTOM GOLD review: Details
DEVIALET PHANTOM GOLD review
ORIGIN
France
TYPE
Modular wireless music system
WEIGHT
11.4kg
DIMENSIONS
(WxHxD) 253 x 255 x 343 mm
FEATURES
●Claimed: 4,500W ADH amplifier
●Internal DAC and wi-fi streaming up to 24-bit/192kHz
●AptX Bluetooth
●Ethernet and optical inputs
●Configurable for mono or stereo
DISTRIBUTOR
Devialet UK
Upstream, Speaker Active Matching (SAM) processes the audio signal in the digital domain ahead of the DAC and power amp, tailoring it to take into account the real-world characteristics of the drive units and their acoustic load across the volume range. SAM is applied to all of the drivers and not just the bass unit.
Despite its surprising weight and core solidity, some care is needed hefting a Gold Phantom from its box, the best technique being to cradle its underside to avoid pressing what are effectively exposed drivers side and front. The rubber base makes landing on a flat surface – the top plate of my 24in Slate Audio speaker stands – reassuringly secure and wobble free, though more elegant dedicated 'Tree' stands finished in white aluminium or wood-veneered are available from Devialet. Whatever you think of the sci-fiaesthetic (I suspect the gold 'gills' might be a little too garish for some tastes), the Phantom design is splendidly tactile, neat and ergonomically sussed. The curved plate attached to the mains plug that forms a flush contoured surface with the casework when the plug is pushed home (and conceals the Ethernet, optical and USB sockets) is a very nice touch.
Two Phantoms means using the Dialog hub which, both physically and operationally, is a small and simple thing. Once connected to your home router with an Ethernet cable – a titchy one is supplied, which is fine if the router is in your listening room, but a long-run CAT6 installation might be required otherwise – just download Devialet's Spark app to a smart device of your choosing, power up the speakers by pressing the button on the back and await set-up instructions from the app.
Depending on your state of mind at the time, this can be either a mystical experience or teeth-it chingly twee.
It involves a sequence of to-do and move-on events punctuated by a Pope-like laying on of hands (seriously, you have to touch the Phantom's forehead with all five fingers for confirmation) whereupon it makes a hissing sound and puffs out its cheeks. While this is going on, each Phantom emits a series of ambient soundscapes similar to those floating behind Captain Kirk and co after they'd beamed down to a plaster and cardboard planet in the original Stark TrekTV series.
Installation complete – it consumes about three minutes – the software takes care of all your connection and user needs, accessing music libraries from multiple sources, teeing up good-to-go streaming services such as Tidal, Spotify and Deezer – the whole caboodle. By the way, the Dialog can control up to 24 Phantoms across identified zones (up to 12 playing simultaneously), which should be enough for most cribs. Apart from the odd dust with a mirco fibre cloth, it's all very fit and forget, too, the so-called EVO platform automatically installing firmware upgrades as they're signed off by Devialet HQ.
Sound quality As already confirmed when we tested a pair of Silver Phantoms in stereo, there's a mighty sonic talent between the shivering cheeks of this 'future shock' design that, in the right circumstances, can be an unfeasible amount of fun. In any event, I can award the pair of Golds under review several listening room records: highest undistorted sound pressure level (by a country mile), deepest and most powerful bass (less emphatically, but still by a breezy margin), most authentic rendition of a live Emerson, Lake & Palmer recording (thought it would never happen) and the only system that can seriously damage my hearing, and possibly several internal organs, if I play too much ELP at realistic stadium levels (too tempting). Devialet should echo the 'Insane' and 'Ludicrous' acceleration modes of Tesla's electrically powered saloons and, instead of calibrating the Spark app's volume slider with numbers, have a 'Preposterous' setting at the half-way mark.
As a stereo pair, they have an immense soundstage with no obvious sweet spot.
Devialet is right when it talks of an ultra-dense sound with physical impact. Right too about the ultra-low noise floor and complete absence of saturation and distortion. Dynamics are pretty spectacular as well. It all contributes to an unusually physical – I'm tempted to say unique – style of presentation that urges you to seek out your most 'shock and awe' recordings and play them as they've never been heard, and felt, before.
And I say this as someone who appreciates how my resident reference Cyrus CD Xt Signature transport (HFC386), Chord Hugo DAC (HFC386), ATC pre-power (HFC 397) and SCM 40 speakers (HFC389) excel in these areas.
Does this mean the Gold Phantom is the ultimate party speaker? Can't recommend any better, even if you live in the corner of an aircraft hanger. Does it also mean that it doesn't really do soft and subtle? Not at all, though it's doubtful Norah Jones will be at the top of the playlist.
The Gold Phantom's sound is typically crystal clear and clean top to bottom, the dynamic contrasts are largely preserved at sane listening volumes and, as a stereo pair, they throw out an immense soundstage with no obvious sweet spot. Even speech is convincingly portrayed as a few hours of Radio 4 on iPlayer confirm. The 'hi-fi' aspects of the performance are down cold, bomb-proof and complete and utterly unburstable.
And yet, there are things that I miss and, after a long session sampling everything from Grieg to GoGo Penguin, I am left feeling strangely fatigued and yearning for the return of the SCM 40 which, going over the same material, fills in the finer microdynamics, timbral textures and rhythmic nuances that are the true hallmarks of top-drawer hi-fi. I am shocked and awed by the Gold Phantom, but I never feel relaxed in the same way that I do when listening to a large, three-way floorstander.
DEVIALET PHANTOM GOLD review: Conclusion
For ultimate circa £5k sonic dibs, it's a case of close but no cigar. That said, I have huge fun with the Gold Phantom and even experience things that simply shouldn't be possible – not from a compact wireless speaker system at any rate. In that particular arena, the Gold Phantom is nothing short of astonishing and so comes warmly recommended.
PROS:
Rock-concert sound levels and bass in the comfort of your own listening room
CONS:
Not quite the last word in finesse and subtlety