GoldenEar Triton Five review – Bringing solid affordable high-end credentials from the States, here's a floorstander that does things differently
With a slightly wobbly black plastic top end cap and a full length fabric 'sock' concealing who-knows-what underneath, first impressions of this tall, slim design, are none too positive. The who-knows-what bit, however, reads rather well. In effect, the Triton Five is two speakers joined at the belt line. From the waist up, midrange and treble are handled by a brace of 152mm cast-basket mid-bass drivers and GoldenEar's 'High-Velocity Folded Ribbon Tweeter' in a D'Appolito 'MTM' (mid-treble-mid) layout. Below the waist, but firing outwards from the bottom sides of the enclosure are four opposing sub-bass units, two each side. The enclosures have non-paralleled sides, tapering slightly towards the top and a mildly raked baffle – the former countering internal standing waves, the latter offering a degree of driver time alignment. And the wobbly top cap is actually removable, should you wish to whip off the cloth sock and look at the air-moving parts. With a claimed frequency response diving down to 26Hz, that's a lot of air.
Sound quality With a claimed sensitivity of 90dB and a nominal 8ohm impedance, the Triton Five shouldn't be too arduous an amplifier load. Placement requirements are fairly flexible, too, so long as you remember to give those laterally firing bass drivers some breathing space, so don't put them too close to side walls.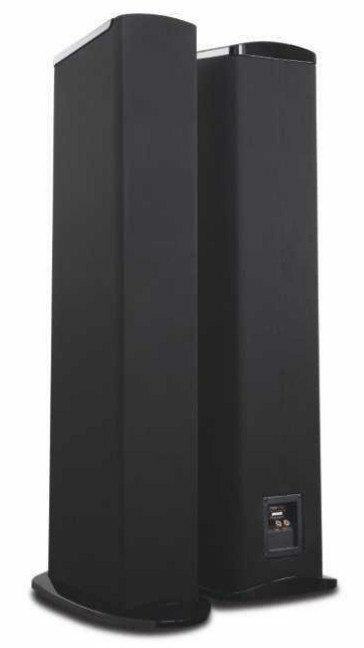 To come straight to the point, the Triton Five sounds massive. There's something quite cinematic about its presentation. The soundstage is huge and, although quite forward, in breadth it seems to extend way beyond the boundaries of the listening room. Van Morrison's vocal is set in a vast and lush soundscape, brimming with delicate detail and the Oscar Peterson ballad is breathtakingly lovely. It does fairly amazing things for the Yes track as well, the opening distorted power chord riffs seemingly emanating from a cavernous, super-reverberant space and immediately nailing a level of drive and drama that never fades.
The Marcus Miller workout is a treat, though it does highlight both its greatest strength and something of a weakness. That 26Hz claim is no wild exaggeration, this speaker really does go low – lower even than the DALI.
And it is pretty well behaved considering how much bass there is – it doesn't excite room modes, for instance. But the Triton Five isn't the tautest or most discriminating low rider. The initial impulse of Miller's distinctive slap style is rounded off, there isn't quite the snap there should be. And the unusual timbre of the plucked gimbri seems a little lost in the wash of low-frequency energy.
So this isn't exactly the king of pace, rhythm and timing. The tweeter is wonderfully open, fast and crisp, but the prodigious bass does have a little trouble keeping up.
GoldenEar Triton Five review: BASEMENT PARTY
The Triton Five features an interesting complement of drive units and the High Velocity Folded Ribbon Tweeter is certainly a highlight. The DALI and Piega have ribbon units too, but no other speaker in the group boasts passive bass radiators, aka Auxiliary Bass Radiators (ABRs). The idea has been around a long time – the popular Celestion Ditton 15 carried one nearly half a century ago, for example – but it's rare to see them on speakers in this price range, especially in doubled pairs.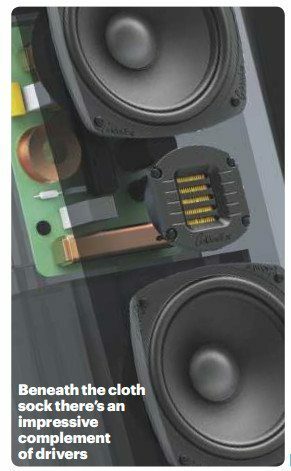 Effectively, they increase the sound radiating area of the bass drivers, taking the low-frequency extension down lower than would otherwise be the case. It gives similar results to transmission line loading in practice, but GoldenEar claims better transient performance and control. These ABRs certainly influence the sound, giving this speaker bass extension that no other in this group can match.
GoldenEar Triton Five Verdict
GoldenEar Triton Five review
Enjoyable floorstander with a great upgrade path
PROS
Panoramic soundstage; bass; fast open tweeter
CONS
Not the crispest timing; needs a brawny amp
Add your review
|
Read reviews and comments
MORE DEALS

GoldenEar Triton Five review: WE SAY
Enjoyable floorstander with a great upgrade path