Editor choice
Jam Rhythm Review: An affordable Wi-Fi speaker
Jam Rhythm Review – Among decent wireless speakers under £200, most are based on Bluetooth and increasing numbers offer multi-room operation (whereby sound from a single source plays to several speakers) ­ all controlled from your phone or tablet.
The Rhythm is at the lower end of the price range, but it also does multi-room, albeit with a smaller range of input options than many rivals. You can use Spotify Connect to stream music from the internet, for example, but you can't use Google Cast to play from your Android device or PC.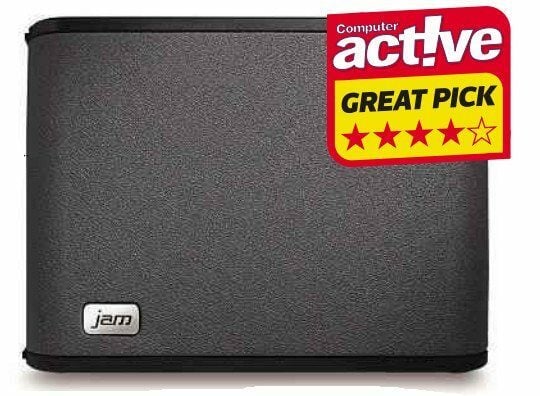 Surprisingly, though, it's based on Wi-Fi rather than Bluetooth, which means it supports Apple AirPlay. If you have an iPhone, iPad or Mac, that gives you theoretically better sound quality. For PCs and other devices AirPlay
is just a slightly more reliable form of wireless, but we found it a bit fiddly to set up, partly because it only works on the 2.4GHz waveband, so if your router is dual band, you need to pick the 2.4GHz option.
With that sorted, the Rhythm is easy to use. There's a standard audio jack input too, for non-digital sources, and from the app the speaker also works as a one-way intercom. The 3.5in woofer and twin 2in speaker drivers put out rich, well-balanced sound, but we found bass fell off rather clumsily, and turning up the volume produced some harshness and distortion. At the moment, when you buy the bigger Symphony speaker, you get a Rhythm for free. That's a bargain.
Jam Rhythm Review: SPECIFICATIONS
3.5in woofer · 2x 2in drivers · Requires computer, phone or tablet with Wi-Fi · Supports Apple AirPlay for macOS and iOS · 156x206x104mm (HxWxD) · 1kg · One-year warranty
Jam Rhythm Review: VERDICT
Sound quality and connectivity are limited, but this is the cheapest way to start a Wi-Fi multi-room system
Jam Rhythm Review: ALTERNATIVE
Philips Izzy BM5
This tidy five-watt speaker, in black or white, is another affordable multi-room option
Was this article helpful?
Built-in Amazon Alexa Control. Use the Free JAM App to ask Alexa a question
Room filling 2.1 stereo sound, perfect for mid-sized rooms and syncs with multiple speakers. All JAM WiFi home audio speakers are DLNA compliant
Last update was on: 2021-02-28 12:00 am
Built-in Amazon Alexa Control. Use the Free JAM App to ask Alexa a question
Room filling 2.1 stereo sound, perfect for mid-sized rooms and syncs with multiple speakers. All JAM WiFi home audio speakers are DLNA compliant
Control all of your JAM Wi-Fi speakers from your smartphone or tablet using the free JAM Wi-Fi App. The App works with Spotify, iHeartRadio, TuneIn, Tidal and more
Stream your favorite music or use the built in Intercom: Use the JAM App to talk through your speakers; One Touch Music: Access all your presets with the touch of a button.
Quick and easy set up: No complex wiring or expensive installation. Pair up to 8 JAM Wi-Fi Speakers for an instant home audio solution
Built-in Amazon Alexa Control. Use the JAM App to ask Alexa a question
Room filling sound, 2.1 stereo sound, perfect for mid-sized rooms and syncs with multiple speakers
Control all of your JAM Wi-Fi speakers from your phone using the free JAM Wi-Fi App. The App works with Spotify, iHeartRadio, TuneIn, Tidal and more
Last update was on: 2021-02-28 12:00 am
Built-in Amazon Alexa Control. Use the JAM App to ask Alexa a question
Room filling sound, 2.1 stereo sound, perfect for mid-sized rooms and syncs with multiple speakers
Control all of your JAM Wi-Fi speakers from your phone using the free JAM Wi-Fi App. The App works with Spotify, iHeartRadio, TuneIn, Tidal and more
Stream your favorite music or use the built in Intercom: Use the JAM App to talk through your speakers; One Touch Music: Access all your presets with the touch of a button
Product dimension:8.35" x 6.30" x 7.50"
Quick and easy set up: No complex wiring or expensive installation. Pair up to 8 JAM Wi-Fi Speakers for an instant home audio solution