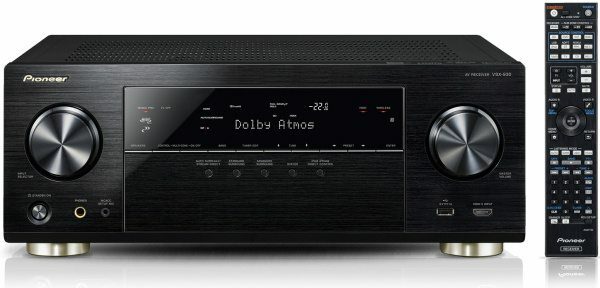 Pioneer returns to the AVR killzone with a Dolby Atmos model. Mark Craven reports
Last year, Pioneer dipped its toes into the Dolby Atmos waters, but only with its upper-tier LX-branded receivers. In 2015, it's lowered its entry price for 3D audio to a tempting £500, in the shape of the VSX-930.
This is good news. Except perhaps for those who bought the non-Atmos VSX-924 last year that this model replaces – but, hey, you could probably still flog that receiver secondhand.
Dolby Atmos hasn't quite been the breakout hit that home cinephiles were wishing for – nor the hardware manufacturers. Excitement has been tempered by a dearth of software, which AV brands like Pioneer can do nothing about. However, titles are still arriving and early adopters should always remember that the prospective Blu-rays are generally limited by which films actually had Atmos mixes in cinemas in the first place.
The 3D audio world is moving fast, though, and another (bigger) worry for Atmos aficionados is the launch of DTS:X. This sound format looks like being a genuine rival, and many studios will surely support it on their Blu-ray titles. And the Pioneer VSX-930 doesn't support it, and won't be able to via firmware, either.
Therefore, this new amp is already looking like a bit of a compromise. Anyone genuinely interested in next-gen object-based sonics and buying a new AVR in 2015 will most likely want to cover their bases by getting a model ready for both Atmos and DTS:X. And those content to run a 'fl at' 5.1 or 7.1 speaker array will not be wowed by the VSX-930's Atmos talents.
Video star
While it lacks a level of future proofing in terms of audio formats, the VSX-930 is at least loaded with up-to-the minute HDMI connectivity. The receiver features seven inputs (one front-mounted) and two outputs. HDCP 2.2 copy protection support is provided and HDMI 2.0 specification includes 4K/60Hz pass through with 4:4:4 color sampling. This is an improvement on last year's range, when HDCP 2.2 was omitted.
Both Wi-Fi and Bluetooth are built in. The former is now fully integrated – on the VSX-924 predecessor you had to connect a free dongle – and operates on both the 5GHz and 2.4GHz frequency channels. Two stubby antennas adorn the rear plate.
Design wise, the VSX-930 looks like every Pioneer AVR from the last few years. In fact, the front fascia layout (with large volume and source knobs flanking the central display and a few buttons underneath) is identical to the VSX-924. It's quite stylish, in truth, particularly in this ninja-black livery, and seems competently put together. The weight is an easily manageable 9.8kg.
The view around the back is refreshingly uncluttered – AVR makers, targeting this price point at least, are beginning to realise that an avalanche of analogue inputs is unnecessary, and perhaps daunting to potential buyers. So as well as the HDMI ports, for lacing up sources you get just a single component video input (but no output), lone coaxial and optical digital audio inputs, a couple of composite video stages and some stereo audio sockets. There's also Ethernet and IR repeater ports. Don't look for USB here – the VSX-930 only offers one input, sited on the front panel.
Buyers get a level of tweaks, modes and functionality far greater than they might expect from a £500 amp. On the networking front, the AVR integrates Spotify Connect and vTuner internet radio, and fl aunts AirPlay and HTC Connect compatibility. And, naturally, it will play media files stored on your home network or from a USB device. Hi-res audio support extends to DSD 5.6MHz, 192kHz/24-bit FLAC, WAV, AIFF and Apple Lossless, and multichannel WAV and FLAC. Pioneer's Advanced Sound Retriever feature is again present to improve the quality of compressed formats such as MP3.
Multizone support includes the ability to run HD audio and video to a second room. There are dual subwoofer pre-outs, should your cinema have a twin bass rig.
The VSX-930 packs Pioneer's MCACC Pro auto calibration suite, which you can run in either Full or Auto mode. As the former only takes around 10 minutes to churn through its repertoire of noisy bleeps, you may as well opt for that. Once it's finished, you can check the data settings to see what's been applied.
The user interface is, as we're used to saying with the majority of AVRs, uninspired. It's all a bit low-res and dour, and even the graphical representations of your speaker layout look quickly drawn. But it's straightforward in terms of structure, with a three-panel homescreen guiding you towards Network, MCACC and Setup.
Note that the VSX-930 doesn't automatically run a setup wizard on first boot. You are left to your own devices. Of course, if one of those is a Smart device, you can install the Start-up Navi app which holds your hand during setup.
In general, I found the Pioneer's menus ponderously slow to appear at times, and the remote control is hardly the most intuitive. In all, the basic user experience could do with a dollop of oil. The iControl AV5 app, on the other hand, is a masterclass in slickness.
Pioneer's precise spirit
Connected to a Monitor Audio MASS 5.1 system, and with Onkyo upfiring speakers to deliver Atmos height for a 5.1.2 setup, the Pioneer proves to be a precise, immersive listen, always retaining a controlled edge rather than letting itself get carried away.
The Atmos mix on Warner's American Sniper Blu-ray is endowed with numerous front-to-back object tracking and specific effects placement, and the VSX-930 laps it up. When Chris Kyle is on the gun-range during his early training, the shots of his colleagues left and right zip towards their off screen targets with speed and clarity, finishing with a tight, low-end thud.
Multi-layered, bombastic movie moments are deftly handled. The over-the-top, longwinded car/plane chase/fight sequence from Fast & Furious 6 is presented as a composed barrage of squealing tires, throaty engines and pulsating score. Foley effects are cleanly picked out. And when Dominic Toretto (Vin Diesel) unloads his pump-action shotgun within the plane's cargo hold, it packs a metallic, largescale punch.
Fed the Dolby Atmos demo disc (worth snapping up if you can find one), the Pioneer serves up the wraparound sonics of the Amaze trailer with more pin-point accuracy, dripping rain down upon my listening position. I did, however, resort to raising the levels of the upfiring channels (marked as TMdR and TMdL in the Channel Level menu) beyond their EQ'd setting.
Switching off the settings delivered by the MCACC system, meanwhile, reduced the tightness and clarity of the dialogue channel, but did return some body to the front stage. It also seemed to smear some of the amp's directionality; MCACC no doubt works hard to fettle your surround field. The sound overall is rather clinical, however. Other AVRs have a more airy, diff use, spacious sonic signature.
Last up on my movie list was John Carpenter's Halloween (35th Anniversary Edition Blu-ray). This has a frankly terrifying, but very uncluttered soundmix, and the VSX-930 delighted in conveying the synthdelivered jump scares.
The amp is rated at 150W per channel, but Pioneer's fine print reveals this to be a 6-ohm figure, with 1% THD and a 1kHz (rather than full-band) measurement. In reality, it has enough power to fill a regular room, but begins to lose its poise when you get to serious levels.
All home cinema amps are now expected to off er a sideline in music, and this one is up to the task of getting your feet tapping. There are plenty of DSP modes to play with. Ext Stereo feeds your two-channel sources to your entire array (even your height speakers), while Classical makes a decent fist of turning your room into a cavernous space, courtesy of a heavy reverb effect. I spun Led Zeppelin's Kashmir on CD with this setting. It sounded weird, but not in a bad way.
Joe Bonamassa: An Acoustic Evening at the Vienna Opera House provided a change of pace. Provogue's Blu-ray includes a DTS-HD 5.1 option; soon I was relishing the bluesman's soft guitar licks centre-stage while delicately plucked violins emanated wide left. The live nature of the recording was always obvious.
Two buttons on the Pioneer's handset are key for system fiddlers – Audio P(arameter) and Video P(arameter). The former of these brings up a cyclable list of various features, and is where you can call up different saved MCACC presets, activate the Sound Retriever Function, select Standing Wave and Phase control, etc. One problem is that you'll be reaching for the manual to find out what the various options do, and many that are listed in Pioneer's literature disappear depending on source/mode.
There's a lot less going on in the Video menu, but don't ignore it. Here, the amp offers in-built 4K upscaling, which is set to be automatically employed. I'd suggest experimenting with is – I found switching the 'Scaling' feature to 'Pure' rather than 'Auto' resulted in a more natural image via my Samsung 4K display, with the Pioneer imparting unwanted pixel information around edges, particularly noticeable (albeit from close quarters) during shots of green-shirted SEALs standing against clear blue skies.
Conjuring an AV conundrum
As a low-cost AV receiver, the VSX-930 gets a lot of things right. Dolby Atmos support is welcome, and this seven-channel design makes setup in that regard simple – just wire up your speakers and the receiver makes the magic happen. And there is magic here in the way it handles multichannel mixes with pin-sharp precision. But there are flies in the AV ointment, too.
One is that slightly niggly user experience, another is a lack of innate sparkle to the sonics. The biggest, however, is the VSX-930's ignorance of DTS:X. How big a deal-breaker that will be remains to be seen, but it certainly limits this amp's appeal.
Specifications
DOLBY TRUEHD: Yes. Plus Dolby Atmos, Dolby Surround, Dolby Digital Plus
DTS-HD MASTER AUDIO: Yes. Plus DTS-ES, DTS Nea6
THX: No
MULTICHANNEL INPUT: No
MULTICHANNEL PRE-AMP OUTPUT: No
CLAIMED POWER OUTPUT: 7 x 105W (into 8 ohms)
MULTIROOM: Yes. Zones 2 & 3
HDMI: 7 x inputs; 2 x outputs
COMPONENT VIDEO: 1 x input
AV INPUTS: 2 x composite; 2 x digital audio (1 x optical, 1 x coaxial)
VIDEO UPSCALING: Yes. To 4K
DIMENSIONS: 435(w) x 363(d) x 168(h)mm
WEIGHT: 9.8kg
ALSO FEATURING: Ethernet; built-in dual-band Wi-Fi; onboard Bluetooth; MCACC PRO calibration (setup mic included); DLNA and USB audio playback (includes 192kHz/24-bit); compatible with Start-up Navi and iControlAV5 apps; Advanced Sound Retriever compressed music enhancer; HDCP 2.2 support; 4K/60Hz passthrough (4:4:4); twin subwoofer outputs; Spotify Connect; vTuner; Apple Airplay; HTC Connect