Zidoo arrives in network audio from a different angle to most. Ed Selley finds the Neo Alpha springs a few surprises. Read our Zidoo Neo Alpha Review.
As a relatively young product category, network audio players have enjoyed a fair amount of flux in their design as manufacturers have experimented to see what proves popular. At first glance, the Zidoo Neo Alpha looks like a carefully cataloged collection of features we've come to expect from these devices in 2022. Dig a little deeper, however, and things are not quite as they first appear.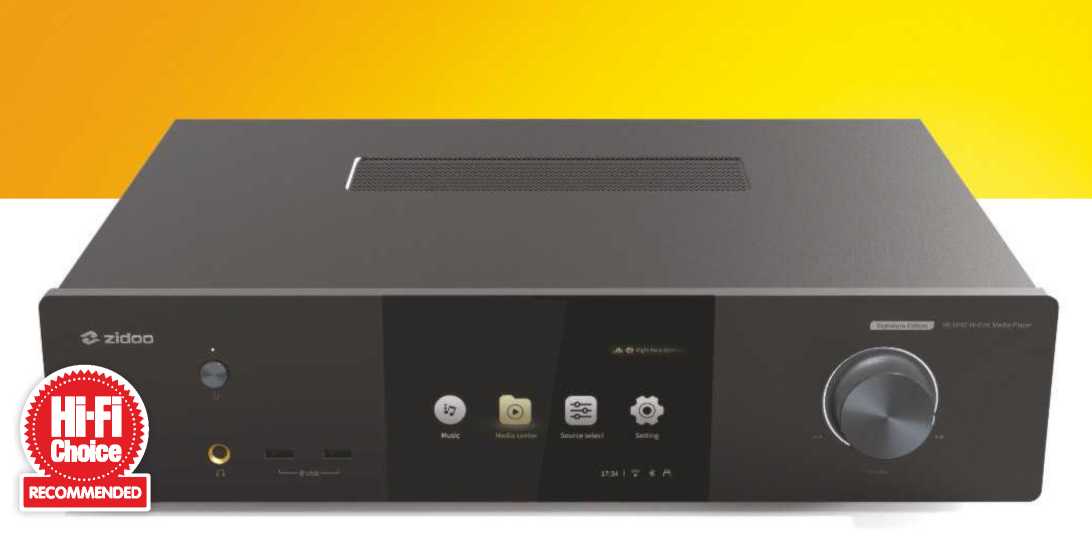 Its audio spec is impressively comprehensive. Built around an ESS Sabre 9038Pro chipset with the streaming hardware run by a combination of ARM A55 processor and XMOS XU216 interface, the Neo Alpha supports PCM to 768kHz and DSD512. This can be sent to it over UPnP or it can assemble its own database; either of an external library or by adding a 2.5 or 3.5in hard drive to an internal bay via the rear panel.
You can also access the internal decoding via USB, coaxial and optical inputs on the rear and stream to it via Bluetooth (featuring just about every format you can imagine). It is fitted to act as a preamp with a bypassable volume function that controls a 6.35mm headphone socket on the front. Connections around the back include RCA and XLR for analogue outputs as well as an optical out and USB for an external DAC. You can turn the internal decoding of the Neo Alpha off in this configuration -a reflection of the power supply arrangements for the control and audio sections being separate.
DETAILS
PRODUCT Zidoo Neo Alpha
ORIGIN China
TYPE Audio and video streamer/ DAC/preamp
WEIGHT 8.5kg
DIMENSIONS (WxHxD) 430 x 105 x 300mm
FEATURES
Supports sample rates up to: 32-bit/768kHz PCM and DSD512

Wired and wireless networking

Digital inputs: 1x USB-B port;

1x coaxial; 1x optical

Roon compatible
DISTRIBUTOR Zidoo
WEBSITE zidoo.tv
The Zidoo avoids any sense of there being processing at work in the sound it creates
The Zidoo uses an Android platform for its interface. In its current form it only supports Spotify as an embedded service, but the company has intimated that this will change. It is Roon ready and so can access Tidal and Qobuz this way if you are a subscriber. The control app is also a pleasant user experience. It is stable, easy to navigate and looks good on both Android and iOS. The control experience is enhanced thanks to both a full-colour touchscreen on the front and a Bluetooth-based remote handset, making it a doddle to use.
Where it takes a complete swerve away from the competition is its video functionality. Zidoo is best known as a manufacturer of media boxes and the Neo Alpha retains all the functionality of one. It can replay a bewildering selection of video formats via an HDMI connection on the rear (as well as showing information from the front panel on an external screen), which could potentially kill two very different birds with one stone. Even more unusually, it has split HDMI outs with the second being a specialist audio connection optimised for DSD. If you have multi-channel SACDs (and can rip them), this is the only device I've seen that can amalgamate them into your wider music library.
All this potted cleverness is placed in a full-width chassis that is superbly finished and attractive in a slightly generic way. I don't like everything about the Neo Alpha; the glowing ring around the volume (which thankfully can be turned off) is an acquired taste, but the basics are all very well handled. Little details like the isolating feet, high-quality connections and the carefully laid-out circuitry speak to a company really trying to make the Neo Alpha feel as good as any similarly priced rival. The only note of caution I'd sound is that its video-based ancestry does mean that initial setup is much easier with a screen attached.
Sound quality
When you have completed setup, the Zidoo does a great many things right. The most important attribute is that,
even if you never make use of the video functionality, it is competitive with similar audio devices. Listening to the gloriously unembellished Blue Heron Suite by Sarah Jarosz, the Zidoo avoids any sense of there being a huge amount of processing at work in the sound it creates. Instead you are treated to a performance that captures the gorgeous simplicity of the music and the considerable emotion that it contains. It's unforced, natural and utterly compelling.
Move to something with a little more heft to it like the original eponymously titled debut from Royal Blood and the Neo Alpha reveals itself to have a bass extension that is deep, detailed and well integrated into the upper registers.
Where it takes a complete swerve from its rivals is its video functionality
As well as out-and-out extension with percussion, there is tangible weight to the hybrid guitar and bass in Ten Tonne Skeleton that makes for a more convincing and wholly invigorating listening experience.
Something else it does rather effectively is balance showing the limitations of the Royal Blood recording (which, in fairness, would not sound 'right' if it had been given the flawless audiophile treatment) without rendering it unlistenable. This is ultimately a device that prefers a reasonable level of mastering quality, but it isn't so ruthless as to make less-than-perfect material unlistenable. It does also have the capability to respond very favourably to good high-resolution material. Partnered with Roon, as it is for the bulk of testing, the use of DSD conversion brings a slightly sweeter and warmer edge that I rather enjoy. Connected to a pair of Focal Clear MG headphones, it doesn't take very long listening to Richard Hawley's Standing At The Sky's Edge to realise that the headphone amp is more than just a convenience feature. It combines plenty of power with the same generally forgiving edge that the rear panel outputs display. There is also a very compelling perception of space. The Focal is a naturally airy-sounding device, but the Zidoo ensures that there is an order to the information in that space and helps to push sound in front of you.
The chassis design is fairly generic, but the features are anything but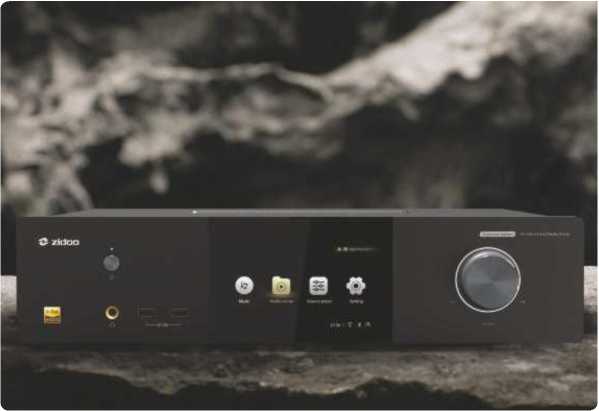 Some brief tests with an external power amplifier suggest the Neo Alpha is a very capable preamp as well. If you're looking for something that introduces character as well as controls gain it might not be for you, but it's impressively linear and has sufficient fine adjustment to select the exact volume you want rather than something adjacent to it. It falls rather outside the usual scope of HFC typical reviews, but it's also worth noting that if you do see a place in your system for a dual audio/video streamer, it deals with everything we throw at it without fuss and produces an excellent picture throughout.
Conclusion
Ultimately, how much of this video functionality you need will shape how desirable it is for you. Right now, some audio-only rivals have better streaming service integration and are less dependent on a screen. It has to be said, though, that it is impressive just how close this relative newcomer runs them. If you do see scope for using the Zidoo to play more than stereo audio, this is a product with a unique set of additional functionality that could be exactly what you need
HOW IT COMPARES
Zidoo's video capabilities make it different to other streamers we have tested before, but it still makes for an interesting counterpoint to the Auralic Altair G1 (HFC455). Now £, the Auralic has a much better interface and looks smarter. The Zidoo has digital outputs and a more flexible hard-drive bay. Sonically, both units are excellent and picking a winner would likely come down to personal preference. If you have a ripped video library, the ability of the Neo Alpha to also handle that is hard to ignore.
OUR VERDICT
LIKE: Spec; accurate but forgiving sound
DISLIKE: Limited native streaming service support; works best with a screen
WE SAY: A unique network audio player with a performance in key areas that should worry rivals