The world of desktop Android has numerous competitors, but with Phoenix OS, John Knight may have finally met the king.
In Brief
Phoenix OS is a Chinese Android distribution that provides a familiar PC-style interface. Based on Android 7.1.1, it uses Kernel 4.14.15. and is available for PC and ARM- based tablets. Minimum requirements are apparently "any PC from 2010 onwards" and a few gigabytes of hard disk space.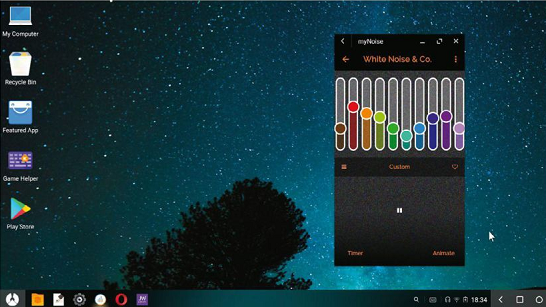 Phoenix OS has been slowly making a name for itself among Android fans, but with recent opinion shifting from mild admiration to outright fandom, we had to see what's what.
We'll save a lot of time if we start with the negatives.
First, the Phoenix website is mostly Chinese, although there's just enough English to get by. The download section offers a Windows. exe installer and a generic ISO image.
That ISO doesn't just boot like an Ubuntu DVD. Rather, it needs to be boot-prepared by a program like UNetbootin, and this was an irritating process to say the least.
The installer uses a semi-GUI partitioner with some confusing prompts. If you have multiple OSes, you'll probably make a mistake with the bootloader and need to run the installer a few times until you get it right.
The installer offers Chinese or US English, but Phoenix is firmly Chinese-based, and overall you'll need to guess your way around several non-translated prompts. Don't worry, you'll be fine.
Inside the OS, you'll likely encounter an error about Google Play Services needing updating. We had to manually download a newer .apk file to get around this, and although it now works, there's still an annoying error message.
Now the good stuff…
So after all that, what's it like to use? Surprisingly impressive, actually.
The interface has a feel somewhat like Windows 7, and you can immediately tell you're using something serious. Any PC user will be instantly comfortable with its conventional window controls, taskbar, system icons, start menu and so on.
Furthermore, the Phoenix team has included its own file manager and text editor. And while not amazing to use (they're okay…), they've had the good sense to include the keyboard shortcuts we've all become accustomed to – something usually missing in Android apps.
Performance is pretty decent, with full-screen HD videos running nicely, and the system seems stable, with camera and sleep functions not crashing the machine. We did have some trouble with the taskbar getting in the way of full-screen videos, but when we set it to auto-hide, the whole Ul fell into place!
With all the tweaking done it becomes a very simple system. Run Google Play, install app, run app.
Of course, not all Android apps run on a PC. and some really need a touch screen – not much you can do about
that. But the Phoenix team has worked wonders with its window manager, and appears to have even solved the ultimate problem of apps wanting to run full-screen in the wrong orientation.
Desktop Android makes sense because there's already an established software ecosystem, familiar to most consumers. Nevertheless. Android laptops have already tried and failed to break into the market. However, an OS like this is a game changer, and could spawn a new wave of ultra-cheap ARM computers that Joe Public might actually want to use.
It will first need to be properly localised for Western markets, with full translating and irrelevant Chinese software removed. But once the flaws are fixed this will be a true tour de force – it's already dangerously close to something you could deploy en masse.
The remaining flaws mean we have to give this a slightly harsh score (though it's worth at least another point if you're Chinese!), but please look past that, because Phoenix OS is likely to be the future of the Android desktop.
Behold comfortable familiarity. Phoenix OS may finally have the Android desktop sorted. Much like a practical Toyota, it's an excellent kind of boring.
Verdict
DEVELOPER: Beijing Chaozhuo Technology (formerly Phoenix Studios)
WEB: www.phoenixos.com
LICENCE: N/A
| | | | |
| --- | --- | --- | --- |
| FEATURES | 8/10 | EASE OF USE | 8/10 |
| PERFORMANCE | 8/10 | DOCUMENTATION | 6/10 |
Almost finished and probably the future of desktop Android. If you think it's for you. ignore the issues and go for it..
» Rating 7/10
Phoenix OS 2.6.4414 Review
Almost finished and probably the future of desktop Android. If you think it's for you. ignore the issues and go for it..
Add your review
MORE DEALS