Philips Brilliance 288P6
4K Monitors
DETAILS
• Manufacturer: Philips
•  Requirements: GPU capable of hitting 4K resolutions, Only a VGA cable supplied so you'll need HDMI or DisplayPort
The Philips P-line of monitors caters for professionals and workplaces. CAD use, picture and video editing and other such uses are the order of the day here. But does this model from Philips have what it takes to pitch above the other examples we've looked at so far?
This is a 28″, W-LED backlit, TN panel with a maximum resolution of 3840 x 2160 and a Smart Response time of 1ms. There's a 50,000,000:1 contrast ratio, 300 cd/m2 brightness rating and support for 1.07 billion colours.
The connectivity on the Philips 288P6 is excellent, with VGA, DVI, DisplayPort and HDMI/MHL-HDMI for the video inputs. Plus, there are four USB ports (two of which are USB 3.0 with fast charging), PC audio in and headphone out.
There are a pair of 3W speakers built in, which are surprisingly good. Naturally, you won't get the deep bass and more clear frequencies you'd experience from a set of dedicated desktop speakers, but if you have limited desk space, these are certainly adequate and deliver a reasonably good level of output.
Build quality is superb.
The large base and screen itself are solidly designed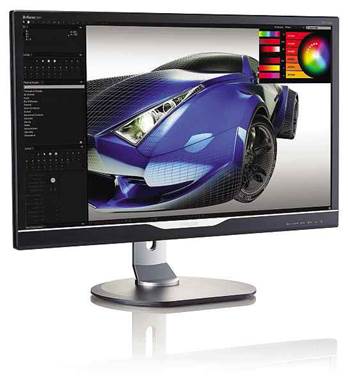 The Philips Brilliance 288P6 is one of the better4K monitors we've tested this year
and pivot and tilt without any hint of plastic stress.
The heavy base is ideal for a large monitor and helps keep everything stable, while still providing height adjustment
Quite well priced for the amount of features and the quality
and the other aforementioned ergonomic benefits.
The picture quality too is similarly excellent. Philips has done a magnificent job of crafting a panel that really shows off the ultrahigh definition quality of 4K resolutions. It's amazingly clear, sharp and crisp, with some of the best colours we've ever seen on a monitor. Needless to say, both gaming and watching HD 4K content was an absolute joy to behold. But normal, everyday duties were also a pleasure, with a superb clarity
on the standard Windows desktop that was gentle on the eyes for longer periods. However, as with higher resolutions, we find it best to increase the size of the icons and zoom in when using Word.
There are a few preset picture settings available, the best being the Philips SmartImage feature, which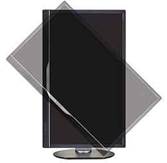 It's not a bad price at the moment, at nearly £ cheaper than when it was first released
will auto adjust the various levels according to what's being presented on the screen. You can though opt for a custom user setup, should the SmartImage setting prove to be inadequate for your tastes.
As you can tell, we were pretty impressed with the Philips Brilliance 288P6. It's an exceptionally good monitor and one that we can quite easily see being adopted into our current setup.
The Philips 288P6 is quite well priced for the amount of features and the quality. It's only slightly more expensive than the Acer and AOC models, but offers a far better level of quality throughout. Certainly one to keep an eye on for a 4K upgrade.