Editor choice
PHILIPS 276E7 Review: CHEAP BUT NOT NASTY
Yes, that price is indeed correct. It's now possible to buy a 27in display for less than even if it is only a dollar cheaper. If you're looking for the cheapest possible 27in display on the market, look no further. Now, obviously there are going to be serious compromises when you're paying so little for so much screen real estate, but still, that's a damn fine price for somebody who wants a basic 27-inch screen.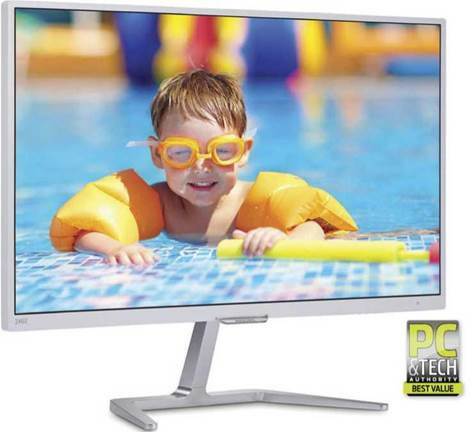 The first trade-off is the stand. To be blunt, it's horrible. There's no height or swivel adjustment, with only tilt adjustment included, from -5 to 20 degrees. This means it's impossible to position it at the right height, and you'll have to sit directly in front
You will have to make do with just one VGA, DP and HDMI input
of the display unless you enjoy neck cramps. The old bezel design is present, rather than the edgeless designs becoming more common these days. Inputs are decent for this price, with a single HDMI, DVI-I and VGA.
Secondly, it's a mere 1920 x 1080 resolution, which as we've said before is a little too low for a 27in screen. It's not unusable, but the difference in crispness and clarity between 1080p and 1440p is very obvious at this screen size. As expected, the maximum refresh rate is 60Hz, and there's no sign of the likes of FreeSync or G-Sync. However, the panel does include flicker-free backlight technology to lower eye fatigue, as seen with Benq's products. Unlike most of the other displays in this roundup, the Philips uses a PLS LCD panel. This technology was intended to be a competitor to IPS screens, but never really took off, even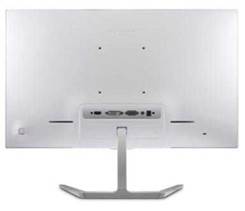 though it has several benefits such as higher brightness.
Philips claims a contrast ratio of 1000:1, but our benchmarks show just a quarter of this, at 268:1. This could be because we disabled the dynamic contrast ratio setting, as we did on all sets, to find out the true native contrast ratio. Philips claims the pixel response time is
It's now possible to buy a 27in display for less than even if it is only a dollar cheaper
5ms Grey to Grey, though given the contrast ratio results we're not so sure whether to believe this. It also came last in all of our colour accuracy results, yet remained under the threshold of three during our average colour accuracy after calibration, which means it's still fine for relatively accurate colour coverage. Surprisingly, this had one of the easiest OSDs to use, thanks to a small joystick on the rear of the monitor.
We may have pointed out a lot of flaws, but at the end of the day this is a perfectly usable 27in display for a meagre Our biggest issue is the stand, but other than that, this is the cheapest way to enter the land of 27in screens. Yet we give the edge to the BenQ display thanks to its vastly superior contrast ratio, and much better stand.
KEY SPECS
27-inches • 1920 x 1080 • 60Hz refresh rate • 5ms GTG pixel response time