The worlds of Bluetooth and good audio have traditionally not been the best of bedfellows, although that's all changing. In the traditional stereo world, companies like Chord Electronics have performed wonders with Bluetooth enabled DACs and the rest. In the headphone world, though, Bluetooth has been considerably more widely adopted, but mostly in a low to mid end manner, hooking smartphone to headset for commuters and joggers who hate wires.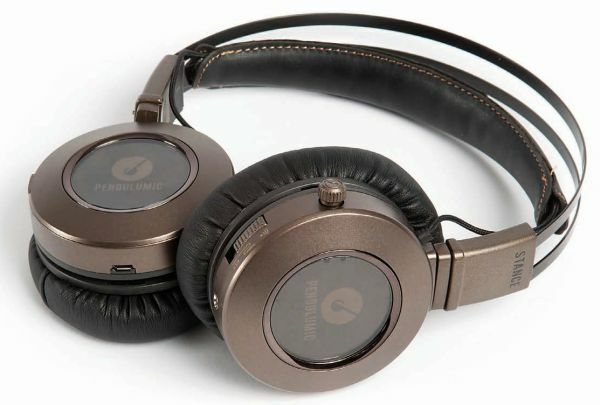 The Pendulumic Stance S1+ is different. It's a legitimately high-end, studio-grade headphone that runs wirelessly through Bluetooth. It also has a wired mode, and can even be used to make calls. It runs along all the latest and greatest Bluetooth lines (Bluetooth 4.0, aptX, and A2DP), which means CD quality. It auto-pairs with devices, and has a 15m radius, even as a phone headset (with built-in microphone).
The battery part is really clever too, allowing a hybrid approach to long-term music replay. In the S1+'s left earcup is a small non-removable lithium ion battery, charged periodically from a USB cable. This gives about 30 hours of listening and wireless audio, with about a three-hour charge to bring it back to life. However, the front of the ear-cup removes and shows a space for two AAA batteries. Put a pair of alkalines in there and you can extend battery life, or reboot your Stance S1+ for more play. It has to be alkalines, though – rechargeable AAA batteries seem to lose Bluetooth lock quickly. The left hand earcup also has a slider for flipping between power sources, or turning the headphones off completely.The right hand ear cup has a slider to switch between wireless, actively powered (with cord), and straight passive sound, with a rear dial (more like the crown of a wrist watch) to control volume and turn the headphones into a Bluetooth phone headset – you can use the dial to search through a list of tracks, play and pause, and answer calls (there's a little grille to the front of the headset for the mic). Two small LEDs on the side of the earcup show battery and wireless status.
Pendulumic gives good case candy, too. The Stance S1+ slipcase comes away to reveal a stiff cardboard presentation case of good quality. Inside is a clamshell carry case for the headphones, a small cardboard box for the 'legacy' and USB connection cables, and an instruction manual/quick start connection guide. Although, if you need this quick start guide, you also really need a short course in what the 21st Century looks like to an outsider. Basically, you turn on Bluetooth on the device you want to connect to, 'PDLM S1' pops up in your list of devices, you press 'connect' and the Stance S1+ is visible to that device. That it isn't 'paired' in a formal sense means if someone was feeling particularly nasty they could feed their Bluetooth signal into your ears, although they will not be able to even see the Stance S1+ on their list until you disconnect from the device to which your ears are bonded.The overall feel of the headphones is good. The headphones have that unique plasticiser smell at first, but that quickly goes away, and the headband and earcups are of soft pleather, with hard plastic ear cups and metal bracing. They are light and comfortable and designed for long listening sessions. The 40mm driver in the ear cup is claimed to deliver 10Hz-22kHz frequency response, and I feel no need to question that.
I'll admit to having mixed feelings about wireless headphone audio, but my negative first impressions were coloured (literally) by the performance of relatively primitive early RF and especially line-of-sight Infra-Red systems that were, at best, awful. The Pendulumic Stance S1+ is nothing like that. In fact, pointing to those bad old days of IR headphones next to the S1+ is like comparing a Model T Ford to a Tesla… that's how far we've come.The sound of the Stance S1+ is, frankly, incredible. The company posts blind tests on its site and you can do the same at home. Play a CD-grade file (possibly from Tidal) through a Bluetooth source (possibly a MacBook Pro) and have the headphone cable attached. Compare the sound of Bluetooth with wired over and over again and just when your victim is convinced they are listening to wired, hand them the other end of the cable. You can weasel word your way around this – near-indistinguishable, functionally-indistinguishable, practically-indistinguishable – but the operative word in all this is 'indistinguishable'! You just can't hear the difference. It sounds a lot better on an Android or MacBook than an iPhone, but that's down to Apple, not Pendulumic.
The sound you get from the headphones is good, too. It's slightly on the warm and rich side, but not so warm and rich that it undermines their openness and good upper bass. It's the kind of sound that makes you like the sound music makes; full, thick, and fun. I don't think it matters whether you are listening to Schnittke or S Club 7, the texture of the sound remains the same; inviting, rich, detailed, and open. I played 'Get Lucky' by Daft Punk [Random Access Memories, Columbia], and the combination of Nile Rodgers fine funk Stratocaster sound, and Pharrell Williams's Northern Soul singer charm cut through perfectly.The limitations are fairly easy to spot too, but they are mostly benign and entirely unrelated to the Bluetooth process. Perhaps the biggest is the relatively minimal sound isolation: although these are sealed, over-ear headphones, they don't offer as much isolation (both to the listener and to those around the listener) as, say, a pair of Sennheiser HD-25s. As a result, out in the street you might find yourself wishing for some noise cancellation. The relative lack of isolation, however, does make up for a lack of feedback from calls – you can hear the person on the other end of the line, but not your own voice through the headphones. An 'open' microphone would be more useful. And American listeners please note, these are quiet sounding headphones because of us Europeans – EU legislation places a limit on just how loud phone headphones can get: Sorry. These would normally not be make or break elements in a headphone, even in combination, and here if you weigh all of these against what the S1+ does with wireless audio, the balance tips heavily in Pendulumic's favour.
It might read like heresy in an audio magazine, but the Pendulumic's sound is barely half the story. It's what it lets you do with that sound that's so ultimately brilliant about the Stance S1+. Unless you were militantly opposed to such things, cast your mind back to the first time you played with an iPod, or maybe even a Walkman. At one point in that early listening, you probably discovered the liberation of taking your music with you everywhere, and some of you at least were willing to put up with a few compromises in that music in order to have that music with you everywhere. The Stance S1+ has the same sense of liberation, but with some of the last compromises ironed out. Where before you were bonded to a player, now even that is at one remove. This is curiously a liberating feeling in today's world, like the sense of relief if you switch your work phone off after a long week. I quickly got used to just doing things round the house with the headphones on, connected to the system in another room (and thanks to Pendulumic's excellent and understated 15m range, that room can be some distance and a few thick walls from my headset). It's only when you realise the action of chopping onions in the kitchen is now performed with high-fidelity sound that you begin to notice how far ahead the Stance S1+ is from the rivals.
The point of the Pendulumic Stance S1+ is it's a genuine paradigm shift in headphone use. This is a device that works in the home every bit as successfully as it works on the go. You could commute with it, exercise with it, listen around the home with it, and sit back at the end of the day and listen intently to it, and in all cases it rises to the different challenges these tasks present. Even battery life is no longer an issue, thanks to that block that can be swapped out for some AAA batteries on the fly. The fact it sounds damn good should be central to this review, but you can't help get the feeling it's more the icing on the cake here. Penadalumic really does hold all the aces.
Bluetooth Version: 4.0 with aptX
Frequency response: 10Hz-22kHz (with aptX enhancement)Sound Pressure Level: 121dB (1kHz/1Vrms)
External battery: 2× AAA battery (alkaline recommended)Wireless playback duration: up to 30 hours (with external AAA batteries)Wireless operating range: up to 15m
Weight: 310g (without cables or accessories)