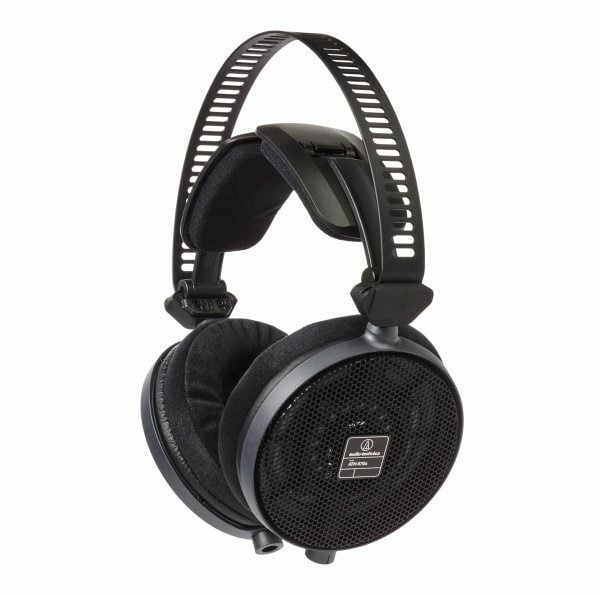 While most of the headsets we're looking at in this roundup are specifically gaming related with all the bells and whistles that usually come with their place in the market – attached microphone, flashing lights, pumped bass to accentuate explodey things – there's also a place for professional studio monitor headphones in the world of gaming. If you have a good sound card and want to appreciate subtleties in sound, the richness of a soundtrack or simply use your headphones for more than just gaming, the ATH-R70x should be your dream upgrade.
Straight out of the box you know that there's something special about this headset. It's feather light, weighing in at just 210g thanks to an attractively utilitarian design. A single sprung metal headband supported by Audio Technica's unique cushioned paddles holds the two well cushioned ear cups. The headband is tight but not at all uncomfortable, holding the headset firmly in place. While we've had some problems with the AT head paddles in the past – the last AT headset we tried needed a rubber band between the paddles to make them properly supportive – but the tightness of the band makes them super supportive over the longest gaming sessions.As attractive and comfortable as they are, the most compelling feature of the R70x headset is the dead flat EQ. Many of the headphones manufactured by Audio Technica feature a tweaked AT EQ, slightly warming the sound to provide a satisfying overall experience, but with the R70x there is no fiddling whatsoever, leaving a very smooth and balanced sound signature. There are no peaks, dips or distortions in the sound reproductions that usually result from a tweaked EQ. Even without a modified sound profile, the R70x have a lovely rich and slightly warm tonality with smooth transitions from bass through to treble. It may be a little too smooth for some, especially if you prefer your music and gaming on the more bombastic side.For RPGs, adventure or anything with extensive dialogue and a general lack of explosions, the R70x are an absolute joy to listen to, but although the sound reproduction is wonderfully natural, if you're a serious FPS player you'll probably find the sound mix a little too flat, with the equal weighting given to all audio ranges making combat sound a little less exciting, and explosive than it should. The lack of a microphone might also put some people off.Any real complaint we have with the headset is little more than nit-picking. The left/right markings are hard to find and read meaning you might occasionally have to take valuable seconds to check or readjust your headphones, we'd prefer oval ear pads than round as they fit most ears better and the impedance of the drivers requires a decent amp to get the absolute most out of the headset. Aside from those petty gripes, we're pretty much in love with this headset – it's comfortable, elegant and reproduces excellent sound from a variety of sources. DANIEL WILKS
They're far from cheap but you'll be hard pressed to find better headphones for the price.