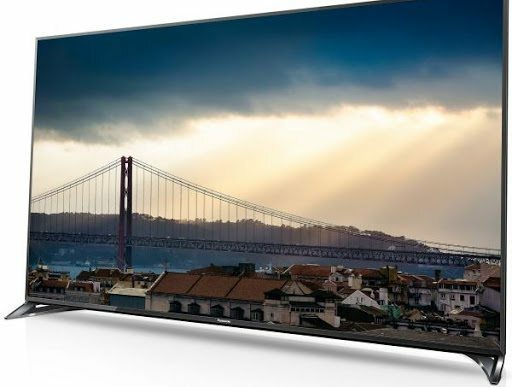 Post-plasma pre-OLED Panasonic delivers a premium 65-inch UHD LED-LCD TV—and hey, you can carry it around with you…
The very first 65-inch TV that I ever saw was from Panasonic. It was displaying its massive, bright picture at the same event at which Panasonic was launching Blu-ray. The size of it, back then, was astonishing. And it was, of course, a plasma.
Since then Panasonic has left plasma TV technology and moved over to LCD (it has also announced it will release OLED TVs). While some small part of me wants to mourn the disappearance of plasma, there can be no doubt that the change in emphasis has paid off. If nothing else, 4K in plasma would likely have been very difficult. But at 65 inches, a UHD panel delivers noticeable improvements in picture quality, and Panasonic has used all its skills to make the most of the higher resolution.
Equipment
Display technology is not the only change in Panasonic's world. It has moved on from the 'Smart TV' platform it has used for the past few years, one based on (lower case) windows accessing smart functions, and now has a nifty new operating system: Firefox OS. As the name suggests, it is drawn from the same Mozilla people that developed the Firefox web browser.
This is powered by a quad-core CPU for snappy performance. And the network-centric nature of this TV is illustrated in part by the prominent dedicated 'Netflix' key on the IR remote.
The TV styling is very elegant in the can-hardly-be-seen sense. The bezel is nicely thin, at just 14mm at the top, left and right, and 25mm at the bottom (measured in each case from picture edge to clear space). Gun-metal grey, it fades into near invisibility in many environments, and with a dark, skeletal stand, the picture is left there almost floating independently in space. And thankfully, this model doesn't need the many kilograms of cast-iron counterweights in the stand used by some recent Panasonic models.
Panasonic lists various virtues of the 163.9cm, 3840 by 2160 pixel LED/LCD panel, such as Super Bright Panel Plus (this boosts brightness by 35% over the 2014 line-up), Wide Color Phosphor technology (which broadens the available colour gamut), and HEXA Chroma Drive (which provides for fine color graduations). Simple contrast ratio and brightness measures are not listed.
The TV has only three HDMI ports, but all of them support 50p and 60p 4K signals with HDCP 2.2 encryption. There's a combo component/composite video input with stereo audio via an adaptor cable, and there's also Ethernet, three USB (one of them USB 3.0) and dual-band Wi-Fi. There's no analogue audio output — the HDMI Audio Return Channel and an optical output are the only ways of delivering sound to an external audio system. So if you use an analogue stereo input for TV sound, you'll need a DAC, and a convenient way to control volume.
The unit comes with two remotes: a standard IR one and a Touchpad Controller. The latter has a curved face and a textured touchpad section in the middle by which you can control selections on screen. This is accompanied by 20 more or less conventional keys for ready access to quite a few functions. One of those pops up a panel on the screen to allow the missing items to be selected. The TV also supports Bluetooth and USB keyboards and mouses.
It also supports 3D. One set of active glasses is provided with the TV; additional pairs cost $99.
Performance
After assembly (the most difficult part was removing the long strips of protective tape) we powered up the TV and ran its wizard, which gave some useful instruction on how to use the TV (there's also a useful e-Help section), and set it up with the necessary TV stations and network connectivity. Our connection was through a 5GHz Wi-Fi network throughout the review.
By default the TV has its overscan switched on with digital TV reception and 1080i/576i inputs, but properly off for 1080p/24 signals. You may want to switch it off for the others. The 'Sharpness' control was at 50%, but I hesitated to turn this down — unlike most such controls it didn't create marked distortion and did sharpen up images, seeming to properly employ the full UHD resolution to achieve this. It was especially good with Blu-ray. Too good, arguably. But it was tempting to leave the Sharpness up, contra our usual warnings. A touch of light enhancement on such a large TV screen can certainly improve the viewing experience.
The TV started with its motion smoothing system (called different things, depending on the input signal) on the 'Low' setting. This offered a barely perceptible improvement, if any, in smoothness on my standard 1080p/24 input test disc. At the 'Mid' setting there was excellent smoothness, no heat-haze distortion, and just a very slight glossing up of the image.
Deinterlacing of 1080i/50 and 576i/50 was automatic, motion-adaptive, and adequate for the most part. For critical Blu-ray viewing I'd suggest using a Blu-ray player with high-quality progressive-scan conversion.
Full UHD content — the limited range I have available — was startling in its clarity. If and when UHD Blu-ray appears next year, this TV is ready.
As usual with Panasonic TVs, there was a slight miscalibration at the bright end of the scale. The brightness scale of an RGB signal runs technically from 0 to 255, with 255 being full white. For historical reasons, with video signals only the middle section of this is used: 16 to 235. Values below 16 are 'blacker than black' and levels above 235 are 'whiter than white'. This TV showed full white as duller than 'whiter than white', even with the maximum setting of the contrast control, whereas it should be the same level. In practice the TV picture looked extremely good, with excellent brightness levels, so I didn't really notice any problems in normal use.
Colours were rich, and black levels were strong. The TV uses localised back lights that were quite effective at restricting their output to the area needed, providing a subjective sense of a very wide contrast ratio.
A real surprise was 3D. This was delivered with real pop and no detectable ghosting. The 3D picture was a touch on the dark side, so it was best enjoyed in a darkened room, but as a trade-off against ghosting, it was worth it.
The TV supports auto lip-sync display, but proved to be remarkably fast in any case. The standard picture with default 'Normal' settings, including a bit of motion-interpolation frame smoothing, resulted in a delay of just 52 milliseconds, which is pretty fast already. In the 'Options' submenu of the 'Picture' menu you can choose a 'Game Mode' and this speeds things up even further to a hair under 40 milliseconds.
The TV acts as a DLNA renderer, so you can pipe music, photos and video to it. This worked with all the video I had to hand, including even UHD material in H.265 format. The only problem came with a 100Mbps UHD streaming file which stuttered a little, likely from insufficient network bandwidth.
The sound was generally good enough for average TV viewing. It was disappointing for music, principally because some kind of dynamic range compression was being applied. So, for example, it streamed the 24-bit, 192kHz FLAC version of 'Hotel California' from my network, but the accompaniment kept rhythmically receding under the peaks of each bar. I'd suggest external audio if you want sound to match the great picture.
There are two main parts of the smart interface. The 'Info Frame' is hinted at when you start up the TV each time, with small labels at the top, bottom, left-hand and right-hand sides of the screen. These can show you the Weather, TV stations (with what's currently showing for each), 'Notifications' and Recommendations. Recommendations builds up data over time on your preferred viewing habits, while Notifications… I'm not sure, as we didn't receive one.
The 'Home' screen of Firefox OS pops up clearly-labelled colored circles over whatever you're watching. There are just three to start: Live TV, Apps and Devices. But you can 'pin' on other things and move them around to your preference. This was a delight to use: it was smooth and simple and fast, and it worked well with the regular IR remote control, not just the Touchpad Controller. There are a number of apps already installed, but also an 'App Market' for adding more free functions.
The TV is chockablock with networking stuff, including some useful TV-orientated features. In particular, the TV Anywhere function allows the TV to feed one of its tuners, or something it has recorded, to your phone or tablet — and it can do this even if you're not in your home. It feeds the signal via the internet. The picture quality on a tablet was rather good, and the delay was around 4.5 seconds. There's also a remote control app. These work with both Android and iOS.
The Touch Pad Controller has a voice control function. Nine times out of ten, perhaps more, it properly recognized and acted on what I said. Saying 'Help' will give you a list of workable terms, but most are intuitive like 'Live TV' or 'Channel two four'. In addition you can enter search terms.
This is just as well because the touchpad part of the Touchpad Controller is really not very good. If you're using the Firefox web browser it's OK, because it controls the position of an arrow which can be slid anywhere on the screen. But for selecting items in normal operation, it jumps the arrow or selection from option to option as though it were a set of arrow keys — but uncertain, touchy, arrow keys. Just about every time I tried to select something from the pop-up keypad I overshot. I tried switching to Channel 24 using this and it took four attempts because the '2' timed out before I could secure a selection of the following '4'. Saying 'Channel two four' was far easier. Or go old-school — pick up and aim the IR remote, and press the real keys. No doubt you'll get better with practise, but a new TV should not make such demands. Panasonic needs a remote control up to the quality of its operating system — having the pad control a freely moving arrow, or a pointer-style remote.
Conclusion
That said, the Firefox OS interface has certainly revolutionized Panasonic's high-end smart TV offerings. Combining superb picture quality and extremely useful smarts, the Panasonic Viera TH-65CX800A should be on the shortlist of anyone wanting a premium 65-inch UHD smart TV. Stephen Dawson
SPECS
Display technology: LED backlit LCD panel
Energy rating label: 4.5 Stars, 516kWh per year
Screen size: 163.9cm
Native aspect ratio: 16:9
Native resolution: 3840 x 2160
Brightness: Not stated
Contrast ratio: Not stated
Inputs: 3 x HDMI, 1 x component video (doubles as 1 x composite video), 1 x stereo audio, 3 x USB (1 USB 3.0), 1 x Ethernet, Wi-Fi, 1 x aerial
Outputs: 1 x optical digital audio
Audio: 4 x 10W, 2 x front speakers + 2 x woofer
Included accessories: Table top stand, remote control, touch pad Controller, 1 x 3D eyewear
Dimensions without/with stand (whd): 1456 x 842 x61mm/1455 x 886 x 318mm
Weight without/with stand: 27.0/31.0kg
Warranty: One year.