HDMI for connection to HDTV, internet, keyboard and mouse.
Over the years, Packard Bell has diminished somewhat to become the supplier of basic desktop models for sale in Currys and such places. Although it's not quite as lofty a company as it once was, it does still produce some half decent units.
The Packard Bell iMedia S2885 offers an Intel Core i5 4440 3.1GHz CPU with 8GB DDR3 1600MHz RAM and a 1TB 5400 hard drive. This reasonably compact media centre PC comes with a slimline DVD-RW, 5-in-1 media card reader, 802.11 b/g/n wi-fi, Bluetooth 4.0, four USB 2.0 and a pair of USB 3.0 ports and Intel HD4000 graphics. Windows 8.1 64-bit edition comes installed as standard, along with a basic copy of CyberLink Media Suite and a trial run of some anti-virus product or another, depending on where you purchase the machine.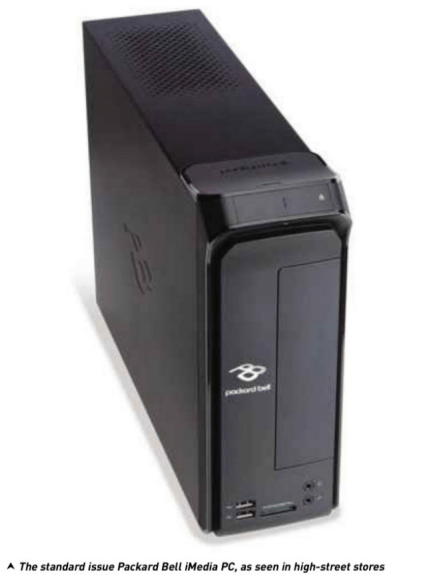 The design of the PC is pretty simple but effective enough for the task at hand. Measuring 280 x 100 x 367mm, you won't be able to extend it too much, though there is room for swapping out the spinner in favour of an SSD or to add a low-profile dedicated graphics card.
It's finished in a matt-black effect, with an extended top front that provides access to the eject button for the optical drive, power and so on. The other ports, card reader, USB and audio are located at the bottom of the front panel and are easily accessible. Other than that, it's a fairly bland affair.
The benchmarks came back with scores of 3990 for PC Mark 7 and 840 for 3DMark, which means you won't be playing the latest triple-A games on the iMedia. Our own HD media tests proved to be more successful, though, and despite the low scores of the all-knowing benchmarks, the iMedia certainly did a good enough job of playing our 1080p media.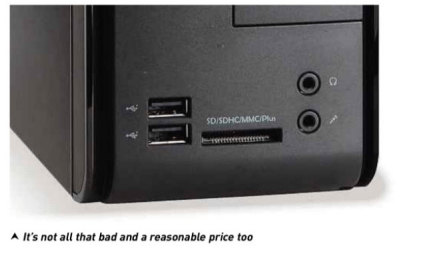 We did find, though, that the wi-fi was a little unstable, at least from the tests we put it through. The LAN connection was rock solid, as you would expect, but for some reason, the wireless connection either kept dropping out or was so unbelievably slow it was virtually impossible to browse the local NAS box for any content. It also had the odd behaviour of affecting our router to the point that all other wirelessly connected devices refused to work once the iMedia was connected, resulting in a reboot of the router to clear itself out.
Whether this is something inherent to the iMedia PCs, we're not sure. We suspect it may just have been some bizarre and random problem we were having. All the same, it did put something of a dampener on the tests.
Saying that, though, the Packard Bell iMedia S2885 wasn't too bad. As we said, the 1080p media content played without any noticeable problems, and it even managed a brief attempt at 4K before throwing its metaphorical hands in the air and giving up. It will no doubt suffice to begin with, but you'll probably require more performance as you begin to notice its limitations.