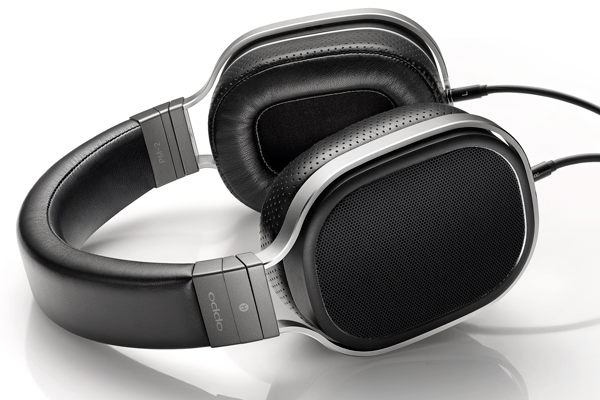 Planar magnetic headphones have potential advantages over conventional dynamic headphones. Their flat diaphragms have magnets evenly spread across them, driving the entire surface, as opposed to a single coil driving the center of a diaphragm. The result can be greater resolution and phase coherence. But that potential performance edge comes at a price. So headphone fans rejoiced when Oppo—which won positive reviews for its $1,099 PM-1—introduced the PM-2, with some of the same features, at a more affordable price of $699, followed by the even more affordable PM-3. I've been spending much of the past year or so listening to the PM-2.

The PM-2 dispenses with the PM-1's showmanship, including the fancy wooden storage case, but keeps a few critical features. Chief among them is the seven-layer flat diaphragm with magnets on both sides. The headphones are not unduly heavy, but sturdily built, with metal ear cup frames and headband. Ear cushions are synthetic leather over hypoallergenic latex. Though these are over-the-ear headphones, the cushions are not especially large, and they gently pressed upon the tops and bottoms of my outer ears. This never caused discomfort even over long listening sessions because the pads were so soft. The headphones are supplied with a black denim case and two cables: a slim 3-footer with mini-plug and a sturdy 10-footer sheathed in black fabric with a quarter-inch plug—possibly the most impressive headphone cable I've ever seen.
As an open-backed headphone, the PM-2 is not ideal for use in noisy environments (where the genre's lack of noise isolation would be an issue), though it is efficient enough to run off any kind of portable device, including my collection of iPod nanos. Even so, it needs a high-quality headphone amp to realize its potential for high resolution. In our roundup of headphone amp/DACs, the PM-2 got along especially well with the Sony PHA-3, Celsus Companion One, and AudioQuest DragonFly v1.2. However, it may not be the best mate for a headphone amp with a warm coloration of its own, such as Oppo's own HA-2.
The PM-2 surefootedly walks the line between resolving and diplomatic. Give it high-res content and a worthy amp, and it sounds like a high-res headphone. Give it so-so material and a flea amp, and it gets the job done with a minimum of discomfort. It has solid but not bloated bass, a midrange that's revealing at the bottom end and increasingly diplomatic at the top, and clean but not especially emphatic highs. Both its sonic and physical properties lend themselves to long listening sessions.
I reunited the Oppo with the DragonFly for some valedictory listening. The PM-2 could conjure the weight of Evgeny Kissin's recording of Liszt's "Mephisto" Waltz No. 1, from Kissin Plays Liszt (ripped from CD, like all of my Apple Lossless files). Timbre and overtones were perfectly natural. An orchestral selection—Claudio Abbado leading the Berlin Philharmonic in the Scherzo from Beethoven's Symphony No. 9 (FLAC 96/24)—revealed that the Oppo was not just smooth, but warm, enabling a high volume setting that accommodated Beethoven's wide dynamic swings. Kettledrums thundered in the left with plenty of bass definition and control.
The Oppo loved music with a beat. The drums underpinning Jeff Beck's "Freeway Jam" from Blow by Blow (DSD downconverted to 88.2-kHz PCM) percolated substantially while Beck's fat buzzy guitar sailed colorfully overhead. The Oppo also aced complex material such as the two-drummer maelstrom, crunching guitar textures, and eerie wailing guitar synth from the opening track of King Crimson's ATTAKcATHRAK, from the THRAK box set (ALAC). This was not inherently comfortable listening, but the voicing of these headphones tamed the jagged edges while maintaining the overall aggressive feel of the piece.
Voices were a strength of the Oppo. It realistically but lovingly limned vocal textures in "Here We Go Again," a duet between Ray Charles and Norah Jones from the Grammy-winning Genius Loves Company (ALAC). Richard Thompson's cranky baritone on "One Life at a Time," one of his contributions to the Thompson Family CD, became a warmer version of its usual resonant self. The headphones hypnotically imaged Kurt Cobain's eerie croon on "Something in the Way," from Nirvana's Nevermind (FLAC 96/24), also bringing out the warm tone of the cello. The Oppo seemed capable of accommodating every possible mood.


The Oppo PM-2 is a well-rounded performer that's suitable for highresolution audio but subjectively on the warm and flattering side. For such a beautifully crafted, ingeniously designed, and musically versatile product, $ is not too much to ask. These are great headphones and, as I've found over and over in a year of intermittent listening, they'll serve you well for a long time.
SPECS Type: Over-the-ear (circumaural), open back • Driver: 85 x 69 mm • Impedance: 32 ohms • Sensitivity: 102 dB in 1 mW • Weight (Ounces): 13.6.