The Netgear Orbi (RBK50) has been our favourite router/Wi-Fi system since it arrived back in 2016. Its range, performance and easy setup made it the ultimate router for larger homes. Now Netgear is back with a new flagship Orbi, the RBK852, which packs the latest Wi-Fi 6 (802.11ax) technology, with an astronomical price to boot.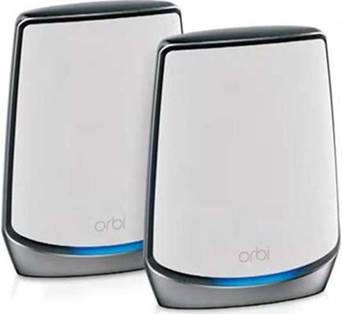 Open the heavy box and you're greeted by two large, dense devices. Disappointingly, the silver trim around the outside isn't aluminium, as you might hope for the price. Instead, all the weight comes from an enormous aluminium heatsink inside each unit, enabling Netgear to omit fans.
This two-device system consists of a master router and a slave satellite. It's a different configuration to many other full-mesh Wi-Fi systems, where all units are treated equally. While the latter makes such systems more versatile, though, it generally doesn't help with peak performance. The Orbi dedicates one of its three Wi-Fi bands to communication between the router and satellite, in theory making for a faster and more reliable setup. You can also add up to two more satellites. This two-unit system is sufficient to cover 5,000ft2 according to Netgear, which in our experience is plenty for a three-storey UK home (router downstairs, satellite on the middle floor).
The router and satellite include four gigabit Ethernet LAN ports each, with the router also home to a 2.5Gbps port to connect to your internet/WAN. The RBK852 can also be setup as a Wi-Fi access point rather than a router, so the WAN connection could plumb into a faster LAN system, but otherwise, the 2.5Gbps port is fairly pointless, as few home internet connections reach such speeds. Also, while the previous Orbi unit had USB ports for sharing printers and USB storage devices, there are no USB ports on the new model.
Indeed, overall, the RBK852 is relatively spartan when it comes to extra features.
Inside each unit is a tri-band Wi-Fi setup, with all three bands complying to the new Wi-Fi 6 standard. Wi-Fi 6 brings a boost to theoretical top speeds, and reduced lag and increased speed for multi-user setups, assuming you have compatible client devices.
Setup is easy. You can either use the Orbi app or browse to the default IP address. Going via the app requires you to create a Netgear account, but if you connect direct, you can set up the system without any external interference.
The browser interface and app aren't the most comprehensive, but get the basics done.
When it came to testing, we were hamstrung by coronavirus restrictions, meaning we didn't have access to our usual test location. Nonetheless, we were able to assess the new Orbi sufficiently to draw our main conclusions, but furthertesting will be needed for comparison to other systems.
With the two units one room (5m) apart, they maintained a Wi-Fi connection to each other fast enough to max out the LAN connections, and this speed was more or less maintained when moving the satellite around the rest of a small two-storey terraced home. Attaching a client device over Wi-Fi resulted in strong Wi-Fi coverage (300 Mbps*) at the bottom of the garden, 20m away from the main router (12m from the satellite).
Conclusion
The Netgear Orbi RBK852 is an incredibly fast router that can cover a vast range. However, there's just no getting around that price. With the now relatively affordable Orbi RBK50 still offering excellent performance, there are few home situations where the RBK852 is justified right now.
EDWARD CHESTER
VERDICT
Netgear orbi rbk852 review
A mightily impressive Wi-Fi system, but its price puts it totally out of contention for most users.
PROS
Phenomenal Wi-Fi speed
Massive Wi-Fi range
Easy to set up
CONS
Astonishingly expensive
Limited extra features
Overkill for most homes
Add your review
Best Netgear orbi rbk852 prices ?
$

643.08

$699.99
21 used from $404.76
14 new from $643.08
in stock


£

648.99

£699.99
6 used from £443.28
22 new from £648.99
in stock


£

1,753.19
1 new from £1,753.19
in stock

MORE DEALS

SPEC
Weight
2x1297g(perunit)
Dimensions
254 x 71 x 191mm (permit)
Ports
4 x Gigabit LAN (per unit), 1×2 5Gbps WAN
Wi-Fi
2 x5GHz (1200Mbps), 1 x 2.4GHz (2400Mbps), 8x internal antennae