Despite not supporting Wi-Fi 6, this affordable mesh network repeater appeals to Martin Pipe. Read our Devolo Wi-Fi ac Repeater plus Review.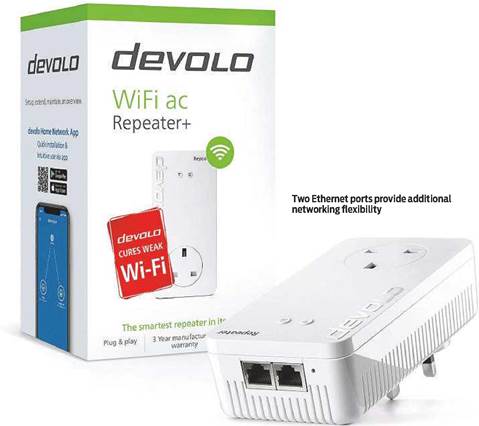 Details
PRODUCT:
Affordable Wi-Fi 'repeater'/ passthrough plug
Near entry-level in Devolo's networking/ Powerline range
TP-Link RP450;
BT Whole Home
; Google Wi-Fi
IT MAY NOT be as alluring or imposing as the latest Dolby Atmos receiver or OLED TV, but this budget-priced Wi-Fi gadget from networking specialist Devolo may be of practical value – even when your AV gear isn't powered up.
When it comes to networked home entertainment, serious users may stick with wired Ethernet for the best possible performance and a reliable connection, but that's not always the preferred option due to cable installation difficulties. Additionally, there are numerous 'Wi-Fi-only' devices around the house – smartphones, tablets and so on – and some of this hardware may be used as a control device for your AV gear, so dependable connections are important.
We all know, however, that Wi-Fi coverage can be a patchy compromise – dictated by the size/ shape of your home, and where your wireless router is positioned.
Location, location, location
The job of Devolo's Wi-Fi ac Repeater+ is, in basic terms, to act as a booster for your domestic Wi-Fi signal. You would install it in a strategic location within your router's current range.
The device then connects to your network, using a technique called meshing to efficiently provide an alternative access point that's identical (with the same login and password). In other words, you can move freely between the existing and Devolo access points. Also easy is installation, which is on a 'fit and forget' basis thanks to WPS (Wi-Fi Protected Setup).
Plug it in to the most suitable mains socket (the Repeater then offers its own plug socket, so your table lamp doesn't become useless), press buttons on the device and your router, and the job is done; some manual settings are available on a free app.
In order to maximise coverage and speed up connections, the Wi-Fi ac Repeater+ features 'beam-forming' aerials and MU- MIMO (multi-user, multiple-input, multiple­output) technology to harness both 2.4GHz and 5GHz bands simultaneously. There are also two handy Ethernet ports for wired connections to nearby gear.
The Wi-Fi ac Repeater+ is one of Devolo's entry-level options. More money can be saved by looking at the non '+' version, which jettisons the integrated power socket and offers a single Ethernet port. In the other direction, the German company sells Powerline devices (including its flagship Magic range) which use your home's mains wiring to transmit data.
Raising the bar
The claim here is of transmission at speeds of up to 1200Mbps, and with a 'real-world' 800Mbps at my disposal during testing, I had no problems streaming video from a Synology NAS to a Google smartphone. Not a glitch to spoil the view, and it's also reassuring to see four or five 'bars' where previously there was only one, or no connection at all.
Unfortunately, the unit's connectivity potential maxes out at Wi-Fi 5 – hence the 'ac' suffix (from the 802.11ac standard). In contrast, recent 'client' devices like Apple's iPhone 11 and Sony's PS5 support the newer Wi-Fi 6 (802.11ax), which is theoretically- capable of working at 14Gbps. None of the routers supplied by ISPs are genuinely ax-compatible as far as I'm aware, though, and in any case ac is more than enough for the broadband connectivity they offer – but it's something worth noting.
For the here and now, the Devolo Wi-Fi ac Repeater+ is a quick, simple solution to an often common problem. The mileage you get out of it will naturally depend on your devices, room layout and usage needs, but it could be just what you're after.
Verdict
Devolo Wi-Fi ac Repeater plus Review
A plug-n-play solution to domestic Wi-Fi issues, albeit not one of the more premium options. Plug itself is fairly chunky too.
Add your review
Best Devolo Wi-Fi ac Repeater plus prices ?
MORE DEALS