The Orbi RBK352 is Netgear's new, low-cost Wi-Fi 6 mesh router. At least, It's low cost compared with the company's previous Wi-Fi 6 mesh offerings. The high-end Orbi RBK852 costs £ for a two-node kit, while the mid-range RBK752 will set you back £. The RBK352, by contrast, starts at £ for a kit with two units, or £ for three, which is the version we've reviewed here. Read our Netgear orbi rbk352 Review.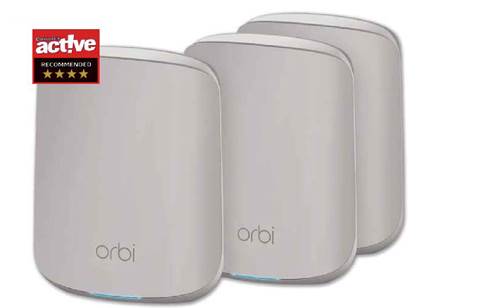 Dual-band Wi-Fi 6 mesh system reaches into every comer
Inevitably, however, the lower price tag comes with a trade-off The RBK352 hardware isn't as powerful as Netgear's premium models, and this results in a poorer (though still good) Wi-Fi performance.
For starters, this is a dual-band system, where the more expensive versions are tri-band (the third band is reserved for sending data between the nodes). This model shares that job with the Wi-Fi channels you use to connect your gadgets to, so there will always be less bandwidth available on a busy family network.
As with all Wi-Fi 6 equipment, the RBK352 is backwards-compatible with Wi-Fi 5 laptops, tablets and smartphones, but you can't just add these as extra units to any existing Orbi devices you may have. The Orbi is designed to completely replace your existing router, although if your internet connection requires you to keep your ISP's router in place you can still use the Orbi as an access point by linking it to your existing router.
This works well, particularly if you can use an Ethernet cable to move the main Orbi unit to a
better location, away from your phone socket. The primary unit has three Gigabit Ethernet sockets (pictured below left) alongside the WAN port, which connects to your ISP's router.
The system is set up using an app. We tested it on an Android phone and found it was almost foolproof. There's a clunky moment when you need to jump into your phone's Wi-Fi settings to manually connect to the Orbi network, then find your way back into the Orbi app to continue the setup process, but you only need to do this once.
After that you can use the phone app or the web portal (on your PC) to manage your mesh system. The app is well designed with a handy set of features, including tools that make it easy to access your home network over the internet. It integrates with Amazon's Alexa and Google Assistant so you can control the guest network and reboot the router with your voice. It doesn't include Netgear's Armor security package, which for £ a year scans for vulnerabilities, blocks dangerous sites and adds Bitdefender protection.
We tried the Orbi in our usual three- bedroom, two-storey test house, with the primary unit located in a study. The secondary node was placed at the
Dual-band Wi-Fi 6 router • 4x Gigabit Ethernet ports (including 1x WAN) • 178x61x145mm (HxDxW) 530g • One-year warranty
opposite end of the adjacent bedroom, while the third was positioned in the living room below.
Even with the benefit of three nodes, the dual-band RBK352 couldn't rival the tri-band Orbi systems, but it holds up well when compared with similarly priced alternatives. Everywhere in the house, the test laptop (also equipped with Wi-Fi 6) switched seamlessly between nodes to keep the connection fast and stable, and download speeds never fell below 160Mbps.
However, if you're being drawn to the RBK352's relatively low price, an even cheaper solution may do what you need. The Honor Router 3 (see our review, Issue 603) managed speeds of 128Mbps all around our home.
Editor choice
Netgear orbi rbk352 Review
A reasonably priced WI-FI 6 mesh system that delivers a strong signal throughout the home, though not as fast as tri-band routers
Add your review
Best Netgear orbi rbk352 prices ?
£

206.00

£249.99
4 used from £158.11
17 new from £205.51
in stock


$

541.00
1 new from $541.00
in stock

MORE DEALS

Honor Router 3
This WI-FI 6 router Is a single device rather than a mesh network, but Is much cheaper and should be all a smaller home needs