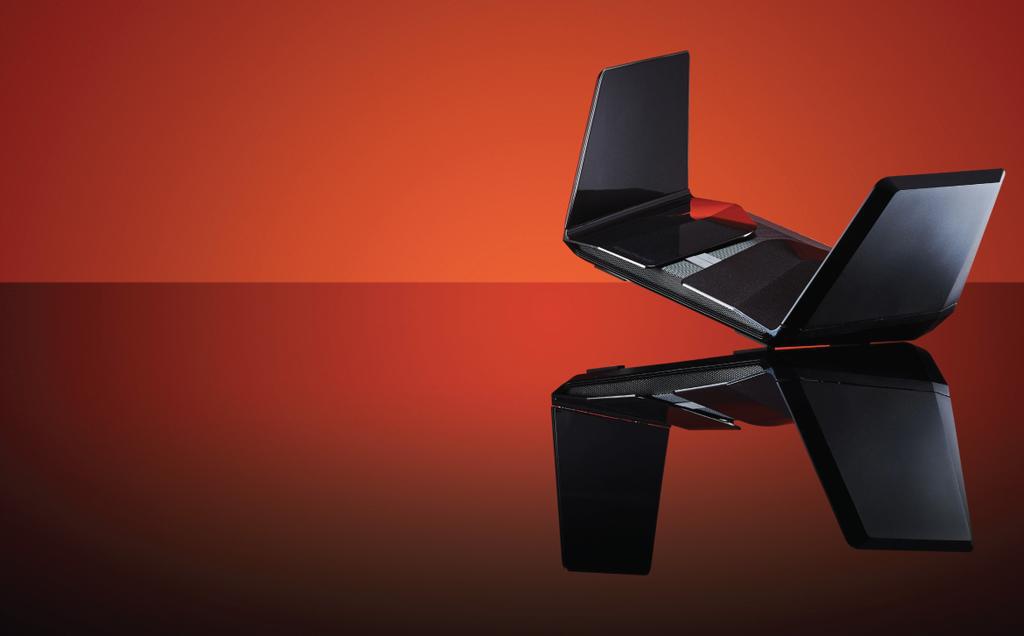 OK, SO IT MIGHT mildly resemble Emperor Palpatine's personal shuttle (the Lambda-class T-4a, not the Sentinel-class, that thing sucked), but Netgear's Nighthawk RAX200 is an absolute monster in the world of personal networking. Staying with the Star Wars analogies, it's like the Empire took the Deathstar, merged it with an Imperial Class Star Destroyer, and then condensed it all down into something the size of a Millenium Falcon.
And boy, is it expensive. Yep, this thing is $ of routing nuttiness that leaves us with mixed emotions. First, let's start with the positives. It's a WiFi 6, tri-band router, complete with 12 streams, 2.5Gbps Ethernet ports, Multi-gig internet ports (via link aggregation), VPN support, eight WiFi antennas, beamforming and MiMO as standard, 2x USB 3.0 ports, a quad-core 1.8GHz processor, 882MB of usable RAM, 512MB of flash storage, a surprisingly potent cooling fan, and enough additional features to make you weep (although some of those are locked behind paywalls). There's a lot here, in fact, we could spend the rest of this review ticking off the feature list.
As far as performance goes, it's impeccable too. Compared to our test unit (the Asus RT AX88U), Ethernet performance was on par, tapping out with an impressive 149.82Mb/s down, and 19.23Mb/s up, slightly higher than the RT AX88U's 147.32Mb/s down, and 18.15Mb/s up on the day. And in the WiFi testing, using WiFi 6 on a Samsung Galaxy S21 Ultra, one floor up, and an identical server choice on speedtest.net, the RAX200 managed 128Mb/s down and 18.0 Mb/s up, well within the margin of error compared with the AX88U's 129Mb/s down and 18.1Mb/s up. A marked improvement in comparison to the AX5400 WiFi 6 router we reviewed in the previous issue.
So a close one then? And given the price difference between the two, perhaps less impressive than first assumed? That said there are some real-world problems that we've been seeing with the Asus AX88U that the Netgear seems to deal with far better. For instance, our IOT devices (Nest cameras, smart doorbells, and smart plugs) were more responsive. The outdoor cameras in particular loaded immediately on demand, unlike with the Asus, where they'd often freeze and fail to load an image at all, even on lowbandwidth settings. TV streaming also never dropped during our time with it either unlike the Asus. Loading webpages was noticeably faster as well, and we had a strong WiFi 6 signal a good 20 feet away from the router, outside of the property, stuck between three brick walls and a refrigerator. In fact, it was so good that we actually bumped up the resolution on the cameras to max instead of low. Neat.
Now that's out of the way, let's talk about the negatives. Setup. Oh boy, what a mess! Frustratingly, the main way of setting up the RAX200 is via the Nighthawk app, which took about an hour to get connected with our internet. Netgear pushes the app hard, in fact, there are even adverts for the app on the desktop browser login, which is frustrating as a power user.
You can do everything that you can on the app on the desktop, but everything's just a bit cleaner, and better laid out on your phone. The only downside is if you have a long-winded username and password for your PPPoE internet login, manually entering that during the setup process via the app is also frustrating.
The RAX200 also comes with an additional extra, again tied to the app, involving security—a free month's trial of Netgear Armor powered by Bitdefender. This yearly subscription scans any added WiFi devices to detect vulnerabilities (at which point, it will drop a notification on your phone, and ask you to update the device) and blocks malicious attacks for $ a year (without a discount).
That feels a bit steep, especially as Asus offers this as standard with most of its router solutions via AiProtection. Of course, it still has parental controls, blocks, and firewalls in place as standard, but if you want that additional automated VPN and scanning layer you need to pay, which feels a bit cheap for a $ router.
Once set up and configured, the RAX200 is an incredible piece of kit. Netgear has clearly put a lot of emphasis and development time into the App environment. We're just not sure, for power-users (and let's face it, if you're investing $ in a router, you probably are one), the default setup guide should be pointing you towards the app first when a perfectly good rig will get the job done four times as fast.
VERDICT
Netgear Nighthawk RAX200 Review
PROS
Incredible performance; strong range; broad feature set; potent app.
CONS
Features locked behind subscription; setup process needs to be more flexible.
Add your review
|
Read reviews and comments
Best Netgear Nighthawk RAX200 prices ?
MORE DEALS

Netgear Nighthawk RAX200