Netgear finally brings the D7000 Nighthawk VDSL router in for a UK landing
It might be shaped like a Stealth Bomber, but there isn't much that could obscure Netgear's D7000 Nighthawk VDSL/ADSL model router.
It's big, utilizes three massive 'aerodynamic' antenna and is 28.5cm wide, 18.5cm deep and 5cm tall. Thankfully, it can be wall mounted; though, sadly. Netgear don't provide the screws for doing this job.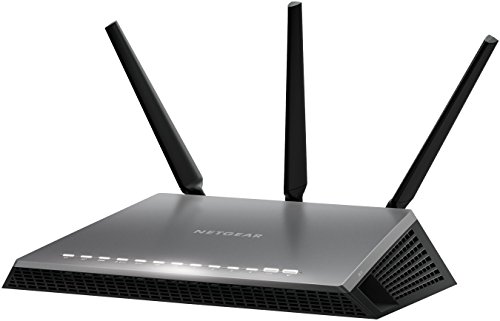 The D7000 is really all about what's on the inside, however. Facilities that our American friends have enjoyed for a while, and now we get here in the UK.
Except this D7000-100UKS has been somewhat redesigned to our specific needs, and the modem part of the package is therefore compatible with VDSL, VDSL2, ADSL, ADSL2 and ADSL2+.
That covers most of the UK broadband bases, as it works with ordinary ADSL as well as BT infinity and Talk Talk Fibre.
For those using Virgin, there's a Gigabit WAN socket into which you can plug their cable modem.
With the modem side well ticked, the other half of this story is the wired and wireless combo, and here the D7000 doesn't pull any punches.
This is an AC 1900 specification access point, which at this time identifies the internal chip as the Broadcom BCM4708A.
This little communications monster boosts 802.11n performance by offering Turbo QAM mode, hiking bandwidth over 2.4GHz from 450Mb/s to 600Mb/s.
When combined with the 5GHz channel, there's a theoretical cap of 1900Mb/s under 802.11ac.
Although, as the router only had gigabit wired hub, it's debatable if it would be possible to ever fully utilise that capacity.
In the brief time I spent with the D7000, I can confirm that in most respects Netgear got more things right here than wrong.
This is very easy hardware to setup, even if you don't use the Netgear Genie tool or EZ Mobile Connect QR codes. Performance is generally very good, as you might expect with a device that supports beamforming+.
The original US version had a single USB 3.0 and another USB 2.0 port, but in the UK we get two USB 3.0 ports.
Supposedly to make this more, useful Netgear gave the D7000 a 1GHz dual core ARM processor, not unlike most entry level android phones come with these days.
I'm not sure what the impact of this processor has on overall system performance, because it doesn't really unleash the true power of USB 3.0 technology in my testing.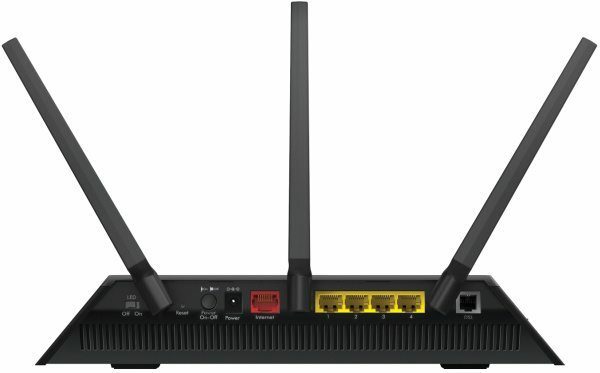 Using a Sandisk Extreme USB 3.0 key that can achieve 270MB/S reads, I got just 17MB/S writes and 45MB/s reads.
That's a little better than USB 2.0 (on reads only), but less than 17% of what the device was actually capable when directly connected to a PC.
I'm still waiting for a router with USB 3.0 ports to justify having them, but the ports on this one are at least well positioned for easy access.
What I did like was a small bump in Internet connection speed over my BT Home Hub 5, a device that I've long concluded isn't as good as BT might like to suggest.
For those on Infinity or Talk Talk Fibre this will definitely feel like an upgrade, even if it isn't an inexpensive one over the de facto router options.
Where I'm less impressed with this design is in the context of small business use, where there are some rather obvious omissions.
One of these is the very limited VPN support, as it only offers OpenVPN and that won't handle some connection scenarios.
My other concern is the regularity of firmware updates for this hardware, given that there is an included slip of paper noting issues on 02 and BE dated 2010!
Surely this note shouldn't be with this modem, as the issue it refers should have been fixed some years back?
Those points aside, this is a mostly fine piece of technology for home use, that we'd recommend to anyone who wants to get the most out of their broadband connection.
While we waited a little longer over here compared to the earlier US release, the UK version of this design seems superior in most respects, and hopefully the firmware has also matured.
The only serious complaint is the price, as this isn't a minor investment however you look at it, and the similarly specified ASUS DSL-AC68U is cheaper.
Mark Pickavance
Netgear D7000 Specifications
A big beast of a VDSL modem router.
Extreme wi-fi speed-Up to 1.9Gbps
Built-in DSL modem is also compatible with VDSL, VDSL2, ADSL, ADSL2, & ADSL2+
Fast VDSL2/ADSL2+ modem for fibre broadband
Beamforming+ – Faster, more reliable connections
High-powered amplifiers and antennas to extend your wifi coverage
Twice the USB storage access and faster connections using two USB 3.0 ports
Gigabit Ethernet WAN port provides universal compatibility with any Internet service
NETGEAR genie App – Easily manage, monitor, and control your home network from PC, tablet, or smartphone