IS BEAUTIFY MODES FOR SELFIES
Dedicated mute toggle that shuts off the primary ringtone
USB Type-C is a welcomed addition
Beauty Objectified
TP-Link, through its Neffos smartphone brand, has put out some of the best value-for-money smartphones to-date. With the Neffos N1, the dream of accessing flagship features in affordable devices has come true. This is the first impression most would get when they come across this next-gen flagship from an industry upstart. By George, that is an awesome way to wow people! In strictly adhering to this notion, Neffos also made sure the packaging offers the sam 'Wow!' factor. Indeed, the cool and classy white box will make one feel that they are purchasing a proper premium product; now this is something many marketplace leaders are skimping on. Within the box, the Neffos N1 is placed on one side with the other compartment holding all the accessories.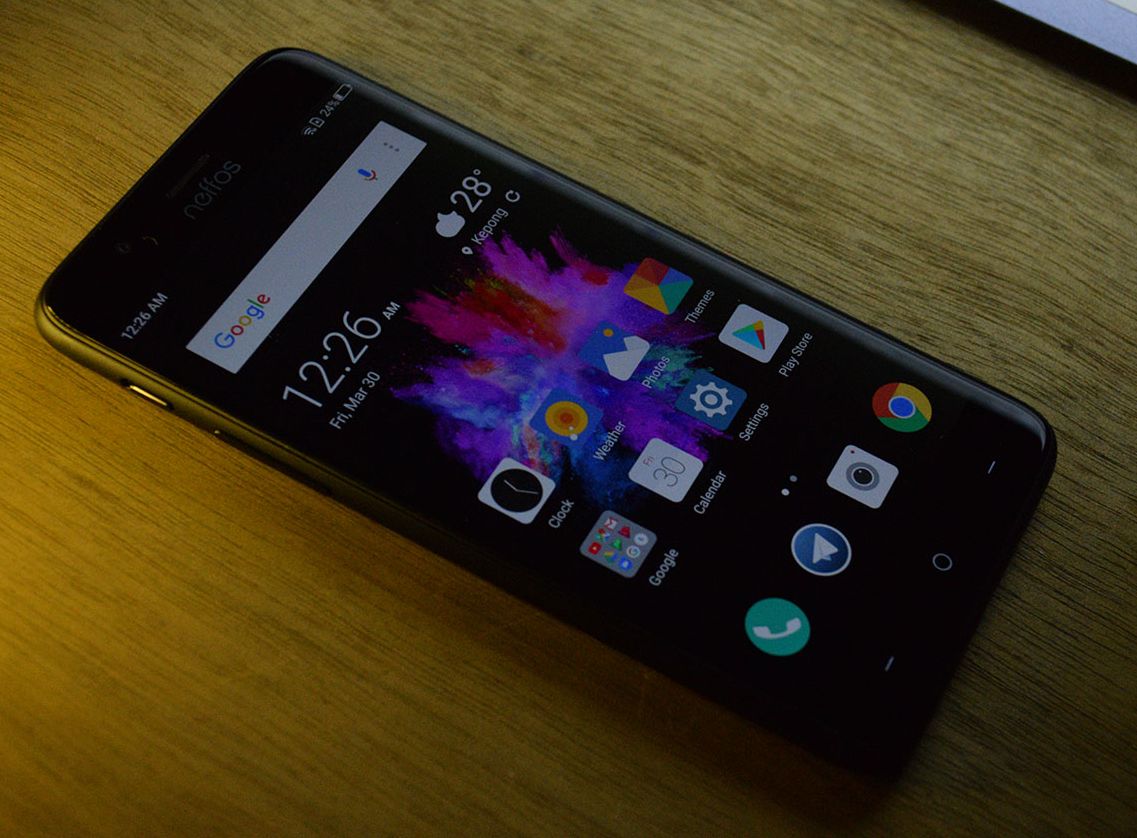 Black is Appealing
Available in a few choice shades, it is highly recommended that the Neffos N1 come in black. This specific colour accentuates the slim and minimalistic design form factor of this flagship. In short, it looks superbly gorgeous. The smooth glass screen in front is a nice contrast to the matte black design on the rear. This being a top-end Neffos entry, its 5.5-inch screen reflects this role as it stretches up to the very edge of the limited real estate border. If anything, it looks as good as it feels with just the right amount of berth and heft for a good hand-held experience. It might not be comfortable for those with large hands, like yours truly. Of course, for everyone else, it'd fit just right. Even usability isn't an issue thanks to its slim physical size.
Best Shots
On the rear, the Neffos N1 sports two cameras on the top strip. The dual-lens gimmick pretty from other entries. One might expect the second one to be loaded up with a dedicated depth-of field sensor, instead it uses monochrome snapper. This is very similar to a China-based compatriot and explains why both cameras on this flagship entry has a 12-Megapixels rating. The camera app, as most will expect from a smartphone in this price range, has options to take shots with various Depth-of-Field, HDR, monochrome, time-lapse and even light trail images. One thing noticeable about this smartphone is how it takes a bit more time to process the HDR images, hence a really steady hand is a must for such shots.
Fast fingerprint scanner
Rarely does one find a dual-lens setup at such a price tag.
Powered Delivery
With an MediaTek MT6757CD Octa-Core Cortex A53 CPU and Mali T880MP2 GPU, the Neffos N1 delivers in spades when it comes to performance. It might not be able to challenge all those high-end smartphones but compared to the rest of the playing field that is within its price range, it's not bad. The built in Wi-Fi is great too, proving beyond any doubt that TP-Link has the right know-how with networking. This resulted in a dual-band 2.4GFIz and 5GHz antenna design that can seamlessly switch between each other to ensure the best network signal is always linked. The 3260 mAh battery is a true performer as it powers the Neffos N1 for an entire day and a little more.
All In
For what it is worth, the Neffos N1 is great for folks that need performance on all fronts matched with long battery life. Those who want to try a dual-lens setup but can't shell out big can consider this device too. If anything, it will fit with those who are always on-the-go and rely on their smartphone to help pass the time. Indeed, the Neffos N1 is a decent attempt at proper a new flagship. At just a little over RM1,000, it is certainly affordable to most Malaysians. Big plus point for TP-Link that it made this upper mid-range entry feel like a premium product. Now that is a move that should be lauded just for as the effort is A+!
BENCHMARK
Slingshot 905 Sling Shot Extreme: 673
Multi: 810
Ice Storm Extreme: 9,079
Antutu: 77822 GeekBench, Single: 593
VERDICT:
"Neffos N1 may very well stand for 'Number 1′." – Din
Neffos N1 Specs
[table id=9 /]
V 9/10
p 8/10
F 8/10
D 9/10
U 9/10
8.6