NAD's C 658 preamplifier cannot make tea, but it does most else, finds Noel Keywood. Read our NAD C 658 STREAMING DAC Review.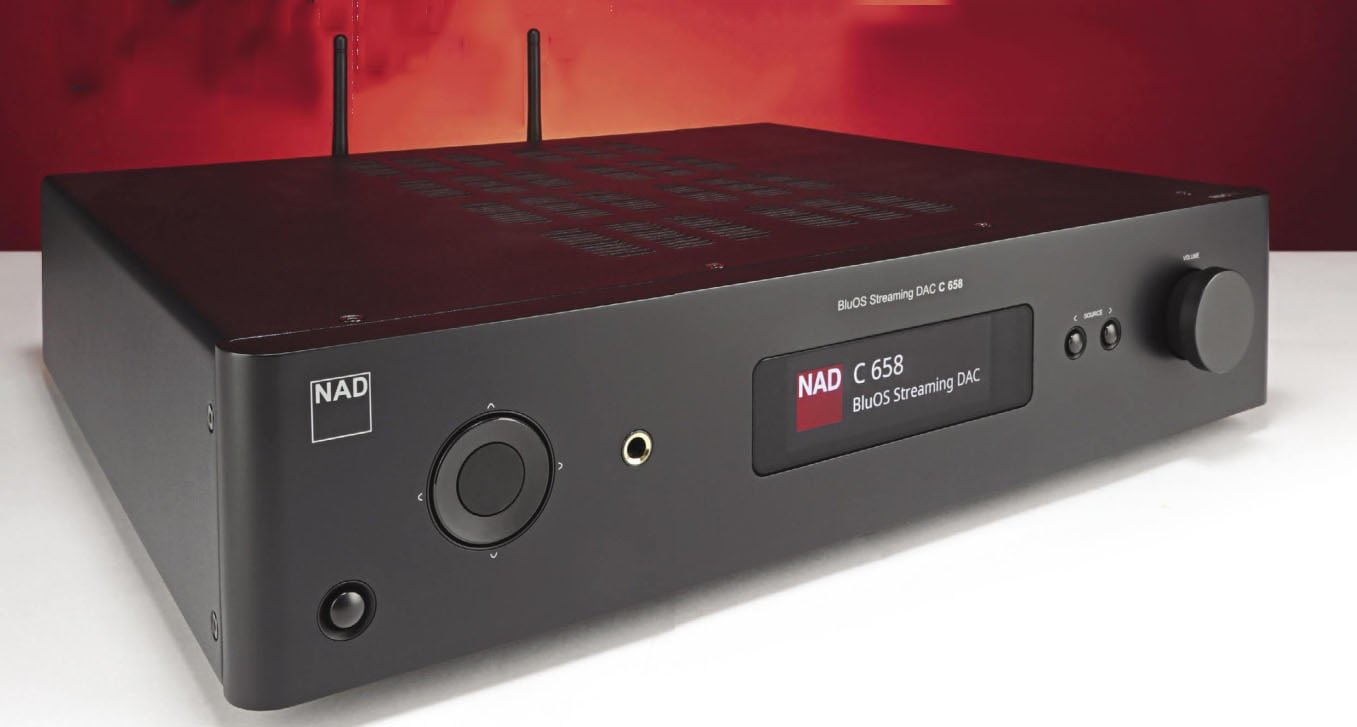 The most unlikely idea ever is surely to play LP through a streamer, is it not? Like letting a steam roller loose on a Fl track: somehow the two just don't go together. A contradiction like no other it would seem, but that's what NAD's C 658 offers – and more bizarrely it has loudspeaker room correction! Eh? It's best to think of the C 658 as a Swiss Army knife pre-ampllifier that does everything except make the tea. Well, what do you expect for £ ?
Although there's plenty of analogue ability this is basically a deeply digital device. The analogue inputs are converted to digital (there is an analogue bypass) and it's run by a BluOS app on a 'phone or iPad, although you get remote control also, if not of all functions. Its software comes with Dirac LE (light) loudspeaker room correction and a microphone is supplied for set-up. As a streamer it's connected to the internet via ethernet cable or wi-fi. Since the outputs are analogue, to feed a power amplifier or perhaps active loudspeakers, there is an on-board DAC and it is from ESS no less. Amazingly, there's also Bluetooth output so it will link with Bluetooth loudspeakers or headphones wirelessly.
This is one big bag of tricks then. So there's a User Manual of equivalen proportions, plus numerous additional set-up leaflets with our sample that do have to be read!  The User Manual is available on-line and on-line savvy is needed to update firmware, understand Dirac etc. Setting up the C 658 isn't plug'n'play – more plug'n'ponder. I updated our review sample to latest (Novl9) 3.6.12 firmware before starting the review.
There are two Line inputs and a Phono input for a turntable purposed for moving magnet (MM) cartridges – no great limitation since today's MMs are pretty sophisticated. All inputs are through RCA phono sockets; there are no balanced XLR socket inputs. However, there are balanced outputs as well as unbalanced with RCA phono sockets. With very high maximum gain the C 658 is a capable preamplifier that can handle all analogue inputs, even a moving coil cartridge. It has a headphone output and volume can be adjusted by remote control or app. as well as a front panel rotary control.
Bass, treble and balance can be adjusted on the preamp only, not the app. but the remote has a tone defeat function. Surprisingly, the bass and treble controls are not switched out by selecting Analog Bypass, but the internal ADC (type unspecified) is, eliminating its 2.3V input overload headroom limit should a source exceed this (few do). As NAD say and our measurements showed, their bass and treble controls affect spectrum extremes only and there was very good resolution so fine changes could be made, top limit being a sensible +/- 7dB.
The digital section has an 'ESS Sabre 32bit DAC with 118dB Dynamic Range' they say, but the model is unspecified. Our sample managed this on one channel but not the other, average being ll5dB (see Measured Performance). There are electrical and optical digital inputs (S/ PDIF) but not a USB B for computer connection, since BluOS can read both PC and Mac (iTunes) music libraries via network connection using Windows SMB file sharing, in what is termed Network shares on the app.
More conveniently perhaps, there is a USB A socket at rear for reading a flash drive, so music files can be played from there without a computer being on, but this function is available only on the app. – somewhat less convenient. Even a simple USB drive track list on the front panel display, of the sort used by Cambridge in their streamers, would have helped, in conjunction with access by remote control. Selecting USB on the remote flags up a message to use BluOS, but the front panel display does show track information.
BluOS will however give access to a wide range of streaming services including Amazon Music, Spotify, Quobuz, Tidal, Deezer, Napster, radio stations and much else. Inputs can be selected from the app too.
Dirac room correction proved a little challenging. Where AV receivers carry on-board software for set-up and 'room tuning' the C 658 does not. Instead Dirac must be run on a separate computer (PC or Mac) on the network. An active internet connection is needed too.
The computer sends test signals (frequency sweeps) to the NAD and a connected (USB) measuring microphone collects data from the listening position and sends it back to the computer for processing.
Dirac on the computer then produces a correction curve and sends that back to the C 658. Up to five correction curves can be stored. The LE version of Dirac covers 50Hz- 500Hz and there is an upgrade ($99) for the full frequency range. It's a very complicated process I found, not for the faint of heart.
The final response and its correction curve were much as I expected from a sine wave sweep of a room and the correction curve can be manually tweaked to suit taste. Correction is digital and will not function with analogue inputs if Analog Bypass is selected.
Although it uses compact switch- mode power supplies so lacks a heavy mains transformer, the C 658 is quite heavy at 8.2kg and measures 435mm wide, l00mm high and 405mm deep. It's built on a standard pattern pressed steel chassis, sombrely finished in NAD style. A master power switch lies on the rear panel but there's a front power button that puts the unit into standby, duplicated on the remote control, but not the app. The app will control volume through all inputs though, which is important.
I had no problems operating the C 658 once I had acclimatised to the fragmented structure of its user interface, where some functions are handled natively but others by BluOS alone – with the remote control sitting somewhere in-between! Dirac loudspeaker compensation took this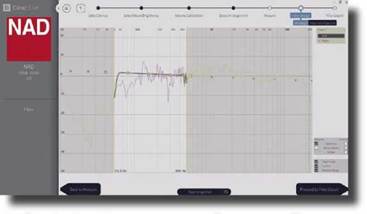 The Dirac loudspeaker response correction screen, with measurement of a small bookshelf loudspeaker, suggested correction curve and manual tuning options.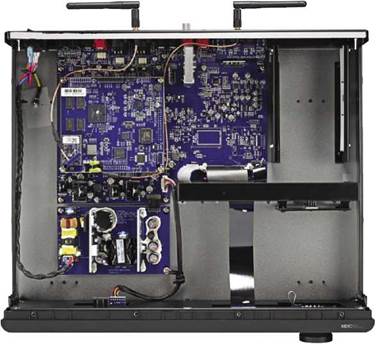 There are external wi-fi and Bluetooth aerials for efficient radio connection. Inside lie densely populated circuit boards full of huge chips, including the ESS DAC (near centre). Switch-mode power supply (screened) so no mains transformer visible.
to an extreme in set-up complexity; on-line guides are available from NAD and Dirac but are poorly structured and written. It was all a bit scrappy.
SOUND QUALITY
I connected the NAD to our Creek Evolution 100A amplifier through Chord Company Epic balanced cables. With balanced inputs selected the Creek's volume control is switched out, so volume was controlled by the NAD. An Oppo BDP-205D Universal Player acted as CD transport supplying an optical digital signal through QED Quartz glass optical cable. I played hi-res and CD from a rear flash-memory drive (Memory Stick) and this offered best sound so was my preference. Other sources come in through cables that add jitter and noise, whilst ripped files to flash drive are re-clocked to sound cleaner and more stable, as well as being cable-limitation free. Loudspeakers were Martin Logan ESL-X hybrid electrostatics, connected with Chord Company Signature Reference cables.
Running through a broad selection of uncompressed CD tracks that I use regularly, it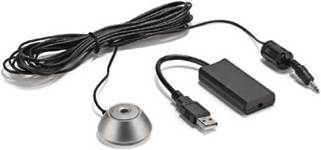 The Dirac loudspeaker correction microphone with long cable to listening position, plus an adaptor for connection into the rear USB A socket.
was obvious from outset that the C 658 has NAD's characteristic warm'n'easy sound balance. Since this is also characteristic of ESS Sabre32 series DACs, hardly surprising the C 658 should sound open and big chested with Misa Criolla, where the choir was spread large, wide and deep between our electrostatics, with a smooth almost enveloping warmth. ESS DACs have deep insight into low level information and this allowed the NAD to retrieve atmosphere from this live performance.
With Nils Lofgren's Keith Don't Go, with its cutting close-miked guitar strings, the C 658 was mild mannered rather than sharp and fast. Lofgren's vocals were big-bodied and the performance atmospheric, the whooping audience wrapping

At left are MDC expansion slots, for HDMI and future upgrades. Then come digital inputs including the all-important LAN RJ45 ethernet network connector (wi-fi is also available).
Big XLR balanced analogue output sockets sit centre-right, offering best sound quality, but there are RCA phono socket alternatives.
around behind our loudspeakers, but there were no sharp edges. Think: big, warm, smooth.
Moving on to hi-res I heard the same with Fleetwood Mac's Dreams (24/96) where cymbals in Mick Fleetwood's drum kit were rich rather than raucous, as they can be from this old recording – but there was good low end heft to his drumming. Bass was weighty, rather than speedy.
Cyndee Peter's singing House of the Rising Sun (DSD) had large presence: her slow drawl eased out through the loudspeakers. She sounded weighty enough to be real so I paid due attention. Slow cymbals strikes were sweet in tonality but mild in manner, with no spotlight on them.
Spinning LP on our Timestep Evo modified Technics SL-1210 turntable with SME 309 arm and Audio Technica VM750SH Shibata tipped MM cartridge worked well. The cartridge is on the brighter side of audio life, fast and detailed. This suited the C 658 nicely; it was a symbiotic pairing. Fast drum work in Sing Sing Sing, from the Syd Lawrence Orchestra (180gm, Direct Cut), had visceral power and the musicians sat in broad panorama in front of me. The C 658 images well but it isn't showy about it, more gentle and beguiling. I enjoyed spinning LP through it, but best to use a cartridge with fast, forward sound, Audio Technicas filling this bill well.
CONCLUSION
NAD's C 658 preamplifier does so much it is hard to take in. In classic NAD fashion all works well at basic technological level, ensuring good sound quality of a nature expected from this company: full bodied, warm and smooth – not a speedy sound. Operationally, the user interface is fragmented and awkward, and with Dirac loudspeaker tuning challenging. But once acclimatised I found it all worked well. If you want a preamplifier that does it all, sounds good and does not cost a fortune then the C 658 is well worth considering.

NAD's SR9 remote control covers many but not all functions.
MEASURED PERFORMANCE
Frequency response reached 45kHz before rolling down sharply, our analysis shows, with a 192kHz sample rate digital input via Coaxial 1, where the usual limit is 96kHz. The optical input accepted 192kHz sample rate and gave the same result.
Left and right outputs differed in quantisation noise level and therefore dynamic range, Right measuring 113dB and Left 118dB (EIAJ Dynamic Range) – a large difference. The average of 115dB is mediocre, behind the 120dB+ result becoming more common, if still enough to reveal the benefit of hi-res over CD (100dB dynamic range). The ESS Sabre32 series DAC (model unspecified) is spec'd at 118dB NAD say. Harmonic distortion at -60dB (24bit) measured 0.04% – good but 0.02% is now possible.
Preamp gain measured a high x12 (22dB) with volume turned to maximum (12dB), from phono socket Line 1 in to both phono and XLR output sockets, where XLR commonly gives double gain and output. Both sets of outputs overloaded at 4.7V – quite low. Volume is best set to 0dB where gain is a conven­tional x3 (10dB). The analogue inputs overloaded at 2.3V in, just good enough to accept 2V from a silver disc player – but Analog Bypass bypasses the ADC, eliminating this issue.
Phono stage equalisation was accurate, giving flat frequency response from 10Hz (-1dB) to 20kHz. Gain measured x200 at 0dB volume setting and x760 (58dB) at full volume – more than enough for all MM cartridges. With 47k input this stage is purposed for MM but gain is just about usable with MCs with volume turned up.
The C 658 performed well under measurement, but its digital section is slightly beneath highest standards. NK
DIGITAL
Frequency response (192kHz,-1dB)
3Hz-45kHz Distortion (-60dB, 24bit) 0.04% Dynamic Range (EIAJ) 115dB Noise -113dB
PREAMP
Frequency response 3Hz-100kHz Gain             x12
Output max (unbalanced/bal) 4.7V
PHONO STAGE
Frequency response 10Hz-20kHz Gain (max)  x760 (58dB)
FREQUENCY RESPONSE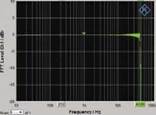 DISTORTION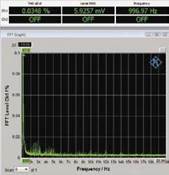 OUTSTANDING – amongst the best.
VERDICT
NAD C 658 STREAMING DAC Review
Massively capable digital preamplifier with streaming and loudspeaker correction. Complicated, but fine sound.
PROS
breadth of ability
warm smooth sound
loudspeaker correction
CONS
fragmented user interface
complex Dirac set-up
USB drive via BluOS only
Add your review
|
Read reviews and comments
MORE DEALS

NAD nadelectronics.com