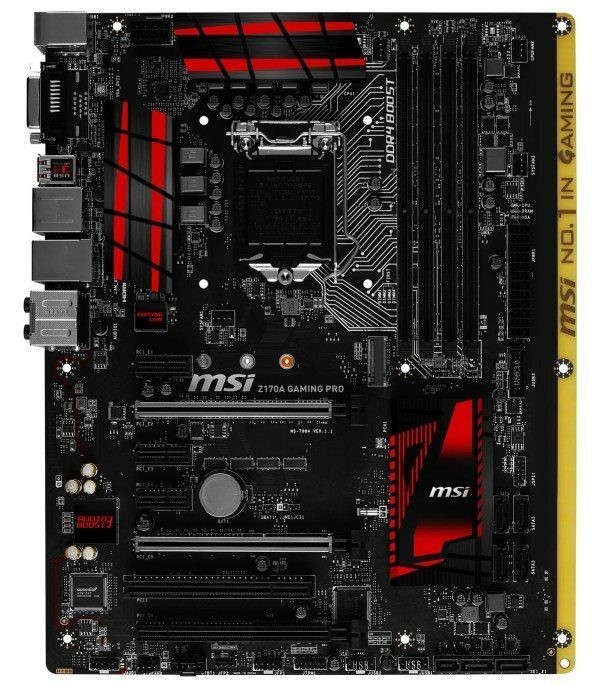 If you fancy having RGB lighting on your motherboard, but Asus' lighting-equipped offerings, such as the Maximus VIII Formula or Hero, aren't quite in your price range, then MSI's new Z170A Gaming Pro Carbon might be just the ticket.
Like MSI's Z170 A XPower Gaming Titanium, the Z170A Gaming Pro Carbon has chrome-plated PCI-E slots, but it also sports a black PCB, black heatsinks and carbon fibre detailing. There's essentially no colour on the PCB, which makes it easier to colour-match it with the rest of your hardware, something you can't achieve with the likes of Gigabyte's otherwise excellent Z170MX-Gaming 5, with its obvious red details.
RGB lighting can be useful when it comes to colour matching too. The Z170A Gaming Pro Carbon's lighting system isn't as extensive as that on the Maximus VIII Formula, though, and extends to just some printed patterns next to the 24-pin ATX power connector. The LEDs are underneath the board, and dish out plenty of light, although the effect isn't particularly even or vivid when shining through these patterns – the main effect is light bouncing off your motherboard tray.
The lighting is controlled using Windows-based software, rather than the EFI, and you can select a specific colour using an RG B palette and apply several effects. The colours aren't quite as accurate as those on some of Asus' motherboards, orthose available from NZXT's Hue* RGB lighting system, but they definitely add some pizzazz to an unlit system.
SPECIFICATIONS
Chipset Intel Z170
CPU socket Intel LCA1151
Memory support 4 slots: max 64C B DDR3 (up to 3600MHz)
Expansion slots Three 16x PCI-E 3, fourlx PCI-E3
Sound RealtekALC1150
Networking Intel 1219-V Gigabit LAN
Overclocking Base clock 98-341MHz, CPU multiplier 8-80x: max voltages, CPU 1.55V, RAM 2.2 V
Ports 6 X SATA 6Gbps (Z170), 1X M.2, 1 x USB 3.1 Type-A, 1 x USB 3.1 Type-C, 2 x USB 3,4 x USB 2,1 x LAN, 8-channel surround audio out line in, mic, optical S/PDIF out, 1 x HDM11.4, 1 x DVI-D, 1 x PS2
Dimensions (mm) 305 x 244
MSI's included software also deserves praise. The Gaming App, which controls the lighting, also provides access to one-click performance modes, such as Gaming and Silent, with the latter cutting back fan speeds.
Meanwhile, Gaming Hotkey and Mouse Master enable you to program your keyboard and mouse buttons respectively, as well as record and execute macros. Its Command Center software is particularly good too, offering easy access to a number of overclocking options from the desktop, including the ability to tap into MSI's excellent fan control suite. We had no problem overclocking from within Windows with this software, so if you're a beginner looking for a board to learn the dark arts of overclocking, the Z170A Gaming Pro Carbon is a good choice.
Despite its reasonable price tag, MSI has managed to shoehorn full USB 3.1 support into the package, with single Type-A and Type-C connectors on the rear I/O panel. Sadly, there aren't many on-board overclocking tools though – power, reset or clear-CMOS buttons are absent and there's no LED POST code display either, although very few sub £140 boards offer these features anyway. Layout is generally good, apart from two niggles. The first is that the 8-pin EPS 12V connector andCPUfan header are mounted very close to the heatsink at the top of the board, which makes it awkward to install their corresponding connectors. Secondly, the heatsinks around the CPU socket are shaped in a way that makes it tricky to mount some all-in-one liquid-cooler blocks, such as the one with our Corsair H80i GT test cooler.
These complaints are far from deal breakers though. You also get a 4x PCI-E 3 M.2 slot, which is sensibly positioned above the primary 16x slot. This M.2 slot sits behind a lx PCI-E slot, but access to your M.2 SSD will be unhindered if you don't use this PCI-E slot, and there three other 1x PCI-E slots available too. There are also three 16x PCI-E slots, although the third is limited to 4x mode, with the two chrome-plated slots offering 16x mode in single-GPU configurations, or dual 8x mode in SLI or CrossFire configurations. The top two 16x slots are sensibly spaced too – offering loads of room for big graphics card coolers.
Performance
With a total system score of 135,068 at stock speed in our RealBench 2015 suite, the Z170A Gaming Pro Carbon is above average in our score table, bettering Asus' similarly priced Z170 Pro Gaming motherboard in all the tests.
The MSI was a tad slower than some other boards in our Total War: Attila benchmark, but again beat the Asus Z170 Pro Gaming.
Audio performance was much better than some other MSI Z170 boards we've seen too, with a dynamic range of 103.8 dB(A) and noise level of -103.9 dB(A) matching the vast majority of other Z170 boards we've tested. By comparison, the MSI Z170A SLI Plus only managed 96.3dB(A) and -96.4dB(A) respectively. Slotting a Samsung 950 Pro M.2 SSD into the M.2 slot also saw the MSI match the results from other boards we've tested with the SSD, netting read and write speeds of 2,300MB/sec and 957MB/sec. The SATA 6Gbps results of 563MB/sec and 531MB/sec are on the money too.
Meanwhile, overclocking was easy, although we needed a hefty 1.42 V to get our CPU to a maximum of 4.8GHz -comparatively, we achieved the same clock speed with just 1.34V on the Asus Z170 Pro Gaming. This overclock saw the power consumption under load hit 189 W, but that isn't excessive compared with much of the competition. This overclock saw the system score rise to 147,311 – a great result, even if it's a little behind the Asus Z170 Pro Gaming's overclocked result. The overclocked Total War: Attila results match those of pricier boards we've tested too.
VERDICT
If you want RGB lighting on a budget, the Z170A Gaming Pro Carbon is a great board, though you can get better value for money and features elsewhere.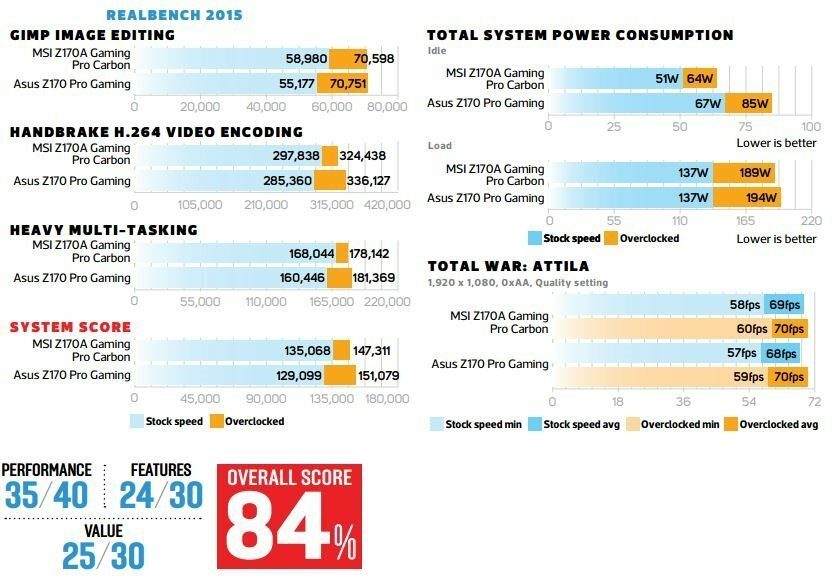 TEST KIT
4GHz Intel Core i7-6700K, 16GB Corsair Vengeance LPX 2666MHz DDR4 memory. 256GB OCZ Arc 100 SSD. Corsair HX860i PSU, Windows 10 Home 64-bit
MSI Z170A Gaming Pro Review
If you want RGB lighting on a budget, the Z170A Gaming Pro Carbon is a great board, though you can get better value for money and features elsewhere.
Add your review
Best MSI Z170A Gaming Pro prices ?

$

173.99
1 new from $173.99
in stock


$

243.99
1 new from $243.99
in stock


$

450.00
1 used from $398.86
1 new from $450.00
in stock

MORE DEALS