Movavi Video Editor Review
Roland Waddilove sits in the director's chair and creates his own movie with a budget editing package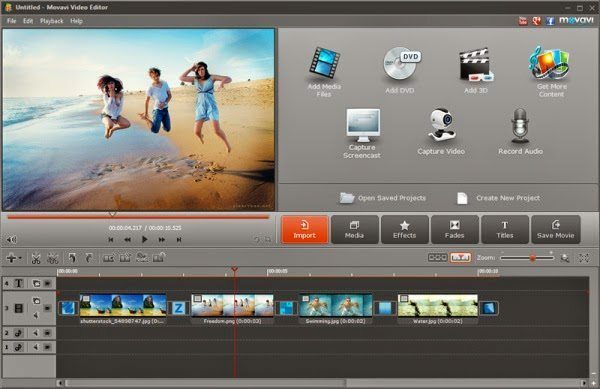 The low price of this software puts it firmly in the home user hobbyist arena. It's not a professional tool for editing your next TV documentary or Hollywood blockbuster. But although it's cheap, it has a lot of useful features, and it's great for editing your holiday, wedding, birthday or other videos you may have taken on your mobile phone or digital camera.
The interface looks modern and is packed with tools and features, but once you start using it, it's not obvious how to perform some actions. It takes time to discover how to use it, and you'll need the online tutorials and manuals to learn how it works. Once you get to grips with it and become familiar with the tools, though, it's a lot of fun.
There are Import, Media, Effects, Fades, Titles and Save Movie tabs, and this is exactly the order in which a video is created. All your video clips and photos for a project can be imported, and all the common file formats are supported. Video and audio can also be recorded directly if you have a webcam, as laptops do these days. Then you switch to the Media tab and drag and drop them into the timeline. Multiple video, audio and titles tracks can be used, and items can be dragged and dropped to move them or insert them.
Video stabilisation is available, and this is great for smoothing out handheld video clips. A shot walking along that made people seasick watching it was so much better after stabilisation. It was confusing at first, because the stabilised video was saved as a new clip and you have to delete the original and then drag the new version to the timeline and insert it. It worked well, though.
The Effects tab provides access to more than 100 effects, and more packs can be purchased online. There's noise, artistic, blur, chroma key, filters, mosaic and many more. One of the more interesting ones is flying objects. There are hearts, bunnies, paper planes, ghosts, snow, leaves and many more. These are cartoon-like objects that are animated and float across the video. Another great effect is picture-in-picture. While one video is playing, you can have a second one playing in the corner of the screen or wherever you want it. There's a miniatures effect that applies special effects to create the impression of miniaturisation. It's weird but fun.
There's the usual collection of transitions to insert between scenes, and they're easily adjusted. Titles can be added, and there are many options, such as fade in or out, bounce, gravity and a Star Wars into-the screen scrolling effect. The Save Movie options are comprehensive, and there are presets for a large number of phones and tablets, YouTube, Facebook and Vimeo uploads, raw uncompressed video, HD 1920 x 1080 video and so on. You can even save 3D movies.
Movavi is a comprehensive home video editor that has an excellent range of effects and features. It's reasonably priced, and once you get used to it, it's straightforward to use.
Roland Waddilove
Decent video editing and an amazing price.