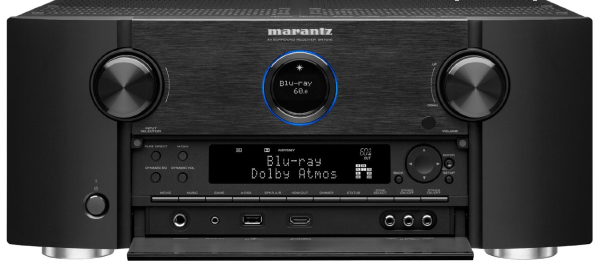 The Marantz SR7010 is the fifth Dolby Atmos receiver
I've reviewed. However, to be frank, it's only the second one that matters to me. Most of the Atmos receivers occupying my rack's guest berth have been seven-channel models limited to 5.1.2-channel Atmos, with just a single pair of height channels in the front. Only the nine-channel Pioneer Elite SC-89 and this Marantz have provided what I deem the minimum acceptable Atmos experience utilizing 5.1.4 channels, with height channels in both front and back.
This review also marks my second exposure to Atmos-enabled speakers—which attempt to bounce height effects off the ceiling—and my first exposure to Atmos add-ons, in the form of the Klipsch RP-140SA. Adding the Klipsches to my existing Paradigm monitors enabled me to incorporate the Paradigms, my longtime reference speakers, into Atmos demos for the first time. Before this, I had relied on the Pioneer SP-EBS73-LR, an Atmosenabled integrated monitor, with the height drivers built into the top. I would use the Pioneers for Atmos and the Paradigms for 5.1 and stereo. Now I can use the Paradigm/Klipsch team for all demos. True, the elegant form of the Pioneers makes the Paradigm/Klipsch combo look like a Frankenstein monster. But adding Atmos to the speakers that are hardwired into my frame of reference was worth the trouble. A dedicated review of the Klipsches is in the works. Top of the Heap Marantz offers five new receivers, including three full-size SR models and two slimline NR models. They are the SR7010 ($2,199), SR6010 ($1,399), SR5010 ($899), NR1606 ($699), and NR1506 ($499). The top four support Atmos. However, the SR7010's nine amp channels make it the only one to natively support Atmos 5.1.4. The SR6010 requires two channels of external amplification to accomplish the same, and the SR5010 and NR1606 are seven-channel models supporting Atmos 5.1.2 only. Bottom line: If you're serious about Atmos, either invest in the SR7010 or seek nine-channel joy elsewhere. The SR7010 is slated to ultimately support three of the latest surround formats. It plays Dolby Atmos out of the box and can be upgraded for DTS:X and Auro-3D. DTS:X competes with Dolby Atmos much as DTSHD Master Audio competes with Dolby TrueHD (and the original DTS competes with Dolby Digital). Which one is the better format is a question we'll probably be sorting out for years. The DTS:X software update wasn't available in time for this review but is scheduled to arrive in 2016. Auro-3D is a much smaller competitor in the race. This format, from Auro Technologies of Belgium, supports not one but two height layers (in addition to the floor speakers), and, unlike DTS:X, its requirements cannot be satisfied with an existing Atmos speaker layout. Although Auro-3D has been around since 2006 and doesn't require an update to be compatible with existing Blu-ray players, it's supported on only a handful of Blu-ray titles. However, I must tell you that the two Auro-3D demos I've heard at CES 2015 and CEDIA 2015 were both jolly convincing. Whether Auro-3D will ever be a contenda is somewhere between debatable and dubious, but the extra height layer is a provocative idea. Incidentally, if you want to run 10.1 Auro-3D on the nine-channel Marantz, you'll need an extra amp for the additional height channel. The SR7010 is rated at 125 watts with two channels driven. How it will fare with more channels going at once will make our Test Bench measurements interesting  reading. Ultra HD fanatics may rest assured that the receiver has the latest HDMI 2.0a connectivity with the metadata that supports HDR10 picture-quality improvements plus HDCP 2.2 anti-copying technology to ensure that the receiver will pass UHD signals from any source component. Rarer is the ISF certification, which allows a qualified installer to make subtle video tweaks. Like an ever-increasing number of receivers, the SR7010 has what I call the wireless triple threat (though one reader suggests it should be called the triple treat): Wi-Fi, AirPlay, and Bluetooth. DLNA accesses music from Wi-Fi- or Ethernet-connected devices such as a PC or a NAS drive. If that isn't enough music-streaming gratification, the FM section also tunes in digital terrestrial HD Radio (which supports DTS Neural Surround). Back in the wired world, the front-panel USB port can connect either an iOS device or a flash drive, with audio files including lossless FLAC and DSD. That's a whole grab bag of fun. The only omission is a dedicated USB DAC input that accepts direct signals from a PC or Mac. Granted, this remains a rare feature on AVRs, but a receiver costing north of $2,000 should cover all bases. Auto setup and room calibration have become indispensable features to those who would rather not own an SPL meter. Marantz has not only licensed Audyssey, still the class act of the field in my opinion; it has paid extra for the best version, Audyssey MultEQ XT32. This maximizes filter resolution and applies the results to all channels, including subwoofers. Marantz and stablemate Denon even supply a cardboard tripod for the setup microphone. Associated equipment included my five Paradigm Reference Studio 20 v.4 monitors, the four Klipsch RP-140SA Atmos-enabled add-on speakers, an Oppo BDP-83SE universal disc player for Blu-ray, and a Panasonic DMP-BD87 Blu-ray player for Netflix streaming. All movie demos were on Blu-ray Disc. 
No Personality Shifts Befitting a top-of-the-line receiver, the SR7010 ran my speakers of average sensitivity (plus the Atmos add-ons) with room to spare, playing as loudly as I care to listen, even with all nine channels singing. One benefit of pairing a high-quality amplifier section with Audyssey's top room-correction scheme was that the results were great in any conceivable mode, whether it was the movie-friendly Audyssey Reference, the music-friendly Audyssey Flat, or the direct mode with no room correction at all. Unvarnished, the receiver had a slightly polite top end, a euphonic midrange, and excellent bass for a receiver. With Audyssey room correction, imaging improved, but the receiver maintained its strong suits, avoiding the jarring personality shifts and tradeoffs between modes that have been known to characterize receivers with less refined amps and lower-resolution room correction. The Marantz and I binged our way through two seasons of The Blacklist, the James Spader supercrook series, via Netflix, in Dolby Digital Plus 5.1. Even with zero break-in, the receiver had a confident personality that soon asserted itself, easily handling copious chase scenes and gunfights. Of course, the real fun of this show is Spader playing criminal raconteur and mentor to his FBI protégé Megan Boone, sometimes i n a cheerful singsong, sometimes in an urgent sotto voce. At high enough volumes, the dynamic extremes held together—though for the late-night pre-Colbert binges, I invoked Audyssey Dynamic EQ and Dynamic Volume to spare the neighbors. These less-celebrated members of the Audyssey suite get less credit than they deserve; they rejigger a program's dynamic contours while still providing a great listening experience. Pre-Atmos movie viewing included The Calling (Dolby Digital), with Susan Sarandon as a small-town detective trailing a serial killer. The opening music includes a church bell; this triggered the Dolby Surround processing mode into action, which derives faux-height effects from non-Atmos surround and stereo soundtracks. The height enhancement gave the tolling of the bell an extra eeriness and made the rest of the music un-speaker-bound. I liked the feeling.