Magix Music Maker 2017 Review – These days you don't have to be a formally trained musician to make music – even music that ends up in the charts. Magix Music Maker exemplifies why: it's an affordable but comprehensive program that lets you put together tunes in whatever way works for you, from combining ready-made loops to recording your own performance on electric, acoustic or digital instruments.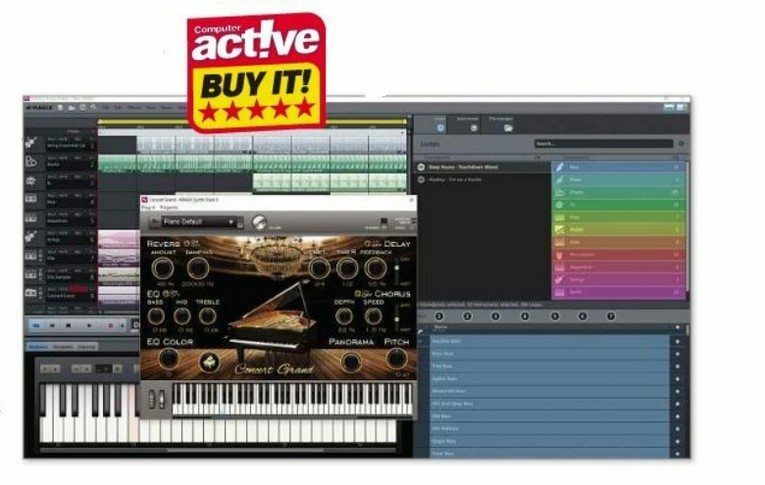 A simple but effective virtual mixing desk and effects suite completes your home studio, and that's just with the basic version; you can pay extra for even more tools to add professional polish.
Easy to use, great value for money and impressive tools
This year's update brings only a few changes from Music Maker 2016 (see our review, Issue 464), but if you have used it before you'll notice the improved Media Pool, where you browse loops and instruments. It's been shifted from the bottom of the screen, where it felt cramped and fiddly, up Into a new area to the right of the main arrangement window (see screenshot below), where there's more room.
Loops are helpfully color-coded.
Both the Media Pool and the on-screen music keyboard can be displayed or hidden with a simple click, and the result is a workspace that feels like a Windows version of Apple's GarageBand.
We tested the standard edition of Music Maker 2017, which comes with 5,000 loops in six styles (Dubstep, Hip-Hop, them to disc or export to many popular audio formats, including MP3, OGG, WAV and FLAG. Music Maker 2017 also supports standard VST software instruments and effects, which means you can choose from an enormous range of add-ons – paid-for and free.
The quality of Music Maker's virtual instruments – from dreamy electric pianos, slide acoustic guitars and full orchestral string sections to thumping basses, crunchy electric guitars, shimmering synths and deep house beats and squelches – is first class, and although you'll take a while to get the hang of things if you've never used similar software before, it's not hard to put a few tracks together. We reckon this is the best combination of features and ease of use at this price.
Magix Music Maker 2017 Review: SYSTEM REQUIREMENTS
Windows 7.8 or 10
2GB memory
73GB hard-drive space