Nate Drake samples the lighter flavour of Ubuntu and has brought enough to share. Read our Lubuntu 23.04 Review.
IN BRIEF
Lubuntu is top class – it runs at turbo speeds and works brilliantly out of the box with its custom apps. It offers all the advantages of Ubuntu without overburdening system resources.
SPECS
CPU:
450MHz (1GHz recommended)
Mem:
512MB (1GB recommended)
HDD: 9GB
Builds:
x86_64, ARMhf
That isn't a typo. The name Lubuntu is a combination of Ubuntu Linux and the lightweight LXDE (now LXQt) desktop environment The original aim of the Lubuntu project was to give Ubuntu to the masses who had older PCs that couldn't handle the default Unity desktop environment.
Since the switch to LXQt, however, there's been a change in philosophy – while the OS is still designed to be lightweight, since 2018, in the developers' own words, there's been a shift to a "functional yet modular experience".
We're not sure what to make of this but Lubuntu is still as light as a feather. The whole ISO weighs in at less than 3GB. We launched the bundled Ca/amares installer and were up and running in under five minutes.
As with other flavours of Ubuntu, you can encrypt your hard drive during setup. The developers have noticed a bug in version 23.04, however, whereby if you choose to encrypt but don't enter a passphrase, the drive remains unencrypted.
Bundle of joy
Unlike distros designed primarily for speed, like Tiny Core, Lubuntu comes with a number of preinstalled apps, including version 7.5 of LibreOffice and version 111 of Firefox, as well as VLC Media Player 3.0.18.
While LXQt 1.3.0 has been released, it didn't make it to Lubuntu's feature freeze date, so you have to make do with version 1.2.0. This doesn't seem to impact your experience, especially given the number of lightweight apps such as QTerminal, which have been optimised to work with the desktop environment. There are also preinstalled LXQt apps for managing your clipboard, storing passwords and handling archived files.
Version 23.04 of Lubuntu has now officially transitioned from PulseAudio to PipeWire to manage sound. The developers say this has a number of advantages, including better Bluetooth support.
Millennials will appreciate the new default GLMatrix screensaver, which rains down green characters like it's 1999 when you're away from your device. While we're on the subject of graphics, Lubuntu 23.04 has also switched entirely to using the Picom compositor and has enabled X compositing by default. This should allow for easier implementation of effects in heavier versions of Ubuntu, such as panel transparency.
Unlike its bigger brother, Lubuntu traditionally has had no native software centre. Luckily, Lubuntu 23.04 comes with Discover Software Center 5.27.3. This was originally developed for the Plasma desktop environment but has been used in various KDE and Qt distros. Like other recent versions of Ubuntu, installing Flatpaks is disabled by default but you can easily reactivate by clicking the Install button in Discover's settings window. If you're not a fan of the terminal, you can also use Discover to check for updates.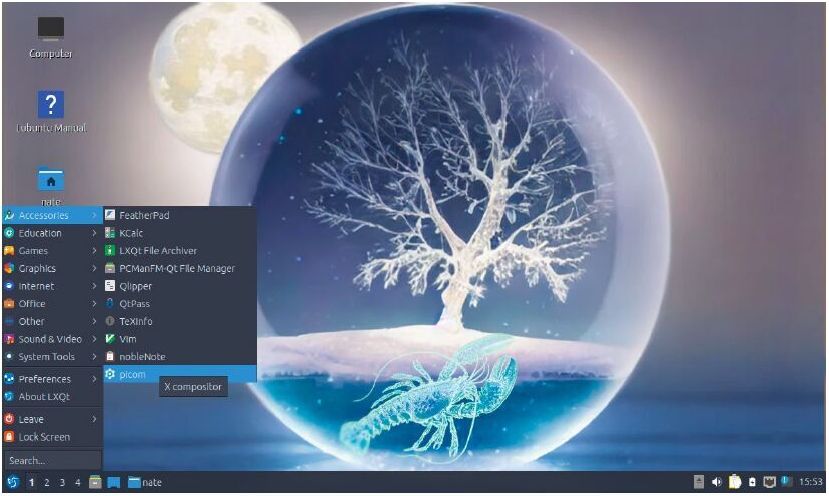 Lubuntu's lightweight LXQt desktop responds at sonic speeds but it still can display high-resolution wallpaper and panel effects.
If you're new to Lubuntu and/or Linux in general, the Lubuntu team has also been hard at work updating the official manual (https://manual.lubuntu.me/stable/). This provides an excellent overview of installation as well as adding software via Discover or the Muon package manager.
There's also a thriving forum that not only includes documentation but dedicated Support and Feedback threads. The Lubuntu Wiki support page (https://phab. lubuntu.me/w/support/) provides links to this as well as to the Lubuntu IRC channel and Subreddit.
As 23.04 isn't an LTS (Long-Term Support) release, updates will be released for nine months; this means the OS will be supported until January 2024.
VERDICT
DEVELOPER: Canonical
WEB: https://lubuntu.me
LICENCE: GNU GPL et al
FEATURES 9/10 EASE OF USE 9/10
PERFORMANCE 10/10 DOCUMENTATION 10/10
A superb lightweight distro that runs well on older machines yet offers all the functionality you'd expect from Ubuntu.
» Rating 9/10