Lubuntu 20.10 was released on 22 October, 2020 and marks the beginning of the development cycle that will lead to the next long term support (LTS) release, Lubuntu 22.04 LTS, scheduled for release in April 2022. Read our Lubuntu 20.10 Review.
Being a "standard" release, Lubuntu 20.10 is supported for nine months, until July 2021.
Lubuntu 20.10 is the fifth release with the LXQt desktop and the 22nd overall Lubuntu release.
Even if most users will not install Lubuntu 20.10 and instead stick with 20.04 LTS for its longer support period, this release is a bit of a bellwether to see what priorities and directions the Lubuntu developers set for this cycle, so it is worth a look.
System Requirements
The Lubuntu developers no longer make recommendations for the minimum hardware to run Lubuntu, but I tested Lubuntu 20.10 on my 2011 vintage System 76 Pangolin Performance laptop. That computer has 4 GiB of RAM with dual core/four thread 2.30GHz Intel Core i5-2410M CPUs and Lubuntu 20.10 ran very well on it.
Booting it Up
I downloaded Lubuntu 20.10 from the Lubuntu website via bit torrent, ran a SHA256 sum check to make sure the download was good and made up a USB installer using the Ubuntu Startup Disk Creator.
I booted to Lubuntu 20.10 in a series of live sessions, a process that now starts off with an automatic file system check to make sure the USB stick is written correctly. In this case, my first write attempt with Startup Disk Creator resulted in one error being found, so I rewrote the USB stick and re­tested it, getting "no errors found" on the second try, so it is worthwhile letting the test run.
New
Surprisingly, there is very little new in this release. The Lubuntu Update Notifier now includes a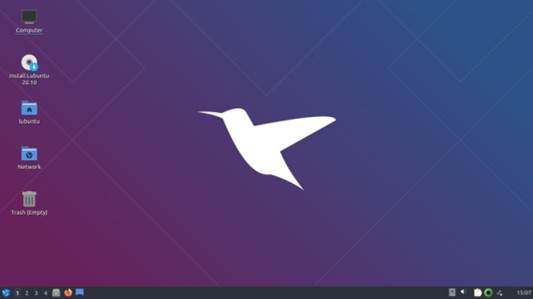 "tree format" list of updates to be installed and there is a new Plymouth boot splash screen. Both are nice additions, but really very minor tweaks.
What is not new is the wallpaper. This version of Lubuntu includes exactly the same wallpaper selection as 20.04 LTS did, with a different one, Lubuntu Solid Hummingbird, chosen to be the new default. The wallpapers supplied are all winners chosen from the 20.04 LTS wallpaper design contest and all are attractive artwork.
If the developers' directions for this release can be taken as indicative of what we can expect over the rest of the development cycle, then just small tweaks are predicted. I actually think that is a good thing. Lubuntu 20.04 LTS is the best operating system I have ever used. I believe that there are very few things needed to improve it and so small changes are the best approach, rather than large-scale initiatives.
Applications
Some of the applications included with Lubuntu 20.10 are:
2048-qt 0.1.6 simple lightweight game*
Ark 20.08.1 archive manager
Bluedevil 5.19.5 bluetooth connector
Discover Software Center 5.19.5 package management system
FeatherPad 0.12.1 text editor*
Firefox 82.0 web browser
K3b 20.08.4 CD/DVD burner
Kcalc 20.08.1 calculator
KDE partition manager 4.1.0 partition manager*
LibreOffice 7.0.2 office suite, Qt interface version
Lubuntu Update Notifier 0.3 software update notifier
LXimage-Qt 0.15.0 image viewer and screenshot tool*
Muon 5.8.0 package manager*
MPV 0.32.0 video player*
Noblenote 1.2.0 note taker*
PCManFM-Qt 0.15.0 file manager*
Qlipper 5.1.2 clipboard manager*
qPDFview 0.4.18 PDF viewer*
PulseAudio 13.99.2 audio controller
Qtransmission 3.00 bittorrent client, Qt interface version*
Quassel 0.13.1 IRC client*
ScreenGrab 2.0.1 screenshot tool
Skanlite 2.2.0 scanning utility
Startup Disk Creator 0.3.8 (usb- creator-kde)
USB boot disk maker Trojita 0.7 email client*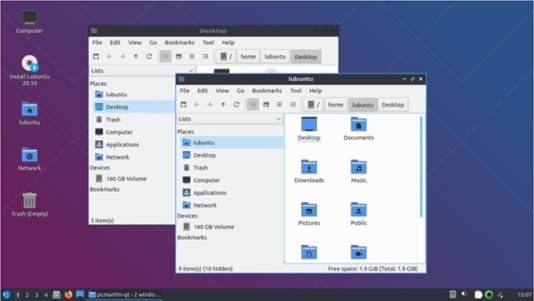 VLC 3.0.11 media player
Wget 1.20.3 command line webpage downloader*
XScreenSaver 5.42 screensaver and screen locker*
* Indicates the same version as used in Lubuntu 20.04 LTS
As in all the LXQt versions of Lubuntu so far, 20.10 lacks applications for webcam, photo editing and video editing, although these can be installed from the repositories if needed.
There are some good arguments for keeping the default installation fairly minimal, so as not to use up space with applications that users may not need and instead allow them to install applications as desired. Of course, that doesn't really explain why Lubuntu 20.10 by default still comes with the KDE CD/DVD burning application, K3b. Optical drives have not been included in new computers for many years now and CD or DVD media for burning are getting pretty hard to source. In 2020, CDs and DVDs are on their way to the same place where the floppy disks are kept, so it may be time to leave a CD/DVD burning application out of the default Lubuntu installation, as the mainstream Ubuntu has already done for several releases now.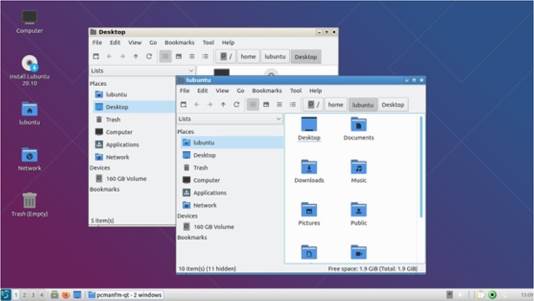 As far as applications go, the inclusion of FeatherPad 0.12.1 is an oddity. This version of my favorite text editor was already four versions out of date when Lubuntu 20.10 was released. The current FeatherPad version is 0.15.0, which was released on 22 August 2020. It could easily have been included if the Ubuntu repositories had been updated with it. Hopefully that will happen before April's release of Lubuntu 21.04, as the application is under active development and newer versions incorporate some desirable improvements.
Settings
Nothing has changed in the settings menus for Lubuntu 20.10. They are still well laid-out and easy to use, with lots of choices for icons, window themes and color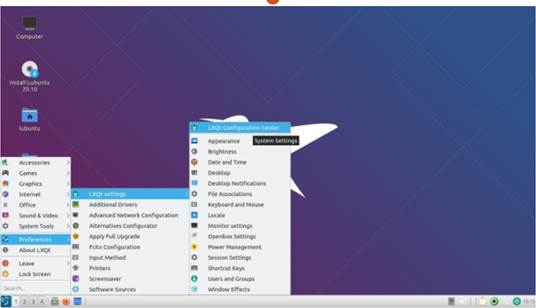 schemes, far more than Ubuntu has.
This release still uses "Lubuntu- Arc" as the default window and LXQt theme. It is a very dark theme, which is, of course, very popular these days. If it is not to your liking there are lots of options provided, including seven LXQt themes and 21 window themes, so you can make Lubuntu look almost any way you want.
Conclusions
Lubuntu 20.10 introduces very little that is new over 20.04 LTS. I actually think this is a good sign, as 20.04 LTS is a superb operating system and doesn't really need much improvement. If this development cycle leads to the next Lubuntu LTS version having just a few minor improvements over 20.04, then, personally, I will be very happy with the results. An updated version of FeatherPad would be nice by then, however.
Adam Hunt started using Ubuntu in 2007 and has used Lubuntu since 2010. He lives in Ottawa, Ontario, Canada, in a house with no Windows.