Tireless wireless back in 1944, Supreme Court Justice Robert H. Jackson, when talking about slightly more important things than a wireless headset, said that, "The price of freedom … is that we must put up with, and even pay for, a good deal of rubbish." How right he was; while there's a lot to absolutely adore about Logitech's wireless G533 headset, there are also a few things you need to endure. So, let's get through those first.
Closed-back earcups are a bit of a science to get right. These wobbly, circa-30-degree twisters should, at least in theory, clamp down on a head of any shape. But we found an element of looseness, even after properly adjusting the decent ratcheted headband. You do settle in to the slightly sloppy fit after a while, though, but the same can't necessarily be said for the fabric. It's a rather rough mesh, fully washable, probably scientifically awesome, and we found it massively itchy.
A good headset is one you forget you're wearing—this is a headset you feel like you're still wearing even some hours after taking it off.
The microphone offers up a doublestrike of emotion. It's immensely cool in its design, clicking up flush with the right earcup to mute itself, hinging down satisfyingly, pulling out with a light tug, and not putting up a fight when you attempt to angle the bendy extension precisely where you want it to be. There's even a dim, subtle red light to indicate when it's muted. Beautiful. But then you speak into it. There's virtually no mid-point; with the extension fully sheathed, the mic isn't sensitive enough to satisfyingly pick up anything below an almost-shout, but when it's anywhere near your mouth, it's buzzy, clipping, and overpowered. It is possible to luck into a good position—and it's worth pointing out that, wherever it is, it's well pop-shielded, which is a major plus—but this is not a great mic by any means.
Audibly, things start to get a lot better. If we had to sum up the G533's mix in one word, we'd choose "clean." Thankfully, we have a few more words to play with: It's a clear, untouched sound stage, with none of the infighting you might find in other headsets, even at very high volumes. The software DTS 7.1 surround sound is fine, and every frequency gets the same chance to shine. While it's not as ludicrously booming or crunchy as some headsets, we come back to freedom; you're free to enjoy anything you like, with no sense this headset is meant for something else. You're free to tweak your own equalization in software, setting up personalized profiles on a per-game or per-program basis, and to do what you want with its entirely customizable button. And you're free to enjoy all this within a decent range of its simple USB dongle, with such little lag that it's completely imperceptible.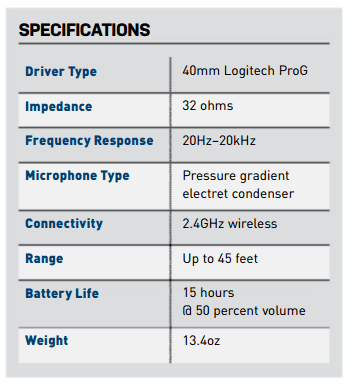 We never quite managed to walk the quoted 45 feet away from base. Our maximum range topped out at closer to 20 feet, in a busy office full of wireless interference, but that's not a bad result, and the connection never dropped or faltered while we were close. Pretty good, considering the battery life: Logitech quotes 15 hours, and we actually got 15 hours from a full charge at a reasonable volume. Battery test results matching a manufacturer'squote is almost unheard of, and the automatic power-off makes sure the G533 should be ready when you need it. If it's not, plug a micro-USB cable into the ear, and you can charge them as you listen. There are no jack options and, since it runs a proprietary lossless wireless protocol, the G533 is tied to your PC. Not absolute freedom, then, but freedom at a price that, depending on your preferences, could be worth paying, -alex cox
VERDICT
Logitech G533 Wireless
WIRELESS Clean sound; great battery; decent range; software flexibility.
DIRE-MESS Poor mic; odd fit and fabric.