Is LG's first large format OLED gaming monitor the future of PC gaming or something that shouldn't have left the living room?

OLED TV / MONITOR
Joel Burgess
LG is pitching its UltraGear 48-inch UHD OLED TV as the company's first OLED gaming monitor … but instead of aiming for the super enthusiast as Samsung has with the Odyssey range, LG is hoping to make a more approachable product. The 48-inch UltraGear UHD 4K OLED Gaming Monitor was on sale for $ at the time of writing, which is a pretty fair price for a sub-55-inch OLED TV these days. Sure you'll be able to find cheaper OLED TVs at a similar size out there, but they'll come with concessions like a slower framerate, higher response time, no DisplayPort input and a lack of gaming monitor screen optimisations. Read our LG UltraGear 48-inch UHD 4K OLED 48GQ900-B Review.
If we start with the basics, the 48-inch UltraGear 48GQ900-B is a great monitor. It's expansive, offering a TV-sized gaming experience, but it also comes with the rich colours offered by OLED and 99-percent coverage of the DCI-P3 gamut. These features, plus the 120Hz refresh rate that you can play in HDR modes add up to an amazing looking gaming experience.There's no denying that the level of picture quality is impressive and, when fully engaged, will challenge even the most expensive gaming PCs.
If you do want a little extra frame rate performance you can overclock the screen to 138Hz, which is perfectly serviceable for online competitive titles, but anything over 120fps does mean you'll have to give up AMD and Nvidia's adaptive sync technologies in order to push it that last little bit. That said, it's a sacrifice you might be willing to make for the occasional fast-paced FPS.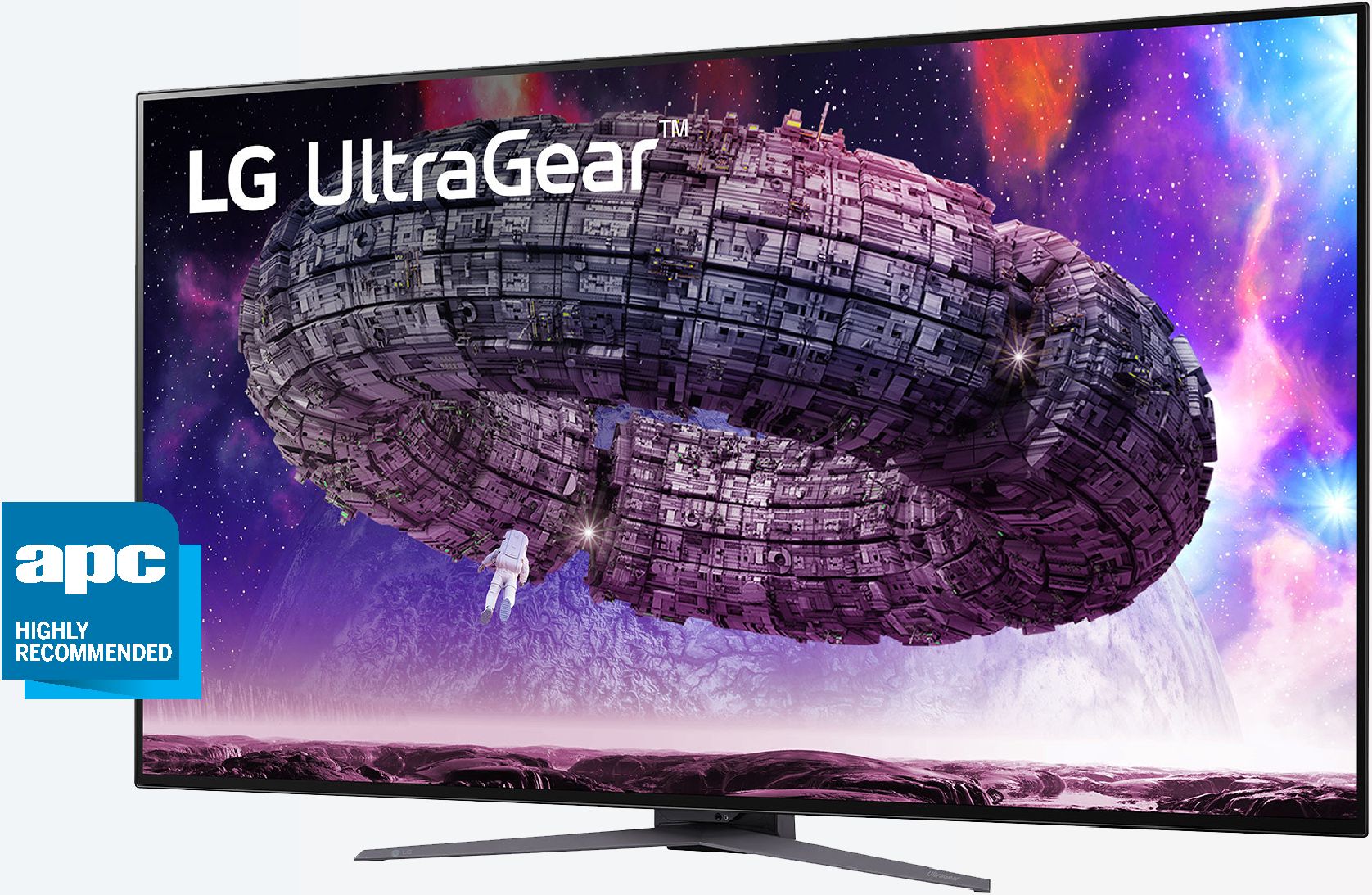 47.53-inch OLED display at 3840 x 2160 pixel resolution; 330cd/m2 Typical brightness; Typical contrast ratio 1,500,000:1; 120Hz refresh rate (138Hz overclocked); 99% DCI-P3 coverage; HDR10; AMD FreeSync Premium; G-Sync Compatible; 107x66x18.5cm; 16.8kg.
$ might only be enough to get you a mid range TV, but that budget is very much at the top-end for a gaming monitor, so consumers expect a lot more than just picture quality. Unfortunately LG hasn't quite nailed these additional aspects of the 48GQ900-B.
The monitor interface hasn't been optimised for the UltraGear Remote Control scroll wheel so it takes as long as buttons or a joystick to navigate the vertical menus and the controller is unnecessarily large, occupying more space than a large gaming mouse. There's also a distinct lack of options to customise picture quality which made us feel like the display had unrealised potential.
The monitor stand is really more of a basic TV stand since it doesn't offer any tilt or height adjustment, but it's been designed to look like a monitor arm, which makes it less stable towards the back corners. An intentionally non-VESA 300x200mm mounting point will also limit your options when trying to find a reputable monitor arm alternative.
The other big downside is that it has been stripped of all smart TV functionality, so don't think you'll get any of the streaming apps or digital TV functionality you see on the Samsung Odyssey Ark. With a typical brightness of 330nits it's around double that of an Aorus FO48U Gaming Monitor, but it's still a way off the best TVs you can buy.
Verdict
Best LG UltraGear 48-inch UHD 4K OLED 48GQ900-B prices ?
$

976.99
1 new from $976.99
in stock


LG UltraGear 48GQ900-B 48.2" 4K UHD Gaming OLED Monitor, 16:9, Matte Black, 48" Class, 3840 x 2160, 1.07 Billion Colors, FreeSync Premium Pro, 135 Nit, 1 ms, HDMI, DisplayPort
$

976.99

$1,499.99
in stock

MORE DEALS