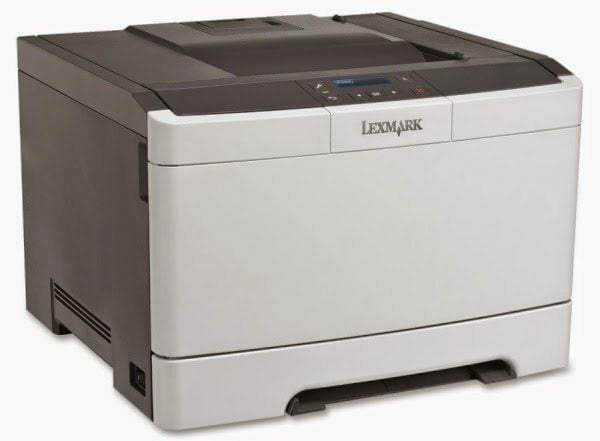 If you'd told us quite a few years ago that by 2015 we'd be able to buy a colour laser printer, we'd think you were, well, barmy, to say the least. These days, though, and thanks to Lexmark, that statement is entirely true. But is the printer in question actually any good?
The Lexmark CS310 range was launched a couple of years ago now and has proved to be quite popular for home owners, small businesses and enterprise users alike. The Lexmark CS310n is a four-colour cartridge printer that can take 250 pages on a standard input capacity tray (with the option to purchase an additional sheet feeder) and comes with a pretty decent 750-page CMY colour and black toner cartridge.
Connectivity comes in the form of USB and Ethernet, with an optional wi-fi adapter available through various Lexmark retailers. It's powered by a dual-core 800MHz processor with 256MB memory installed as standard, but again this can be upgraded to a far more impressive 2GB, should you ever deal with ultra large documents from many users.
The business side of the printer is apparent, as it's compatible with Windows, Mac, various Linux distros, Citrix MetaFrame, UNIX and Novell systems. That same support also extends to the many network printing protocols and methods, as well as network management protocols. There are far too many to list, but simply put, there's not much this printer can't be connected to and work with.
For the home, though, this is quite an impressive workhorse. The above may seem a little extreme for printing out the odd receipt or full-colour holiday snap, but at least you're guaranteed a higher than average level of technology.In terms of quality and speed, the Lexmark was certainly very good. The text test page printed within 12 seconds for the first page, then around 25 pages per minute thereafter. The text was clear and readable, and although we've seen sharper prints before on other models, generally speaking the output from the CS310n was more than adequate.
The same can be said for the colour output, which spat the first page out in 14 seconds and after that settled down to about 27 pages per minute. Colours were good, reasonably bright and well balanced. Provided you're not thinking of producing a professional colour manual, the overall output here should suffice.
The cartridges can cost a fair bit, such is the way with colour lasers. The best price we found for a multi-pack (black, blue, yellow and magenta). This is for a 3,000-page yield on the colours and 4,000 pages with the black, which roughly equates to 2.1p per page, and that's with a genuine Lexmark set of cartridges. Premium toner packs, but only have a 1,000-page lifespan in them, making the cost rise to 3.3p per page.
The icing on the cake here, and regarding how we began the review, is the fact that the Lexmark CS310n. It's not a bad price, since this is a better than average printer and one with many more features hidden up its metaphorical sleeves.If you can happily factor in the cost of the toner, then the Lexmark CS310n is worth checking out.