This is the first time we've seen one of Huawei's gaming displays, and this 27in unit arrives with a 2,560 x 1,440 resolution, a 165Hz refresh rate and slick design. It's not cheap though – its £ price makes it more expensive than any comparatively specified rival we've recently reviewed. Read our HUAWEI MATEVIEW GT27 Review.
27in GAMING MONITOR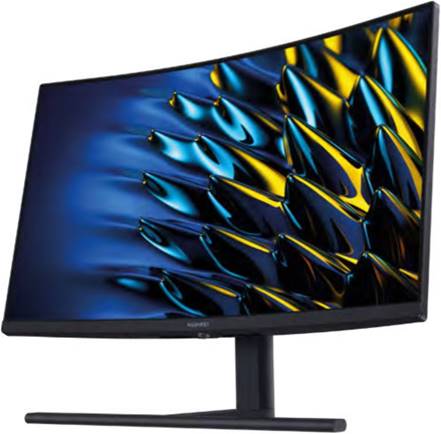 The solid resolution is paired with a 1500R curve, which increases immersion without hampering viewing angles. On the inside the MateView uses a VA panel and Huawei says it can display the sRGB and DCI- P3 gamuts. It supports AMD FreeSync Premium and works with Nvidia G-Sync too, but its refresh rate of 165Hz and listed response time of 1-4ms are middling attributes at this price that are outpaced by its immediate competitors.
The MateView's sleek metal base and stand look more mature than most gaming panels, and build quality is robust. It doesn't have the most flexible stand though – it has 110mm of height adjustment, 25 degrees of tilt and VESA-mount support, but that's it for adjustment. There are no USB ports or speakers, and the on-screen display is basic and badly designed – you have to go into a hidden menu to activate FreeSync, for example.
The MateView offers good image quality, but it rarely matches Huawei's claims. The panel's factory brightness level of 188cd/m2 combines with a black point of 0.07cd/m2 for a fantastic contrast ratio of 2,686:1, but that's still below Huawei's quoted 4,000:1 level. Similarly, the delta E of 2.61 is great, but it's not the sub-2 figure Huawei promised.
The panel also rendered 99.4 per cent of the sRGB gamut at 120.6 per cent volume, and it scored 85.5 per cent in both DCI-P3 measurements – but those DCI-P3 figures are below the 90 per cent stated by Huawei. At least the colour temperature of 6,581K is virtually flawless, and uniformity is excellent.
The Huawei MateView GT27's inability to live up to its billing has a real-world impact. On the positive side, the high contrast ratio, low black point and sRGB coverage results mean you get huge punch, depth and vibrancy in games. Sadly, the maximum brightness peaks at 411cd/m2 and the panel has no contrast-boosting or sophisticated dimming features, so you don't see any meaningful improvement when you're running HDR titles either.
It's middling when it comes to motion too. At default settings, the Huawei displays noticeable ghosting when bright objects move against darker backgrounds. The panel uses its second of five overdrive modes by default, and moving to level five does improve motion, but the issue is never eradicated. These issues aren't ruinous for single-player games, but they're going to annoy you if you play fast-paced competitive games such as esports.
Conversely, the AOC AG273QZ is a 2,560 x 1,440 IPS display with a 0.5ms response time and 240Hz refresh rate, while the Asus TUF Gaming VG27AQ costs just £ and has ELMB for smoother motion, although its 144Hz refresh rate is a bit lower than that of the MateView GT. None of these displays has the Huawei's punchy colours, but they all supply crisper, faster gameplay, and the Asus displays have superior colour accuracy.
Conclusion
The Huawei MateView GT 27 has a slick design and vibrant colours, as well as some decent gaming features, but it fails to live up to expectations. It's expensive, and cheaper rivals offer better motion, more features and more realistic colours. Huawei's panel could have been a vibrant alternative to big gaming brands, but it's just too expensive.
MIKE JENNINGS
spec
Screen size
27in
Resolution
2,560 x 1,440
Panel technology
VA
Maximum refresh rate
165Hz
Stated response time
1-4ms
Stated contrast ratio
4,000:1
Active sync
AMD FreeSync Premium
Display inputs
1 x HDMI 2, 1 x DisplayPort 1.2
Stand adjustment
Height, tilt
Extras
100 x 100mm VESA mount
VERDICT
HUAWEI MATEVIEW GT27 Review
The MateView is a reasonable gaming panel with vibrant colours, but it's expensive and doesn't live up to its billing.
Add your review
MORE DEALS

ALRIGHT MATE?
+ Bold, bright colours
+ Sleek and mature design
+ High contrast ratio
OH MATE…
– Obvious ghosting
– Few features or adjustment options
– Expensive