Walk into a design studio where Eizo ColorEdge CG319X monitors sit on desks, and you know one thing: that company means business. Not just due to the sheer cost of these screens, but because of their incredible flexibility. Where monitors such as the BenQ SW271C are tuned for photographers' needs, the CG319X can flick easily between HDR 4K editing and creating a centre-page spread for Cosmopolitan.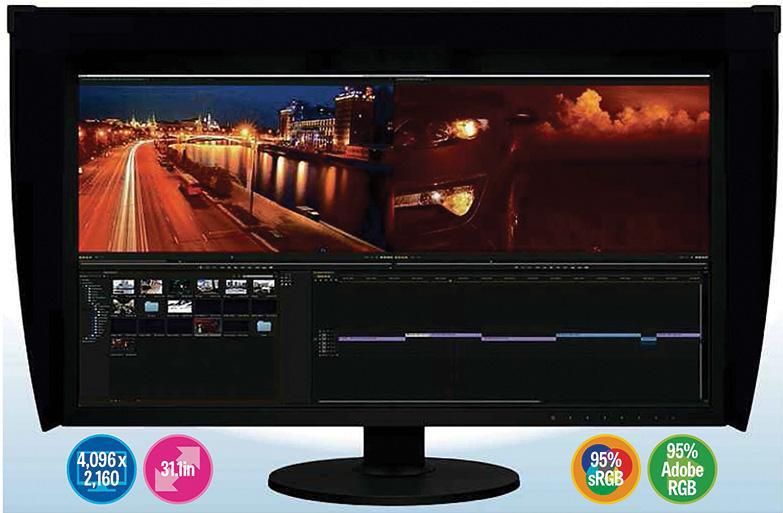 The ever-lasting joy of Eizo's ColorEdge series is that it makes it so easy to move between the different colour gamuts, and that you can have such confidence in the colours you're seeing. The ease of use stems from an industry-leading OSD based on six touch-sensitive buttons that sit towards the right of the bottom bezel: tap the left-most one and you can flick between the four inputs (two HDMI 2.0, two DisplayPort 1.2); tap the one to its right and you can cycle through the ten colour presets.
Those presets are biased towards video editors, with older standards such as BT.2020 and BT.709 rubbing shoulders with HDR-friendly profiles: there are two for BT.2100 where you can choose between the PQ and HLG gamma curves. This means you can edit and grade HDR footage without first converting to BT.709, with the inevitable loss of data this involves.
Photographers and designers aren't forgotten, with Adobe RGB and sRGB both available as calibrated presets along with DCI. Switch to any of these and you can be confident of around 95% coverage with minimal overspill. Our sRGB tests showed 94.9% out of 95.2% volume, Adobe RGB gave 95% out of 95.3% and DCI was the worst with a still phenomenal 94.1% out of 97.7%.
It's worth pointing out at this point that these results are from a three-year-old test unit, and most monitors would have drifted far away from their initial levels of accuracy by this time. What keeps the CG319X fresh is its built-in calibrator, which will automatically kick into action at a frequency you can control via Eizo's ColorNavigator software (you'll need to connect via USB for this to work). Of course, a separate colorimeter will do the job, but that's more of a hassle.
For another idea of this monitor's quality, consider the fact that colours hold no matter what the brightness is. We perform our tests at 120cd/m2, but we're confident that the colours would accurately reflect each calibrated colour space whether you were at 50cd/m2 or its peak of 350cd/m2 – and anywhere in between. Unusually, the brightness controls are actually shown to that level of accuracy, too: if you want 120cd/m2, you choose that. And it goes up and down in 1cd/m2 increments. Not that it's flawless: it was underestimating by around 5% (for example, 114cd/m2 in the controls gave us 120cd/m2), but we can cope with this margin of error.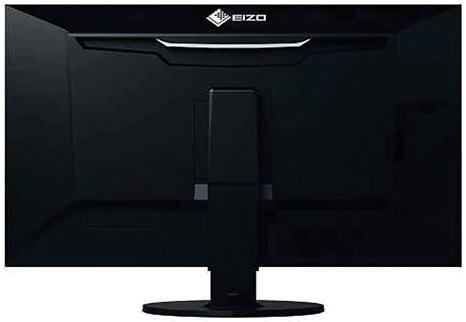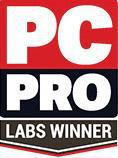 The ever-lasting joy of Eizo's ColorEdge series is that it makes it so easy to move between the different colour gamuts
Its other weakness also relates to brightness, but this time uniformity: ideally, you want a screen to be the same brightness at the edges as it is at the centre, but the CG319X dips off to the left and the right. At its worst, it's almost 20% lower (we measure in 25 areas across the screen). Strong viewing angles mean this isn't obvious during day-to-day use, but it's an area we expect to see improve when Eizo upgrades this three-year-old monitor.
One thing we can't see improving is the choice of colour temperatures, with Eizo's ColorEdge series offering unmatched control. Head into the Color menu of the OSD and you can move in 100K increments from 4000K to 10000K. While most people prefer something close to 6500K for its natural whites, and the CG319X wasn't too far off at 6427K in our measurements, it's great to have the option.
Of course, the CG279X (see p84) offers many of these talents for half the price, so what are you getting in return? Fundamentally, it boils down to the size and resolution of the panel: 31.1in and 4,096 x 2,160 (the default for 4K in cinemas, giving a wider 17:9 aspect ratio). That's a significant upgrade on the 27in and 2,560 x 1,440 of its sibling, with a jump in pixel density from 109ppi to 143ppi. Whether it's worth the extra boils down to your workload, but as ever we advise splitting the cost into five-year chunks to match the warranty: is £ exc VAT per year really too much to pay?
JARGON BUSTER
Colour temperature indicates how "cold" or "warm" a panel appears. It's easiest to understand via how whites look: 6500K will provide a near-perfect white to the human eye, 8000K will look have a cool, blue tinge. Delta E is a measure of a monitor's colour accuracy. Anything under 1 is imperceptible to the eye. 
Verdict
Best Eizo ColorEdge CG319X prices ?

£

3,512.94
7 new from £3,512.94
in stock


$

5,839.00
1 used from $4,530.55
4 new from $5,739.00
in stock

MORE DEALS