HP Spectre Folio 13
Not suitable for vegans
There are laptops, there are tablets, and now there's this: a touchscreen and keyboard fixed to a folder that can be stood up like a laptop or folded back to use as a tablet. It looks different from any other laptop with its chocolate-brown real leather finish – a brave choice in an increasingly vegan age, but one that should age gracefully. A stylus is supplied, for which our Folio lacked the advertised storage loop, making it easy to lose.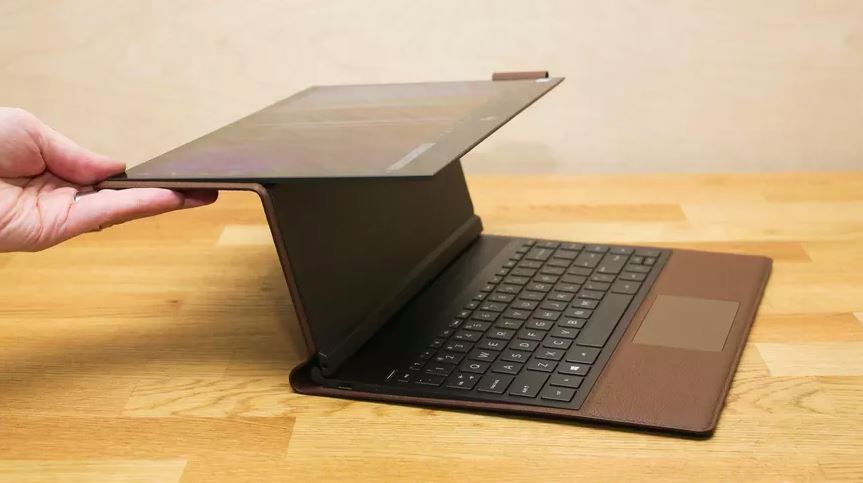 A timeless design, a pleasure to use and a long battery life
There's something slightly self-defeating about making an incredibly thin laptop and then welding it into a thicker shell. HP reckons the whole thing is 15.4mm deep, although they must have squashed it a bit to get that measurement: we made it 17mm. It's about 25 per cent bulkier than the very slimmest and lightest models, but still well below average, and no trouble at all to carry. The mains adapter is also unusually compact, at just over 200g (7oz), but you probably won't need it: in our usual video-playback test, the Folio lasted 10 hours 38 minutes.
That's an excellent result for a Windows 10 system of this size, and it's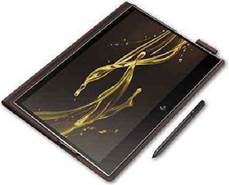 SPECIFICATIONS
1.5GHz Intel i7-8500Y dual-core processor • 8GB memory • 256GB SSD • 13.3in1920x1080-pixel touchscreen • Webcam • 802.11ac Wi-Fi • Bluetooth 42 • USB-C3.1 port • 2x USB-C Thunderbolt 3 ports • SIM slot • Windows 10 Home – 15.4x 320x235mm (HxWxD) • 1.49kg • One-year warranty
pretty clear how it's been achieved. Almost everything inside is battery except the i7-8500Y processor, which isn't much like an i7 at all, but comes from Intel's low-power mobile range. That means performance can keep up with regular mid-range laptops in less demanding tasks, but with anything more complicated it begins to lag behind. At the challenging end of our tests, which attempts several highly demanding operations at once, the Folio took hours to complete what chunkier machines managed in minutes. The integrated GPU, meanwhile, supports 3D gaming in principle, but it will struggle with the latest games.
For basic tasks, though, it's more than adequate, and HP's design makes it a pleasure to use. The flat keyboard is well laid-out and surprisingly dicky, even if the touchpad – set into the leather front panel – is rather small. There are only USB-C ports, but two have Thunderbolt 3 for fast external SSDs – the built-in 256GB could be a bit tight – and there's a webcam with Windows Hello face recognition.
The screen is Full HD, with no 4K option, but covered over 95 per cent of the sRGB range with very high accuracy and strong brightness and contrast. The only flaw is a highly reflective finish.
VERDICT
Best price
HP Spectre Folio 13 Review
You could get higher performance for less, but the Folio is something different - both stylish and practical
Add your review
Best HP Spectre Folio 13 prices ?
MORE DEALS

See also THE COMPLETE GUIDE TO…OLED laptops
ALTERNATIVE
Soon to be replaced, this very similar spec comes with a more conventional 360-degree hinge