PC Specialist Cosmos VIII
Star turn
King Midas, as you may or may not recall, tied up the ox cart on which his father Gordias had entered the city of Telmissus with an intricate knot in a rope of cherry bark. It sounds like a lot of faff, but bear in mind immobilisers hadn't been invented and Phrygians were paying an arm and a leg just for third party, fire and theft on ox carts.
According to an oracle, whoever could unravel the knot would become ruler of all Asia, which seems relatively sensible compared to the way people get to be Prime Minister nowadays. Even Alexander couldn't undo the Gordian knot, but he still won the challenge, either by cutting the rope or dismantling the cart, depending on who you ask. Sure enough, he then went on to conquer Asia, earning the nickname Alexander the Great, rather than Alexander, That Bloke That Couldn't Undo That Knot.
It's chunky and battery life is poor, but it has processing power to burn
Similarly, many PC makers struggle to get a top-end processor working at full speed in an ultra-slim laptop, but the folks at PC Specialist have got round the problem by not using an ultra-slim laptop case. The Cosmos VIII is thinner than an ox cart but twice as thick as, say, a MacBook Air. Unlike a MacBook Air, it has an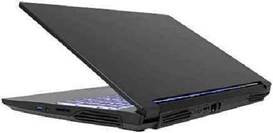 i5-9300H chip with four cores running at up to 4 GHz, giving proper mid-range desktop PC-level performance in our tests.
It's paired with a GTX1050 graphics card with 3GB of its own memory, good enough to run any 3D game smoothly at the 108Op Full HD resolution of the 15.6in screen, and Windows 10 comes installed on a 256GB NVMe SSD that zoomed through our sequential read and write speed tests at an average of 1,881 and 1,111 megabytes per second respectively. We've seen faster, but these are very good scores, and there's a 1TB hard drive too for the rest of your files.
This would be an ideal spec for photo or video editing, even at 4K, but a closer look at the screen brings any such ambitions down with a bump. According to our meter, it covered just 55 per cent of the sRGB colour range, so you'd need a decent monitor to attempt any serious graphics work. We found it quite acceptable for general use, games and films, with average brightness and contrast.
Style-wise, the best we can say of the chunky plastic chassis is that it might deter self-respecting thieves. The tightly spaced flat keyboard took a bit of getting used to, but does have a nice click to it as well as adjustable backlighting, and the touchpad worked fine. Plenty of ports round off the case, which is more than the designers have done.
At just 3 hours 15 minutes in our videoplayback test, battery life is a weak point, beaten even by the 4 hours 30 minutes of Chillblast's skinnier Helios 4. So this isn't a laptop for those regularly on the move, but in terms of processing power per pound sterling, it's excellent value.
SPECIFICATIONS
2.4GHz Intel i5-9300H quad-core processor • 16GB memory • 256GB SSD • 1TB hard drive • Nvidia GeForce GTX 1050 graphics • 15.6in 1920×1080-pixel screen • Webcam • 802.11ax Wi-Fi • Bluetooth 5.0 • USB 2.0 port • 2x USB 3.0 ports-USB-C port • Gigabit EShernet • HDMI and Mini Display Port outputs • Windows 10 Home • 32x362x257mm (HxWxD) • 2.04kg-One- year warranty
VERDICT
Best price
PC Specialist Cosmos VIII Review
If you mostly stay near mains sockets and don't need to edit photos on the built-in screen, this is excellent value
Add your review
MORE DEALS

See also THE COMPLETE GUIDE TO…OLED laptops
ALTERNATIVE
Chillblast Helios 4
No graphics card and a slower i5 chip, but a fast 512GB SSD and a much better screen