Dell Latitude 7400 2-in-l
Co-ordinate your work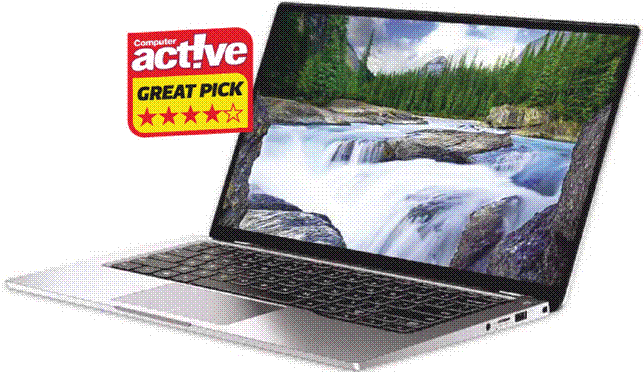 Latitude is one of Dell's long-established business computing ranges. Like Toshiba's Satellite (see our review, Issue 557) or the IBM ThinkPad, now made by Lenovo (see Issue 537), it conjures up chunky black plastic cases. This new machine breaks the mould. It's all aluminium and, for a 14in machine with a 360-degree hinge that lets you fold back the touchscreen and use it as a tablet (as pictured below), impressively slim and light.
16-hour battery life, full set of ports and an exceptionally accurate screen
A metal case doesn't automatically mean high build quality, but the Latitude's industrial finish isn't just for show: typing feels as firmly supported as on a desktop PC keyboard, and the twin hinges adjust smoothly and solidly. The only slight give is in the base, which isn't part of a unibody slab but a separate plate, held on by 10 standard Phillips screws. There's not a lot you can change inside, but at least you can access nearly all the key components. It's just a shame the memory is soldered in place; a 16GB option is only available with an i5-8365U processor for £ extra.
The standard i5-8265U is a reasonably capable quad-core processor, but saves power by using a very low base clock speed and ramping up when necessary within the ability of the host PC to keep it cool. In our tests, the Latitude proved poor at this, leaving the processor

running well below its maximum speed and the resulting scores accordingly short of those achieved by other i5 laptops.
At least there was never too much fan noise or uncomfortable heat from the case, but this is an adequate performer rather than a do-it-all system. The trade-off is battery life. Remarkably, our video-playback test ran for more than 16 hours. You'll rarely see that in a laptop, and it makes the Latitude a great travelling companion.
The Full HD screen is exceptionally colour-accurate for sRGB. Its excellent contrast is thanks to deep blacks, not brightness, which is actually rather lacking; not an issue under moderate indoor lighting, but impractical with anything harsher. We weren't keen on the rounded edges of the keys, and the backlighting could be more controllable. The keyboard is basically fine, though, as is the large glass touchpad.
There's a full set of ports, including USB 3.0 and HDMI as well as two USB-C ports with Thunderbolt 3, for the latest and fastest peripherals, and a microSD card slot. You'd need an adapter for Ethernet, but a SIM tray is built in if you want a phone-free 3G/4G connection.
The webcam can recognise your face to unlock; a fingerprint reader is £ extra.
You do pay over the odds for the Latitude's conspicuous quality. The latest 13in MacBook offers a comparable configuration for £ less, similar in size and weight, with an even better screen and a fingerprint sensor as well as Apple's
Touch Bar. That screen is smaller, though, and lacks touch or a tablet mode. Dell's own XPS 13 2-in-l (see Issue 527) now costs just £ with a decent Full HD touch display, but its i7 processor is from Intel's much slower Y series.
The regular XPS 13 comes in an identical i5-8265U configuration to the Latitude 7400 with a non-touch Full HD screen, or with a 4K touchscreen for just £ extra. The XPS 15 2-in-l (see Issue 532) is noticeably bulkier but still very portable, and matches the Latitude's spec for only with a bigger touchscreen while giving its i5-8305G chip more breathing space – but the battery runs down almost twice as fast.
SPECIFICATIONS
1.6GHz Intel i7-8265U quad-core processor • 8GB memory • 256GB SSD • 14in 1920×1080-pixel touchscreen • Webcam • 802.11ac Wi-Fi • Bluetooth 5 • 2x USB 3.0 ports • 2x USB-C Thunderbolt 3 ports • MicroSD card slot • HDMI • Windows 10 Pro • 14.9x300x200mm (HxWxD) • 1.3kg • Three-year warranty
VERDICT
Editor choice
Dell Latitude 7400 2-in-1 Review
You might expect perfection at this price, and that's not what you get, but it's solid, stylish and practical
Add your review
Best Dell Latitude 7400 2-in-1 prices ?
MORE DEALS

See also THE COMPLETE GUIDE TO…OLED laptops
ALTERNATIVE
If you don't mind some plastic and no tablet mode, you can pay a lot less for a faster laptop