Hisense LTDN50K321UWT Review – On the evidence of this great-value 4K TV from Chinese marque Hisense.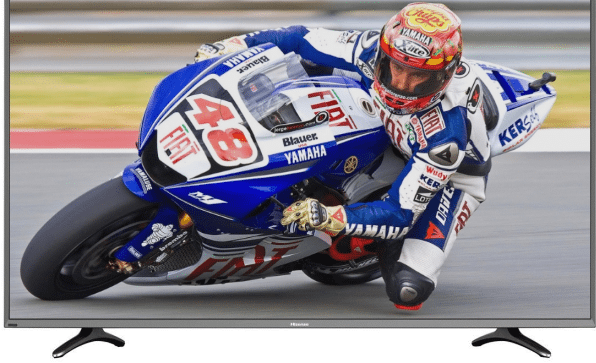 While the prices of 4K TVs have plummeted since the first models came out in 2013, nothing quite prepares you for the LTDN50K321UWT from Chinese brand Hisense. And I'm not just talking about that tongue-twisting model number – this is a 50in 4K TV that can be yours, despite appearing on paper to have all the features needed to keep up with more expensive offerings from better known brands.
While Hisense is new to the UK, it's been around since 1969 in its native China. In fact, it claims nearly a fifth of the Chinese TV market and, even more strikingly, by the end of 2014 it had grabbed 6 per cent of the global TV pie. It followed this with sponsorship of the Infiniti Red Bull Formula One racing team. It seems that Hisense is here to stay.
Of course, selling a 50in 4K TV won't hurt the brand's chances of becoming a household name. Especially when the shelf appeal of that price is joined by a design that's on-trend slim and minimalistic. The TV's support legs look a bit unsophisticated, but they are at least easy to attach, unlike the insanely fiddly mounts used by many of today's flatscreens.
And the LTDN50K321UWT's connections are a pleasant surprise. You get four HDMIs rather than the three or even just two that might have been expected. What's more, these HDMI 2.0 inputs can handle 4K sources at 50/60 frames a second, rather than just 24/30p. There are also three USB inputs for multimedia playback, and built-in Wi-Fi for streaming in files from DLNA-capable devices or accessing Hisense's online content.
Yes, that's right: despite its afford ability the LTDN50K321UWT is equipped with smart features. Admittedly, the interface to this is drab and lacks the sophistication of systems like LG's WebOS or Panasonic's Firefox TV, and the number of genuinely useful apps is limited to BBC iPlayer, YouTube, Netfl ix and Amazon.
While it would have been nice to also find Now TV, the ITV Hub, All 4 and Demand 5, the four key streaming apps you do get may well be enough for many users, especially as the Netflix and Amazon clients support 4K streaming.
Wot? No 3D?
While the screen's feature set doesn't extend to 3D playback, it does offer a fair set of picture setup aids, including white balance management and control over the TV's motion smoothing and noise reduction processing. No amount of tweaking can get the LTDN50K321UWT's pictures marrying up particularly accurately with the industry's REC.709 video standard, which will count as a significant black mark against it for some video enthusiasts, but this is not at all the same thing as saying the TV's picture quality is poor. On the contrary, it's better than you've any right to expect for so little money.
Hard experience of cheap TVs suggests that they struggle – badly – in at least one and often all of the key picture quality areas of black level response, sharpness (especially with motion) and color vibrancy. Yet the LTDN50K321UWT never does a less than solid job, and in some areas it's very good.
A surprising and welcome strength is its ability to produce a decently rich, deep black color. During the night-time Pacman sequence in Pixels – yes, I used Pixels as a test disc, deal with it – the skies around the glowing ball of pixellated Pacman 'fun' suffer little with the grey misting effect often witnessed on affordable TVs. And provided you've reined in the screen's backlighting – take it down to around 27-30 for dark-room viewing – the darkness of Pixels' night scenes looks largely free of aggressive clouding inconsistencies from the direct LED array. Having a particularly bright object at the center of a mostly black screen doesn't seem to faze it.
Hisense's in-built dynamic contrast system is effective, adding extra contrast without being much of a distraction. My only criticism of the LTDN50K321UWT's black level performance is that dark areas lack some nuance once you've reduced the backlight. Still, this situation is preferable to having shadow detail obscured by grayness.
The ultra punchy colors of Pixels' video game escapees look bold and rich, joining with the TV's deep black levels and a reasonable amount of brightness to deliver pictures of eye-catching dynamism.
As noted before, these colors don't feel especially accurate. But their intensity makes me confident that most viewers will be more than happy with them. Certainly they look punchier and more convincing than those of many budget screens.
When it comes to sharpness and detail the TV fares well. With native 4K content – Jessica Jones and Better Call Saul on Netflix – the screen leaves you in no doubt that you've stepped up from HD. I found I had to switch off the TV's noise reduction system, however, to keep the amount of detail and texture on show extreme, yet not to the point where grain became gritty or edges became stressed.
The LTDN50K321UWT scores more brownie points with a respectable upscaling performance of traditional HD sources. It also retains much of its sharpness when showing moving objects like football players, avoiding a soft, smeary look.
Of course, this set is not Hisense's flagship, and this means that faults are expected – and apparent. Skin tones can look rather monotone and plasticky at times (making Adam Sandler's Pixels performance seem even more robotic…).
The motion and noise reduction processing can struggle to differentiate between natural grain and real noise, leading to a rather processed finish with grainy sources unless you knock such features on the head. The set also struggles to reproduce tonal differences at the brightest end of the image spectrum, resulting in bright areas of a picture appearing bleached out and lacking in subtlety.
Audio is more average than its pictures, too. The TV can go loud enough to keep an action movie company without suffering speaker crackles or cabinet rattles, but it lacks bass, its mid-range feels strained under pressure and its trebles are both over-dominant and prone to harshness.
Welcome debut
These issues prevent Hisense's well-priced TV from being an absolute budget classic. Yet they're nowhere near enough to stop it from being both a bargain for cashstrapped 4K fans and a seriously impressive statement of intent from the brand. There's certainly room in the UK marketplace for a new flatscreen purveyor, and if Hisense can continue in this fashion then its presence will be welcome.