When install OS X Captain hackintosh in my laptop, I had used EaseUS Partition Master to convert my disk from MBR to GPT. It performance fast and there is no issues with my disk.
EaseUS Partition Master Pro is easy-to-use, users could resize, move, split and merge partitions to fix low disk space, extend partition, manage disk space easily on MBR and GUID partition table (GPT) disk.
EaseUS had run a giveaway on EaseUS Partition Master Pro. You can get it via here for 48 hours only. There is no included technical support with this giveaway but you will get the Pro version. The giveaway will close on Next Monday (28 Dec 2015).
The program can also be used to recover data from formatted disk, lost partition or to make a copy to the partition or disk so that users don't lose files due to disk upgrade or system reinstallation. As Partition Magic alternative, EaseUS Partition Master Professional brought together with three main functions including: Partition Manager, Disk & Partition Copy Wizard and Partition Recovery Wizard. Moreover, you can create WinPE bootable CD/DVD in case of system boot failure. According to their official website, the new 10.8 version of EaseUs Partition Manager Professional has the following new features:
Convert system disk from MBR to GPT safely.
Windows 10 compatible – easily manage partitions on Windows 10
It features plenty of functions to manage your drives. It has its own algorithm to take care of your data at the time of performing different actions on partitions without damaging your personal data. EaseUS Partition Master has the capability to copy a partition from one disk to another, or to copy a whole disk onto a new drive. In this way, you can easily upgrade your old system into a new hard disk. You can also enlarge a drive by merging two drives to get the benefit of a larger drive without any data loss. It is also useful to split partitions in small drives by shrinking them. It has an inbuilt file explorer to browse the drives. Besides these advanced functions, you can also perform small tasks like change label and drive letter, defragment to speed up the drive, hide, delete, format and wipe drives, and many more. It supports both 32-bit and 64-bit systems.
  The latest version improves the creation of the WinPE rescue disk, so you don't need to install extra tools. It also offers better compatibility with Windows 7/8/8.1/10 and UEFI (Unified Extensible Firmware Interface – the modern replacement for BIOS) when creating WinPE bootable media.
Create WinPE Bootable Disk
Insert your usb, launch EaseUS Partition Master Pro and select Tool > Create WinPE bootable Disk, click Proceed.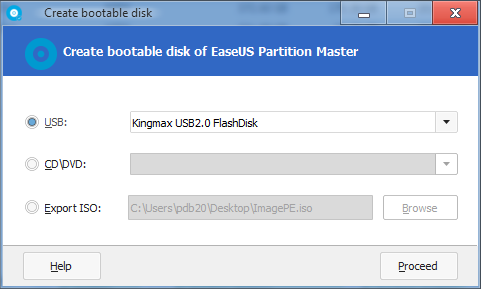 Then choose download from microsoft or WinPE component location, click proceed.
Waiting for the process to complete.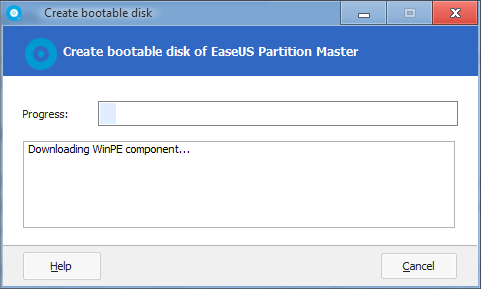 Click yes to format usb, all your data in usb will loss. Remember to backup it.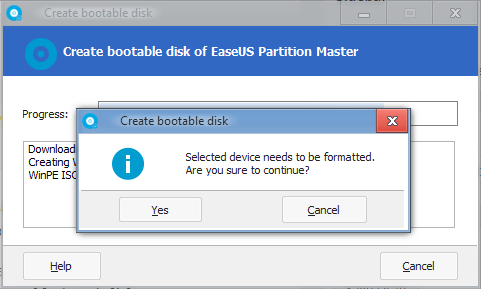 It's taking some minutes to download from microsoft. Take a cafe and enjoy it.
Create a rescue disc to help restore your data if your PC suddenly fails to boot. EaseUS Partition Master Pro has plenty of useful features. Come and get it.