The 'baby' of B&W's latest 800 series may be a compact standmount but it packs a good deal of the D4 DNA into its 'reverse wrap' enclosure. There's a walnut finish too… Read our B&W 805 D4 Review.

Review: Mark Craven Lab: Paul Miller
This two-way naturally misses out on some of the tricks of the three-way towers, including the Turbine Head of the 801, 802 and 803, and B&W's new 'Biomimetic Suspension' of its midrange drivers.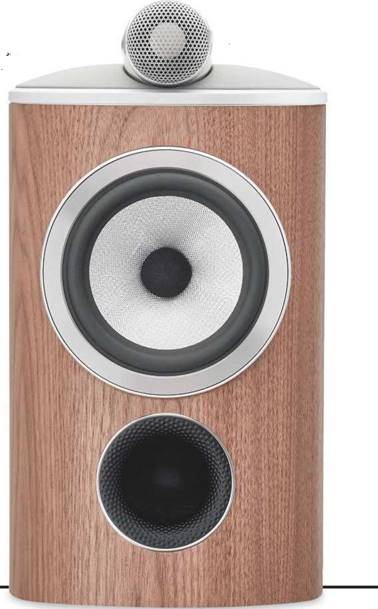 The reflex-loaded 'Continuum' bass/mid driver works into its own matrix-reinforced cabinet while the diamond dome tweeter is isolated in a separate tapered alloy tube
Two-way reflex-loaded standmount loudspeaker
Made by: B&W Group Ltd, West Sussex Supplied by: B&W Group Ltd Telephone: 0800 232 1513 Web: www.bowers-wilkins.co.uk
There are standmount speakers, and then there is Bowers & Wilkins' 805 D4. Priced blessed with a suite of proprietary cabinet and driver technologies, and finished in a gorgeous blend of aluminium, leather and wood veneer or gloss paint, it's very much a premium proposition. Indeed, the idea here is that buyers either outpriced or out-sized by the floorstanding speakers in B&W's latest 800 Diamond range can still enjoy more than a taste of the hi-fi high-life.
Arriving in late 2021, this D4 generation of the company's long-running flagship series – a range that traces its lineage back to 1979 and the first 801 loudspeaker – comprises seven models headed up by the 801 D4 [HFN Nov '21]. All the speakers share new technologies, although
We've seen versions of the 805 D4's Diamond Dome tweeter and Continuum Cone bass/mid before, so in this sense there's little change in approach over the predecessor D3 model [HFN May '18]. But, as expected, upgrades have been made as part of the D4 series' claim of 'continuous improvement of every component'.
The top-mounted tweeter housing, a tapered tube of milled aluminium, has grown longer, the neodymium magnet assembly has less bulk, and the voice coil has gained more vent holes in and behind the former. The result, says B&W, is a high- frequency driver able to play lower, with a 'more free and open sound'.
'His Fender wails, its tone crisply pronounced'
The housing is also now double­decoupled from the cabinet below, and sits on an aluminium (rather than wood) top plate. The 165mm Continuum Cone bass/ mid, meanwhile, may look identical to its forerunner but also benefits from upgrades to its voice-coil and former.
This driver crosses over at 3.5kHz and is tuned by a circular 'Flowport' for a claimed low-end reach of 42Hz before roll-off [see PM's Lab Report, p49]. Although not rear­facing, B&W still recommends reducing the effect of this port via supplied two- piece foam plugs if the speaker is shelf­mounted and therefore close to a rear wall. Ideally, the speakers should have at least 50cm clearance from side and rear surfaces, something easily managed when they are placed atop B&W's FS-805 D4 stands [see PM's boxout, p47].
B&W talks of 'an all-new industrial design' for the 800 series D4 family, which includes the aforementioned aluminium top plate. But while the 805 D4's mix of materials and tweeter-on-top make it a somewhat unusual­looking speaker, it's a head-turner nevertheless. Put these in a room and they'll get plenty of admirers. New for the D4 series is the adoption of B&W's 'reverse­wrap' cabinet design on this standmount model, so it apes the curves-in-all-the-right-places look that its full-size stablemates have flaunted since 2015. With front and sides now one continuous piece of pressed, layered beech, connecting to an aluminium 'spine' at the back that also provides heatsinking for B&W's custom crossover network, the speaker appears slimmer than the D3, despite actually being roughly the same width. Inside, an aluminium plate behind the baffle  joins an improved version of the company's interlocking 'matrix' bracing in pursuit of improved cabinet rigidity.
The 805 D4 adopts the 'reverse wrap' design of the larger 800s, complete with alloy top-plate, alloy baffle reinforcement and alloy drive unit 'pod'. Here it sits on B&W's custom- designed – and heavyweight – FS-805 D4 stand
Finish options are the same Gloss Black, White, Satin Rosenut and new Satin Walnut (pictured) debuted in the 801 D4. Your choice affects the colour of the tweeter housing, the speaker grille and the leather insert on the top plate – Gloss Black and Satin Rosenut models get a darker design.
Toward the bottom of the ribbed aluminium rear panel are connections that give priority to bi-wired systems. In place of pre-fitted metal jumpers between the dual sets of terminals (confusingly arranged negative, positive, positive, negative), the 805 D4 is supplied with spade-ended link wires, which I used during my testing.
Setup on the FS-805 stands, with ports unplugged and 50cm from the rear wall, the 805 D4s revealed themselves to be fairly easy going. They didn't seem particularly power hungry, and it didn't take me long as regards positioning (with speakers toed-in) to arrive at a focused, true-sounding image.
A standmount speaker it may be, but the 805 D4 still has a big-boned sound. There's a rich bottom end that gives definition to basslines, drums and brass without such elements feeling thick or indistinct, and this sense of clarity continues through the midrange and into its extended high frequencies. It's an open, articulate performer, but also warm and inviting and full of controlled energy. In fact, I found it tricky to fault apart from a voicing that doesn't hold back in its treble attack, which I expect some might find a little too revealing. Accept this, and the fact it can't compete with a three-way floorstander in terms of ultimate bass depth and soundstage scale, and you've a speaker with the talent to match its lush looks.
The late '70s through to the mid-1980s were arguably hi-fi's golden age of experimentation as the awakening of 'subjectivity' in sound assessment also opened the floodgates to 'anything goes…'. Just as AudioQuest and Monster provided momentum for the aftermarket cable scene, so too were audiophiles tempted by hi-fi furniture that was more than just, well, furniture. Specialist racks, tables and shelves, typically based on powder-coated, welded square­section steel tubing, arrived to optimise the performance of turntables (and CD players). Third-party loudspeaker stands appeared from pioneers including Target and Partington, to name but two, while others – no longer with us – achieved cult status at the time. I still have a pair of Cliff Stone's sand-and-lead shot-filled Foundation stands ready for duty to this day… Fast forward a few decades and every loudspeaker brand worth its salt – KEF, Sonus faber, DALI, B&W, et al – offers proprietary stands for its smaller speakers. B&W's FS-805 D4 stand costs £, complete with spikes and rubber feet, integral cable routing and the facility to pour in the resonance-killing filler of your choice. PM
The way the 805 D4 handled different instrumental textures and tonalities, and evoked the different ambience of recordings, was particularly noteworthy. Take, for example, two tracks with markedly different productions: Buddy Guy's 'Damn Right, I've Got The Blues' [eponymous; Silvertone Records 82876 68345 2] and Adele's recent 'My Little Love' [30; Columbia/Sony Music 19439937972]. The former is a studio recording, but it sounds live and large as Guy's amp fizzes in the intro and his Fender then wails with a crisp, pronounced tone that here arrives completely unfettered.
The Adele track, on the other hand, features instruments that have been filtered through a digital, gloopy lens to give her vocal even more of a forward presence. With both pieces I felt totally immersed in the performance, one from afar, the other up close and personal.
Some of the unevenness suggested in PM's Lab Report [p49] is partially 'ironed out' by listening at distance and slightly off-axis but the presence-forward balance is still revealed in the lively, welcoming feel to this speaker, where music-making is never a passive experience. Whatever the genre it typically came up trumps, from the foot-tapping funk of Sly And The Family Stone's 'Everyday People' [Greatest Hits; Epic 82876759102] to the mellow, sedate sounds of Massive Attack's Blue Lines album [Wild Bunch Records; 96kHz/24-bit].
Drum-driven, up-tempo rock was approached with a sense of fun, the 805 D4s churning through power chords and & percussion with gusto but showing a clean pair of heels to lesser speakers by not skipping those finest details. So, with the Norse myth-inspired prog rock of Skalmold's 'Kvaoning' [Baldur; Tutl HJF211], it brought a delicacy to the oboe part, a thunderous weight to the tom-tom heavy drums, and a syrupy feel to the guitar melody that signals the beginning of the track's frantic coda. The following riot of keyboards, triple guitar parts and Arctic wind samples sounded a bit messy, but that's baked into the mix. The 805 D4 isn't one to be forgiving of humdrum production…
When a track calls for a soundstage of real height, width and depth the speakers do reveal their dimensional shortcomings. 'America', played by the New York Philharmonic for Steven Spielberg's West Side Story remake […Original Motion Picture Soundtrack; Hollywood Records 00050087497224], benefited from a cohesive stereo spread that could accurately place the multiple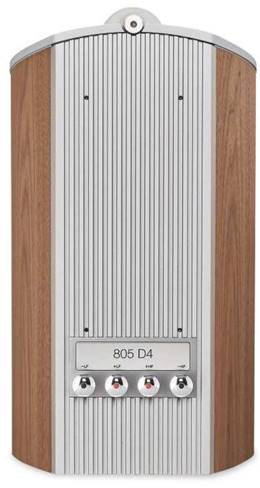 The 805 D4's two-way design has a split crossover mounted onto the rear of the cabinet's alloy backplate. It facilitates bi-amping and bi-wiring via double sets of 4mm cable sockets/binding posts
vocal and instrumental parts upon the stage. But while the ebb and flow of the orchestra was sumptuous, and the full choral effect startling, I wouldn't have minded more room­filling scale. Most of the time, however, I didn't consider the 805 D4's physical size at all, such is their invisibility.
As I was auditioning these over the Xmas period, my festive playlist made an appearance, and it was with the simplistic arrangements of some Elvis, Sinatra and Perry Como classics that I found even more proof – not that any were needed – that the 805 D4 is something
special. Ol' Blue Eyes' 1957 cover of 'Have Yourself A Merry Little Christmas' [The Christmas Album; EMI 508 5032] captured the singer's sonorous, whisky-glass-in-hand vocal delivery, turning him into almost a three-dimensional figure in my listening room. Later on, Presley opined 'I'll have a blue Christmas without you'. I was certainly sad to see these speakers depart!
B&W 805 D4 Review
The baby model of B&W's 800 Series D4 range needn't feel overshadowed by its bigger, costlier siblings. Everything you'd expect of a range-topping speaker is here: glorious build quality, lush design and a sound performance that puts the price tag to the back of your mind. Usual caveats about scale and heft apply, but otherwise this is a triumphant new addition to the B&W stable. Budget for the stands too...
Add your review
|
Read reviews and comments
MORE DEALS

B&W's most compact D4 model shares its 25mm Diamond Dome tweeter, set within the tapered and recently elongated 'solid body on top', with the flagship 801 D4 [HFN Nov '21 ]. This rigid and lightweight dome has a very extended HF response, reaching out to 61kHz (-6dB re. 10kHz), with well-managed breakup modes at 46kHz and 70kHz [pink shaded area, Graph 1 and Waterfall, Graph 2]. Measured on this tweeter's axis, the 805 D4 shows a 'brightened' treble that lifts some +6dB above the mean midband level at 10kHz, the dished response causing sensitivity to fall short of B&W's rated 88dB. In practice, 86.2dB (500Hz-8kHz) is more realistic while the 1kHz spot figure is lower still at 83.8dB. Response uniformity is below average at ±4.4dB but the L/R pair matching is superb at 0.75dB (200Hz-20kHz).
The 165mm Continuum bass/mid driver operates over an 82-400Hz bandwidth (-6dB, re. 145Hz) with nearfield analysis revealing a more erratic output >800Hz and a broad peak at 1.3kHz, also visible as a mode on the CSD plot [Graph 2], the forward response [Graph 1] and via the port. The latter is tuned to 41Hz, offering a broad 26Hz-97Hz output that brings the 805 D4's corrected LF extension down to a very respectable 39 Hz (-6dB re. 200Hz). Again, what may be cabinet standing waves are seen at 330Hz (-11dB), 700Hz (-14dB) and 1.3kHz (-19dB). The largest swings in impedance and ±57o phase also occur through the bass, the toughest – though not especially 'tough' – being at 145Hz (5.1ohm/-26o) just before the 4.65ohm/187Hz minimum. So what the 805 D4 lacks in sensitivity it recovers in good bass extension and ease-of-drive. PM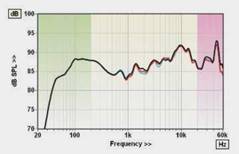 ABOVE: Response inc. nearfield summed driver/port
[green], freerfeld corrected to 1m at 2.83V [yellow], ultrasonic [pink]. Left, black; right, red; w grille, blue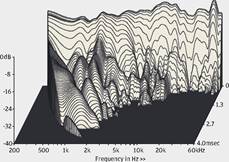 ABOVE: One mistermination/cone mode is visible at 1.3kHz with very mild treble resonances at 8-14kHz
| | |
| --- | --- |
| Sensitivity (SPL/1m/2.83V – 1kHz/Mean/IEC) | 83.8dB / 86.2dB / 84.8dB |
| Impedance modulus: minimum & maximum (20Hz-20kHz) | 4.65ohm @ 187Hz 50.1ohm @ 79Hz |
| Impedance phase: minimum & maximum (20Hz-20kHz) | -58o@91Hz +57o @ 23Hz |
| Pair matching/Resp. error (200Hz-20kHz) | 0.75dB/ ±4.5dB/±4.4dB |
| LF/HF extension (-6dB ref 200Hz/1 0kHz) | 39Hz / 62.0kHz/61.4kHz |
| THD 100Hz/1kHz/10kHz (for 90dB SPL/1m) | 0.18% / 0.1% / 0.45% |
| Dimensions (HWD) / Weight (each) | 440x240x373mm / 15.6kg |