Gigabyte's Z590I Vision D is the first mini-ITX Z590 motherboard we've seen in the flesh, and it packs a wallop as far as features go. You'd hope so too, given that it costs nearly £, but it's likely a fair chunk of that price tag is taken up by the Z590I Vision D's key feature, which is Thunderbolt 4 support. Read our Gigabyte z590i vision d review.
MINI-ITX Z590 MOTHERBOARD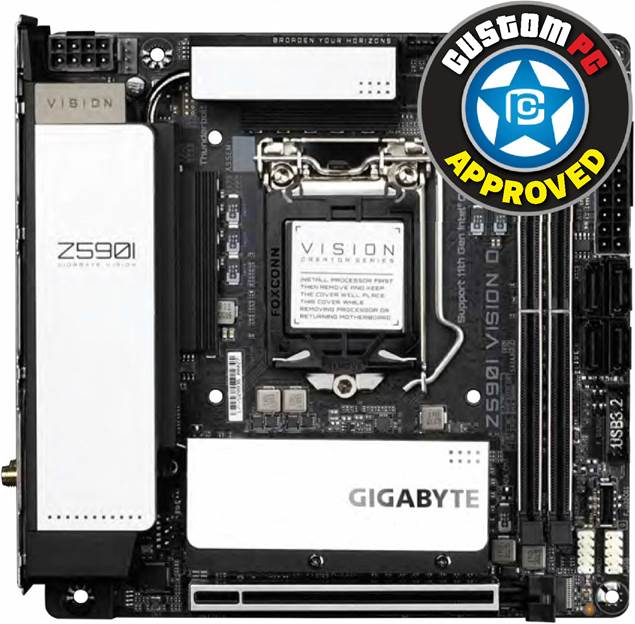 Gigabyte has two Z590 mini-ITX boards, with the other – the Z590I Aorus Ultra – costing less money but lacking Thunderbolt 4, although it does have a few extra power phases than the Vision D, so it may be better for overclocking or even handling the power- hungry Core i9-11900Kat stock speed.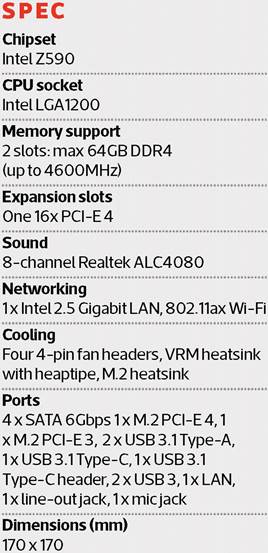 Thunderbolt 4 can be really handy though. You can output practically every connection you'd usually hook up to your motherboard's I/O panel over a single cable, including audio, networking and USB cables. The Z590I Vision D also has a DisplayPort input, which allows you to connect your graphics card's output to the motherboard using a short cable, so you can run your main video output over Thunderbolt 4 too. There's an upper limit of 4K at 60Hz here, but it can hit 5,120×2,880 at 60Hz if you just use your CPU's integrated graphics.
The only cables you'd then need to connect to your PC are the power and Thunderbolt cable, with support for daisy- chained Thunderbolt 4hubs, super-fast storage or networking adaptors. It's no surprise, then, that Gigabyte is aiming the board at creators, but there's plenty to like about the board from an enthusiast's point of view too.
It looks stunning for a start, with a white colour scheme and the same triple heatsink design as its Aorus sibling, with a heatpipe connecting them to spread the load. The VRMs failed to top more than 55°C according to our software during a ten-minute prime95 stress test, so VRM temperatures shouldn't be an issue at stock speed or with mild overclocks. The rear panel offers four USB 3 ports, two USB 2 ports, a 2.5 Gigabit Ethernet port and aerial connectors for the 802.11ax Wi-Fi.
Audio outputs for the Realtek ALC4080 codec are limited, though, with just a single line-out plus a mic-in, so you'll be limited to stereo analogue speakers, although to be fair, anyone serious about surround sound could plug their graphics card's HDMI output into a surround receiver. The M.2 doesn't make much sense either, with a large heatsink sitting a centimetre or so above the top M.2 heatsink, but it lacks any thermal paste or pads to offer decent thermal contact, and will likely hinder airflow to your SSD too.
Thankfully, the heatsink that does attach to the SSD kept its peak load temperature below 55°C – without it, our back- to-back runs of CrystalDiskMark saw that temperature top 70°C, so it does still offer a sizeable temperature reduction.
It managed a peak read speed of 4,980MB/sec and write speed of 4,274MB/sec, which is in line with what we've seen from other PCI-E 4 boards. As well as the top PCI-E 4 M.2 slot, there's a second M.2 slot that supports PCI-E 3 or SATA M.2 SSDs on the underside of the PCB, and you get SATA 6Gbps ports as well.

The board includes a record number of fan headers for a mini-ITX PCB too, with a total of four thanks to the use of mini connectors and adaptor cables. This means you can control numerous case fans, a pump and radiator fans for liquid cooling separately. Comparatively, most ATX motherboards often only have one or two more headers.
Meanwhile, Gigabyte's new EFI dons a snazzy white colour scheme with the Z590I Vision D, which is definitely more appealing than the aging EFI design of its older boards. The already excellent fan control suite gets an upgrade too, with Smart Fan 6 offering a much larger fan curve graph for finer tweaking and more temperature points, so you can adjust the curve to a greater degree.
Despite using the latest F4 BIOS, we couldn't find an option for Adaptive Boost Technology in the EFI, and had to use a beta BIOS still unreleased to the public from Gigabyte in order to enable it. We also had to push all the power and load time limits to the maximum settings to get our CPU to sit at 5.1GHz, but that's standard with other Z590 boards too.
We did this with a vcore of 1.38 V – a little higher than some other boards we've tested, but the CPU only hit a peak of 83°C. This overclock saw the multi-threaded Cinebench score rise from 15,449 to 16,129 and system score from 266,835 to 282,002. The audio performance was a tad uninspiring, though, with a dynamic range of 103dBA and a noise level of -102dBA.
The Z590I Vision D is a stunning little motherboard that's loaded with features to please high-end content creators and enthusiasts alike. Its EFI is refreshingly different-looking and sports superb fan control, and it also overclocked our Core i9-11900K to 5.1GHz with relative ease.
However, it's limited in other areas such as audio, and its Thunderbolt 4 support also bumps up the price. While Thunderbolt 4 can be very handy for cabling, it's still a niche feature, so unless you need Thunderbolt 4 or just love the white design, its cheaper sister board will be a better option. If you're happy to jump on the Thunderbolt 4 bandwagon and pay for it, though, this is a highly capable board.
ANTONY LEATHER
Editor choice
Gigabyte z590i vision d review
A great-looking motherboard that brings the Z590 chipset to mini-ITX systems, although it's only really worth the high price if you want Thunderbolt 4.
PROS
Attractive white design
Good VRM and M.2 cooling
Thunderbolt 4
CONS
Expensive
Only one audio output
Only worth it for Thunderbolt 4
Add your review
|
Read reviews and comments
Best Gigabyte z590i vision d prices ?

$

209.99
1 new from $209.99
in stock


Processor & Chipset Chipset Manufacturer: Intel Chipset Model: Z590 Total Processor Supported: 1 Processor Socket: Socket LGA-1200 Processor Supported: Pentium Gold, Celeron, Core i5, Core i7, Core i9, Core i3 Memory Number of Memory Slots: 4 Memory Form Factor: DIMM, UDIMM Maximum Memory...


£

285.99
3 new from £285.99
in stock

MORE DEALS