A very now and then a motherboard manufacturer goes all-out and leaves the rational worlds of value and price points far behind to create an ultimate flagship. We've already seen MSI's MEG X399 Creation, with its air-cooled M.2 PCI-E card and mega power circuitry, and less recently. ASRock's X99 Extreme 11, with its twin PLX PCI-E switches and 18 SATA 6Gbps ports. This month, though, it's Gigabyte's turn and unlike the wallet-destroying hulks of ports and PCI-E lanes we just mentioned, the Z390 Aorus Extreme isn't a high-end desktop (HEDT) board.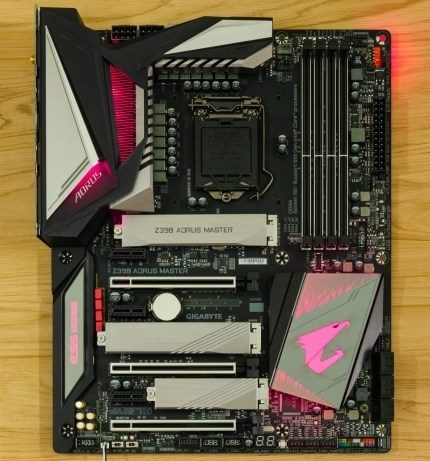 Instead, it's based on Intel's lowly mainstream Z390 chipset. The 8-core, 16-thread Core i9-9900K is the most potent CPU it can accommodate, making it one of the most expensive motherboards we've ever reviewed, and certainly the costliest board with a mainstream chipset.
Thankfully, Gigabyte hasn't lavished all its attention on SATA ports or M.2 ports, which, let's face it, aren't likely to set off anyone's hormones. Instead, the Z390 Aorus Extreme offers modders, cooling enthusiasts and extreme overclockers an absolute feast of treats.
However, a slightly bizarre omission at this price are PLX switches to allowing the full 16 lanes of PCI-E bandwidth to be dished out to two GPUs at the same time, as we've seen with plenty of pricey mainstream boards in the past.
We doubt you'll be disappointed with any other feature in the Z390 Aorus Extreme's arsenal, though, as it has more modern features than any other Z390 board. Even where other motherboards try to snap at its heels, such as with Intel Thunderbolt support, the Z390 Aorus Extreme can shrug it off by having not one, but two USB 3.1 Type-C Thunderbolt-capable ports on the rear panel. The rest of the specifications follow a similar story.
It has a huge count of 16 power phases, plus a monstrous array of heatsinks linked with two heatpipes, and all three of its M.2 ports are equipped with heatsinks. There's just the usual total of six SATA ports, but otherwise, the mind-bending specifications continue with a fancy 10 Gigabit Aquantia network controller, 2×2 802.11ac Wi-Fi, Bluetooth 5 support and high-gain antenna, plus uprated ALC1220 audio.
This audio system not only has a decent codec, but also an ESS Sabre DAC, 32-bit/384KHz audio capabilities, plus WIMA capacitors, and separate left and right analogue signal processing.
The RGB lighting is amazing too, with several illumination zones on the PCB, plus a massive multi-LED shroud that sits next to a hefty backplate on the underside. In addition to four RGB headers on the PCB, Gigabyte also includes an Aorus RGB Fan Commander, which offers eight addressable LED headers and eight standard RGB headers using a plethora of proprietary cables, all of which are included in the box. The Fan Commander also sports eight fan headers in addition to the eight already on the PCB, plus two temperature sensors.
The features don't stop there though. There's also an OC Touch panel controller, which hooks up to a proprietary connector on the PCB, offering base clock and multiplier adjustment buttons, power, reset and clear-CMOS buttons – most of which are also available on the PCB – and a further six fan headers, all of which can be configured in the EFI.
Aesthetically, the board is stunning too, even more so once illuminated. The board even sports a right-angled 24-pin ATX connector for tidy routing, which is a great feature. Extreme overclockers will delight at the OC Panel's voltage readout points, plus the additional power connectors for the CPU and PCI-E slots.
Performance
Audio performance was excellent, with a dynamic range of 112dBA, a noise level of -112dBA and THD of 0.0025 per cent using RightMark Audio Analyzer The board also managed read and write speeds of 3,359MB/sec and 1,863MB/sec respectively using our Samsung 960 Evo, while it's large twin M.2 heatsink kept the SSD 13*C cooler under load than without it
We managed to overclock our Core i9-9900K to the usual 5GHz all-core frequency using just a 1.22 V vcore – a supremely low voltage although, as we encountered a fair
SPECIFICATIONS
CPU
8th and 9th Gen Intel Core Processors
CPU Socket
LGA 1151
Chipset
Intel Z390 Chipset
Graphics Interface
1*PCIe 3.0 x16

1*PCIe 3.0 x8

Display Interface
HDMI
Memory Type
Dual-Channel DDR4
Memory DIMMs
4*DIMMs
Expansion Slots
1*PCIe 3.0 x4

3*PCIe 3.0 x1

SATA / M.2
6*SATA3 / 3*M.2 for SSD
SATA RAID
RAID 0, 1, 5, 10
LAN
Intel GbE LAN
Wireless
Intel CNVi 2×2 802.11ac wireless
USB
2*USB 3.1 Gen2 with USB type-C support

3*USB 3.1 Gen2 Type-A support

4*USB 3.1 Gen1

8*USB 2.0

Audio
ALC 1220-VB

ESS SABRE 9118 DAC

Form Factor (mm)
ATX (305×244)
1…….
All three of the Z390 Aorus Xtreme's M.2 ports are equipped with heatsinks
2………….
The right-angled 24-pin ATX power socket makes for clean and tidy cable routing
3…………
In addition to the ALC1220 codec, there's also an ESS Sabre DAC for hi-fi quality sound
bit of vdroop under load, we had to use the turbo loadline calibration as well. Even so, the extremely frugal load power draw of 253W and sub-85*C CPU temperature under load prove that the Z390 Aorus Xtreme is an exceptional overclocker, and likely has far more headroom, especially with more exotic cooling.
Gigabyte's EFI is still a little clunky in most sections, with the need to sift through several menus even to apply a basic overclock. However, it has a vast array of options and its fan control section is second to none, with access to most of these controls also available through Gigabyte's EasyTune and System Information Viewer Windows applications. The overclock saw our system score rise from 234,238 to 244,201, while the load power consumption rose just 28 W.
Conclusion
You could buy a Core i7-8700K, Z390 motherboard and an all-in-one liquid cooler for the same price as the Gigabyte Z390 Aorus Xtreme, so it's not going to be a realistic option for many people. However, if you're prepared to pay the price, you won't be disappointed when you open the box and see one of the most extensive and enthusiast-focused set of extras we've ever seen.
The motherboard itself is fantastic too, with the overclocking prowess to push a Core i9-9900K to its limits plus lashings of high-end features, RGB lighting and discrete control panels for the lighting, overclocking and cooling. It's an absolute monster, and while its price is ridiculous, it's also one of the most lust worthy boards we've ever reviewed.
[ANTONY LEATHER]
VERDICT
Editor choice
Gigabyte Z390 Aorus Xtreme Review
A monster motherboard with exceptional high- end features for overclockers and modders. It's ridiculously expensive, but also highly lustworthy.
Add your review
Best Gigabyte Z390 Aorus Xtreme prices ?
$

104.99
1 new from $104.99
in stock


$

209.99
1 new from $209.99
in stock


$

1,319.00
2 new from $989.00
in stock

MORE DEALS