Where aren't many options below £ at the moment if you want a Z590 motherboard with the cooling and power circuitry needed to properly push Intel's K-series CPUs, while keeping your PCI-E 4 SSD cool. Gigabyte's Z590 Vision G comes close, though, costing just over £, but sporting some decent credentials and a funky white colour scheme. The power circuitry offers 12 phases for the CPU, which is two more than its mini-ITX sibling, the Z590i Vision D, and it has a pair of heatsinks linked with a heatpipe. One has fins, while the second is a block of aluminium at the top of the PCB to aid VRM cooling.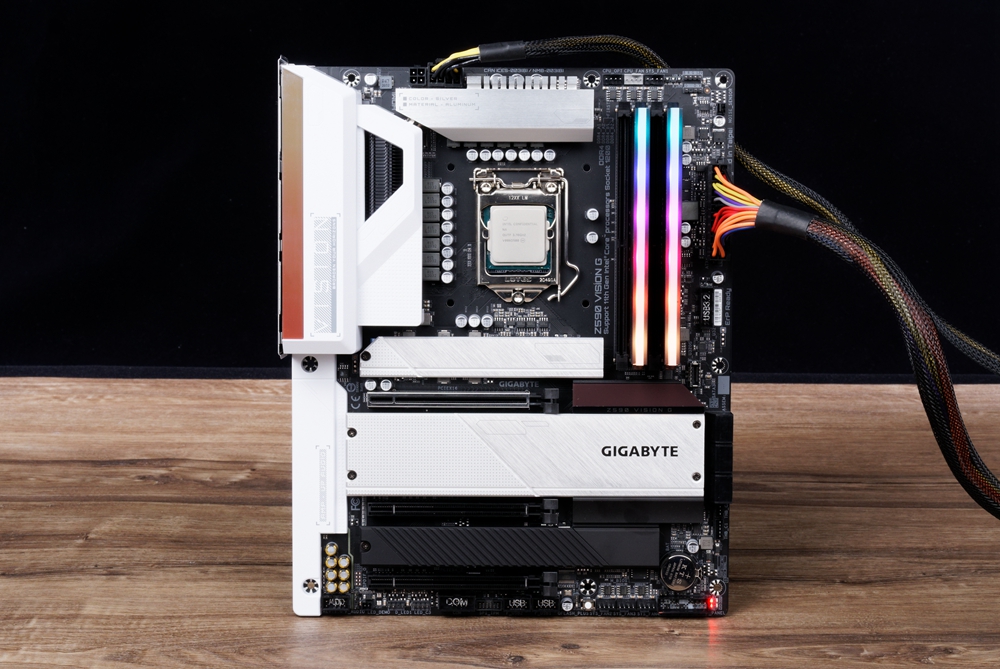 This did a reasonable job, with the VRMs staying below 70°C in our stress test despite Intel's Adaptive Boost Technology being enabled on our Core i9-11900K. We've seen cooler results, though, probably because half of the finned heatsink is hidden within the I/O shroud, which isn't the best place to get rid of its heat.
Meanwhile, there's an impressive count of four M.2 ports, each covered with a heatsink, and the top three ports support PCI-E 4. We suggest using the top slot if you have a single SSD, as the two slots below it sit under a single large heatsink, requiring you to remove your graphics card to access them.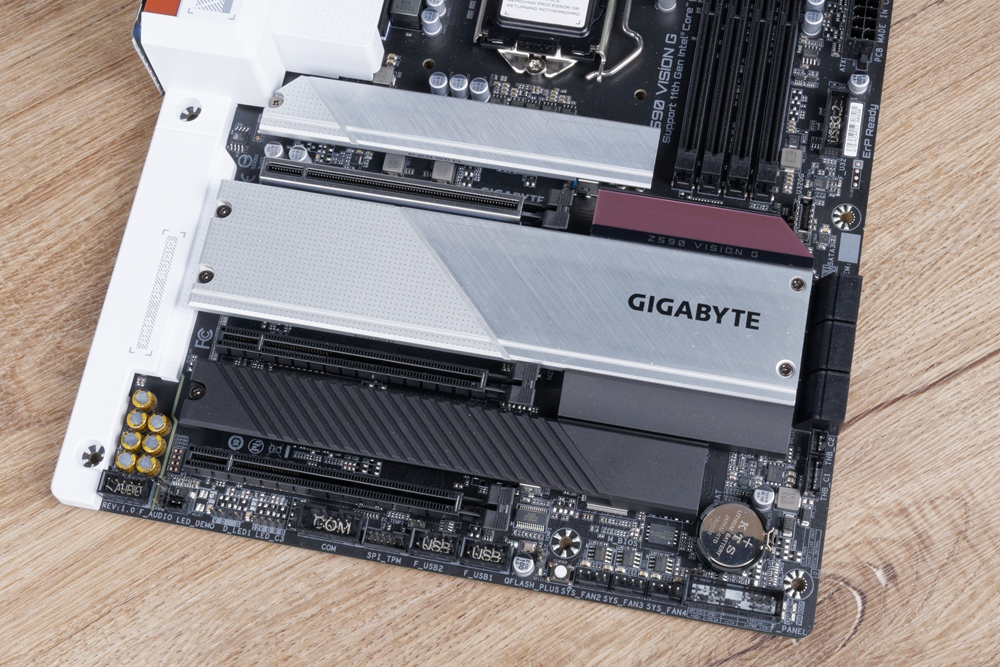 In addition, an SSD in the top slot won't be at the mercy of any warm exhaust air your graphics card expels. The top heatsink kept our PCI-E 4 SSD at a steady 66°C under load, which is a tad warm compared with the competition but still well away from throttling.
Like other Gigabyte Vision boards we've seen this year, there's very little
Chipset Intel Z590
CPU socket Intel LGA1200
Memory support 4 slots: max 128GB DDR4 (up to 5333MHz)
Expansion slots One 16x PCI-E 4, two 16x PCI-E 3
Sound 8-channel Realtek ALC4080
Networking 1 x Intel 2.5 Gigabit LAN
Cooling Six 4-pin fan headers, VRM heatsinks, M.2 heatsinks
Ports 6 x SATA 6Gbps 3 x M.2 PCI-E 4, 1 x M.2 PCI-E 3/SATA 6Gbps, 2 x USB 3.1 Type-A, 2 x USB 3.1 Type-C, 1 x USB 3.1 Type-C header, 2 x USB 3, 2 x USB 2, 1 x LAN, 3 x surround audio out
Dimensions (mm) 300×244
RGB lighting apart from a subtle strip on the I/O shroud. However, this board is geared towards clean builds and creators, rather than gamers who want to still see their motherboard when they close their eyes.
That said, if you do want to give your retinas some action, there are four RGB headers catering for 3-pin and 4-pin connectors.
There have been some cuts to the specifications to keep the price reasonable though. The Z590i Vision D costs £ more, which buys you Wi-Fi and Thunderbolt 4 support, which are sadly lacking on the Z590 Vision G. Apart from Q-Flash Plus, Gigabyte's version of USB BIOS Flashback, there are precious few overclocking and testing tools too, but again, this isn't really the focus of the board.
What you do get are eight Type-A USB ports on the rear I/O panel, plus two Type-C ports and a USB 3.1 Type-C header. There's 2.5 Gigabit LAN and Realtek ALC4080 audio as well, although fan headers sit at a rather average count of six.
Gigabyte's Windows software is also really well designed, with special mention going to the System Information Viewer, which provides highly granular control over fan speeds and even allows you to choose alternative temperature inputs to control them, rather than just the CPU.
You can do the same in Gigabyte's pretty new white EFI, which is well laid out with popular overclocking options all in the same tab, which is an improvement over older Gigabyte EFIs. Sadly, while there are various temperature sensors from which to choose for fan control, none of them allows you to strap a thermal probe to them, so you can't use coolant temperature in your water-cooling loop to control radiator fans, for example.
The Vision G's RealBench performance was on par with other Z590 boards we've tested, although its audio performance in RightMark Audio Analyzer was a bit disappointing, with a noise level of -98dBA and dynamic range of 99dBA. The sound quality will be fine for most people, but if audio quality is a priority you can get better performance elsewhere.
Overclocking was easy, though, with 1.38 V needed to get our CPU to an all-core overclock to 5.1GHz. With Adaptive Boost Technology enabled, the Cinebench R23 multi­threaded score was 16,073, which rose to 16,385 with the manual overclock. The manual overclock also resulted in gains in our video encoding and multi-tasking tests, but there were limited gains compared to using Adaptive Boost Technology.
Power consumption was a little higher than that of the Vision G's mini-ITX sibling, but not by much, and the CPU temperature was close to 90°C under sustained load. Its power draw was more restrained once overclocked than the Asus ROG Strix Z590-E Gaming WiFi, although that board was more frugal at stock speed.
There's less to tempt high-end users to the Vision G than the mini-ITX Z590i Vision D with its Thunderbolt 4 support and Wi-Fi. However, the Gigabyte Z590 Vision G is good­looking, it can provide a home to an extensive PCI-E 4 storage array, and it keeps your SSDs and VRMs cool. It provided a solid base for overclocking the Core i9-11900K as well, and the same will go for Intel's Core i5-11600K or Core i7-11700K.
While there are few flies in the ointment, other than lacklustre audio performance, this board does notably lack extra features. Otherwise, though, it offers a solid overclockable motherboard for a reasonable price, especially if you're bored with the visual design of the usual black gaming-focused motherboards.
ANTONY LEATHER
GIGABYTE Z590 VISION G Review
A solid Z590 board for the money, although it lacks high-end features.
PROS
Attractive design
Four heatsink- equipped M.2 ports
Solid feature set
CONS
Average VRM and M.2 cooling
Only six fan headers
No Wi-Fi
Add your review
Best GIGABYTE Z590 VISION G prices ?
MORE DEALS