Asus' mini-ITX motherboards usually get released a few weeks after a major chipset launch, but this time around Asus has seen fit to get its new Z690 dinky offering out the door on day one. The ROG Strix Z690-I Gaming WiFi looks absolutely stunning, and Asus has also thrown in some funky engineering to make the most of the smaller form factor.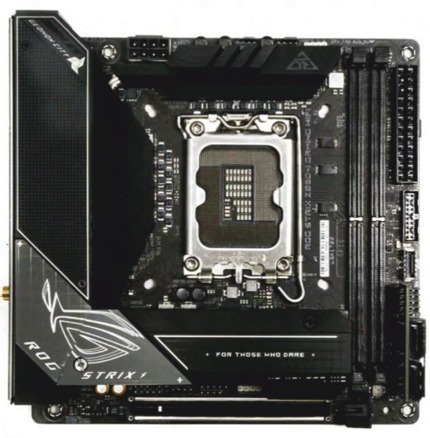 Sadly, we couldn't persuade Asus to let us in on the expected launch price at the time of going to press, so we can't come to a firm conclusion nor offer scores or awards, but our usual testing and keen eyes will hopefully still give you some insight, especially given the fantastic performance of Intel's Alder Lake CPUs in our reviews (see p16). We expect this board to demand a premium, though, as is usual for Asus' ROG Strix-branded motherboards.
As we said earlier, the ROG Strix Z690-I Gaming WiFi does look stunning, although you'll be disappointed if you're a fan of RGB lighting. Unlike previous models, the large stack of circuitry, which culminates in an M.2 heatsink beneath the CPU socket, no longer has an embedded RGB lighting array. However, this does make the design more compact, while also making it easier to dismantle the board and install M.2 SSDs, plus there are two RGB headers on the PCB for some extra illumination if you need it.
Looking at the board, you might also wonder why there are two male USB Type-C ports, and you'll find out when you delve into the accessory box – it turns out Asus has yet more additional PCB real estate you can add to the board, this time in the form of a vertical riser card. This adds four SATA ports to the equation, as well as a full front panel, 3-pin digital RGB connector and speaker header, all of which are absent from the main PCB to save space.
The front panel speaker cable is, thankfully, located on the M.2 heatsink stack, and there's a single 2-pin power button header on the main PCB, so you can use the board without the riser card if you don't need any of the extra paraphernalia. Meanwhile, two of the SATA ports are angled at 90 degrees and will face the front of your case with a normal layout, but the other two face upwards, so using them could look unsightly. Sadly, the connectors are also the wrong way around to use angled SATA cables, as the cables would then trail over the motherboard.
The triple-decker PCB for M.2 SSDs also makes a return, and this time, both the upper and lower portions of the M.2 SSDs are cooled using thermal pads and heatsinks. You get Asus' M.2 Q-Latch feature as well, which does away with those pesky annoying tiny M.2 screws and instead uses a tool-free locking mechanism to fix your SSDs in place. Also sitting above the PCI-E 5 slot on the PCB stack is a USB 2 header, and Asus includes a splitter cable for this header, enabling you to connect two USB 2 devices, such as AIO liquid coolers.
SPEC
Chipset
Intel Z690
CPU socket
Intel LGA1700
Memory support
2 slots: max 64GB DDR5 (up to 6400MHz)
Expansion slots
One 16x PCI-E 5
Sound
8-channel Supreme FX 7.1 Realtek ALC4080
Networking
1 x Intel 2.5Gbps LAN, 802.11ax Wi-Fi
Cooling
Three 4-pin fan headers, VRM heatsinks
Ports
4xSATA6Gbps2xM.2PCI-E 4, 2xUSB3.1Type-A,2x USB 3.1 Type-C/Thunderbolt 4,3xUSB3,2xUSB2.1x USB 3.1 Type-C header, 1 x LAN, 3 x surround audio out
Dimensions (mm)
170 x 170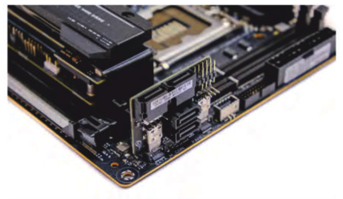 Meanwhile, the 11-phase power circuitry is hidden under two large heatsinks, which are connected via a heatpipe, making for a setup that does a decent job – the VRM temperature didn't top 50°C while the board and our Core i9-12900K test CPU were under full load in our ten-minute stress test.
Move around the back and you'll find seven Type-A USB ports on the rear I/O panel, which is a generous amount
for a mini-ITX motherboard, plus you get two Thunderbolt 4-compatible Type-C ports too. If you don't fancy outputting the Intel UHD Graphics 770 over these ports then there's also an HDMI port. In addition, the rear I/O panel sports three audio minijacks that can be configured as inputs or outputs using software, and Asus has also included a separate optical S/PDIF output.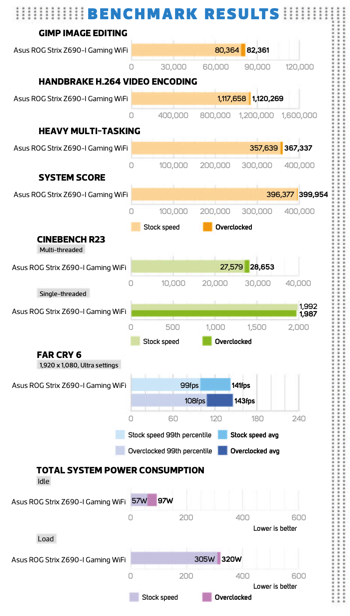 There are USB BIOS FlashBack and clear-CMOS buttons as well, although there are no other significant overclocking and testing tools other than diagnostic LEDs on the PCB. These LEDs can be useful, but they can also often be hidden by the 24-pin ATX cable and are tricky to read, as they're
so small. The board comes with a standard networking setup too, with an Intel 2.5Gbps Ethernet port as well as 802.11ax Wi-Fi.
When it comes to tweaking, Asus' software is usually pretty good for controlling fan speeds and we're glad to see that the GPU has now been added as a temperature source to control fan speed, alongside VRMs and various other hot spots on the PCB.
There are the standard trio of 3-pin fan headers for cooling, but the downside is that Asus has removed the thermal probe header, which was useful for controlling radiator fans in water-cooling systems using the coolant temperature. Asus was the only motherboard manufacturer to include this feature on its mini-ITX boards, making this omission a shame.
Performance
We don't have any comparison numbers for other Z690 boards yet, so our comments here will be limited. However, the Realtek ALC4080-based audio performed excellently, with a dynamic range of 118dBA and noise level of -118dBA. The M.2 performance was up to usual speeds as well, with a read and write speed of 4,959MB/sec and 4,209MB/sec respectively using a Sabrent Rocket PCI-E 4 SSD, which the board's heatsink kept below 60°C in our stress test.
We also managed to use this board to overclock our Core i9-12900K's P-cores to 5.1GHz with a vcore of 1.36V and the E-cores to 3.9GHz across all of them. This resulted in some noticeable gains in our benchmarks, but as this frequency was close to the CPU's all-core boost anyway, only bigger overclocks will likely be worth it.
Conclusion
There's little doubt that the Asus ROG Strix Z690-I Gaming WiFi is a great-performing motherboard. It kept our PCI-E
4 SSD cool with its large heatsinks, the VRMs were kept in check under load, plus it handled our Core i9-12900K with ease. It looks fantastic and has nearly every feature you need to build all kinds of awesome mini-ITX PCs using Intel's fantastic new CPUs.
There are a couple of flies in the ointment, such as the removal of a thermal probe header and some awkwardly placed SATA ports, but as long as the price is right, this board will make a great dinky home for a shiny new Alder Lake CPU.
ANTONY LEATHER
Verdict
Best ASUS ROG STRIX Z690 I GAMING WIFI prices ?
MORE DEALS