Turn on the bright lights
Ok, ok, we get it – RGB lighting is important to a certain sector of the market. But when Gigabyte's boldest claim about this product is that it has the most advanced lighting controls in the world, we have to wonder where else we're going to see something a little more innovative than shiny lights.
Over 30% of the information about this product focused on the ability to attach RGB light strips (most boards support this), change their flashing/pulsing mode (most boards support this) and software support to fully customize each lighting zone. Snooze much? Thankfully the rest of the board is a little more exciting. Based on the more affordable B350 chipset means Ggiabyte has been able to keep the price down, yet there's still a few little goodies that we appreciate. There's only one fullsized PCIe lane that can handle x16 or x8 speeds, with the other two limited to x4, limiting this to CrossFire only. There are only two PCIe x1 slots.
Six fan headers can handle either PWM or Voltage fans automatically, and two of these can even take care of 24W water pumps. Gigabyte's Smart Fan 5 software allows for custom fan curves.
the affordable B350 chipset means Gigabyte has been able to keep the price down
It's not the easiest to use but it does integrate with onboard motherboard sensors to allow cooling of specific hot-spots.
Unlike the ASRock board, Gigabyte has gone for the far superior ALC1220 audio codec.
The headphone amp can also automatically detect the impedance required by your gaming cans. There's also a single M.2 connector, running at full PCIe 3.0 x4 speed. Six SATA 3 6Gbps connections is rather good for this price point, identical to the ASRock, but using the M.2 slot will knock out some of these.
The USB configuration is pretty standard, but Gigabyte employs a technology called Voltage compensation. Basically this boosts the USB voltage based on cord length, which is becoming increasingly important with VR kits. We've encountered several PCs that simply wouldn't play with devices with long USB cords, such as the Oculus Rift sensors.
It also includes USB 3.1 Gen 2, for the full 10Gb/sec, whereas the cheaper boards in this roundup stick with USB 3.0.
The BIOS was also one of the best of the bunch, not surprising given how closely Gigabyte works with some of the world's best overclockers. Having said that, we did encounter memory issues with this board, but the easy layout of the BIOS meant it didn't take too long to figure out where the memory timing settings were, unlike the bizarre location of the ASRock's memory timing. The final nice touch is Gigabyte's G-connector; rather than plug your reset, power and HD led cables into tiny pins, they connect to a large plug, which then plugs into the board.
We're hard pressed to pick between this and the Asus board, though the superior audio of the Asus and lack of memory issues means we're going to have to give the nod to Asus in this case.
BENNETT RING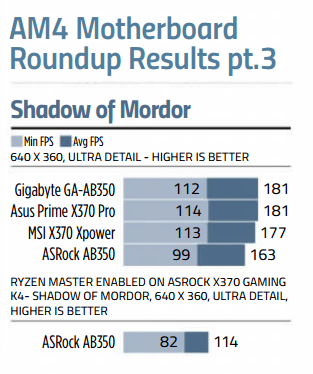 Editor choice
Gigabyte GA-AB350-Gaming 3
It's a very close call between this and the Asus board, but ultimately we're going to have to give the thumbs up to Asus for its ease of setup and better audio quality.
PROS
Quality audio
Crazy lighting
USB voltage boosting
CONS
Memory issues
Overall lags behind the Asus
Add your review
|
Read reviews and comments