Outstanding value for money
This board is the perfect example of what an incredible value proposition Ryzen can be. Chuck this together with a R7 1700, overclock it to R7 1800X levels, and you've got a platform that will outperform an Intelbased system that will set you back. AMD has always been known for outstanding value, but this is an entirely new realm of price versus performance.
ASRock has used the mid-range B350 chipset in this board, so there are obviously fewer features than the higher end X370 models, yet not dramatically so. In terms of basic PCIe physical lanes, we have the main full-length lane for your graphics card, which is steel-reinforced. However, surprisingly there's also a second full-length lane, but this only runs at x4 speed, so there'll be no SLI support.
AMD has always been known for outstanding value, but this is an entirely new realm of price versus performance
Another four single-length PCIe 2.0 lanes are included on the board for your smaller peripherals.
Compared to many boards, the number of graphics outputs on the board is a pleasant inclusion. There's HDMI, DVI-D and D-sub; most expensive boards have just a single output. As well as the four SATA 3 6Gbps connectors, ASRock has added an ASMedia chip to deliver two more. There are even twin M.2 sockets, though only one supports the fastest speed of PCIe 3.0 x4, while the second is limited to SATA 3 6Gbps M.2 drives. Due to the lack of PCIe lanes on this chipset, you'll need to check carefully which ports are disabled when others are in use. For example, using the first M.2 socket knocks out the fourth PCIe x1 lane.
There's a healthy range of USB ports on the rear I/O panel, with eight in total. Three are ye olde USB 2.0, while the other five are USB 3.0, one of which is Type C. Unfortunately there's no sign of USB 3.1 though. Three more USB ports are supported provided you use USB headers.
Audio support is rather rudimentary, using the older ALC892 audio codec, which is vastly inferior to the newish ALC1220 seen on more expensive boards. ASRock has spiced this up a little with some very basic additions, but it's nothing like the on-board solutions found in the higher price ranges. The BIOS isn't anything to write home about, and it took a chat with ASRock before we could get the memory to run at 2666MHz; enabling the 'XMP' mode actually lowered the overall memory bandwidth! Fan support is also very basic, with a mere four fan headers. Ethernet is taken care of courtesy of a Realtek Ethernet port, while the old-fashioned PS/2 mouse and keyboard ports are rather quaint. Despite this being a very basic board, it's hard to ignore that ridiculously low price point.
Considering it will support AMD processors up to the year 2020, which is the lifespan AMD expects for AM4, this is a bargainbasement priced way to upgrade to the new Ryzen platform.
BENNETT RING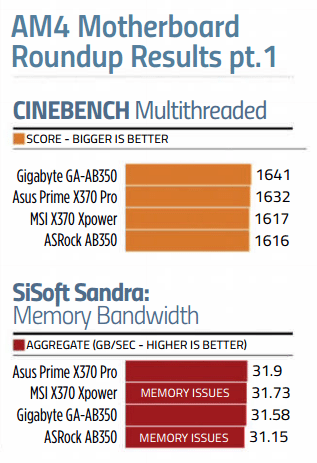 Verdict
It doesn't get much cheaper than this, yet ASRock has ticked all of the major boxes that it needed to. The perfect entry-level board
PROS
Incredible value
No loss in performance
Decent BIOS
CONS
Very basic audio solution
Lack of fan headers
Add your review