We love Gigabyte Aorus AX370 – Gaming 5 in our recent reviews, and the AM4 equivalent, the Aorus AX370-Gaming 5 looks every bit as good. Making the move from Intel to AMD, Gigabyte has included most of the features from its premium range of Intel boards. You get RGB lighting in the DIMM slots, a clean white I/O panel shroud, steel-plated DIMM and PCI-E slots, plus some additional lighting on the PCB.
There's a generous count of eight fan headers, one of which is dedicated to controlling pumps, and Gigabyte has really upped its game in the fan control stakes too, now offering more features than Asus in both its EFI and Windows software. The board also includes a dual BIOS function, plus all the overclocking and testing tools you could need, such as buttons for clear-CMOS, power and reset buttons, as well as a POST code reader.
There are two RGB LED headers, including one that supports RGBW LED strips
In addition to the on-board RGB lighting and glowing DIMM slots, there are also two RGB LED headers, including one that supports RGBW LED strips, which offer a more effective white light than usual RGB strips.
What's more, Gigabyte has recently announced that its RGB lighting software is compatible with Corsair's new Vengeance RGB memory.
Gigabyte is clearly looking forwards in some areas, but it's strange to still see U.2 and SATA Express here given the dominance of M.2 and PCI-E SSDs, with U.2 and SATA Express already looking redundant. You get eight SATA 6Gbps ports too, but the M.2 port would be better positioned in a different location. It sits below the primary PCI-E slot, so your graphics card will always be blocking it. The AX370-Gaming 5 also includes front and rear ALC1220 audio, smart headphone amps and Creative Sound Blaster X-Fi MB5 software too, which adds features such as Crystalizer and EAX.
The AX370-Gaming 5 is also the only board on test to sport dual LAN ports, although only one is Intel-controlled.
The board also sports two USB 3 headers plus true USB 3.1 Gen 2 Type-AandType-Cports.For cooling support, you'll need to invest in an AM4-compatible heatsink or an all-in-one liquid cooler, though, as the AX370-Gaming 5 lacks the backwards AM3 cooler compatibility of the Asus Crosshair VI Hero.
In terms of performance, the AX370- Gaming 5 was a little slow at stock speed, with a system score of 157,552 compared to a lofty 169,001 for the Crosshair VI Hero. However, the speeds evened out once we'd tweaked the EFI to provide a 1.425V vcore and overclocked our Ryzen 7 1700 to 4.025GHz.
This frequency is a little lower than the Asus Crosshair VI Hero managed, but the new system score of 182,850 was only a tiny bit slower than the Asus board. The audio was the second best on test too.
Even better, the AX370-Gaming 5 was much more forgiving than the Crosshair when overclocking, and it instantly fired up our memory at the right speed, while booting up faster than the Crosshair between tweaking sessions too.
Conclusion Asus will no doubt fix the Crosshair with a new EFI soon, but Gigabyte's AM4 boards have proved to be more than ready to hit the shelves from the outset, with none of the teething issues we've seen from other boards.
The AX370-Gaming 5 also looks great and is bristling with features, while offering excellent fan speed control and costing less than the Asus Crosshair.
The Asus Prime X370-Pro gets you entry to the X370 chipset club for around less money and packs a decent feature set, but the AX370-Gaming 5 does better it in a number of areas, justifying the extra outlay.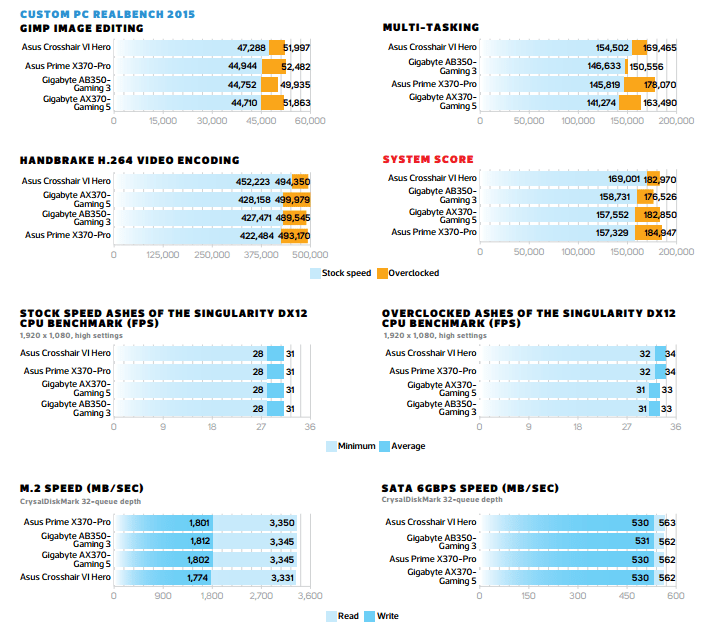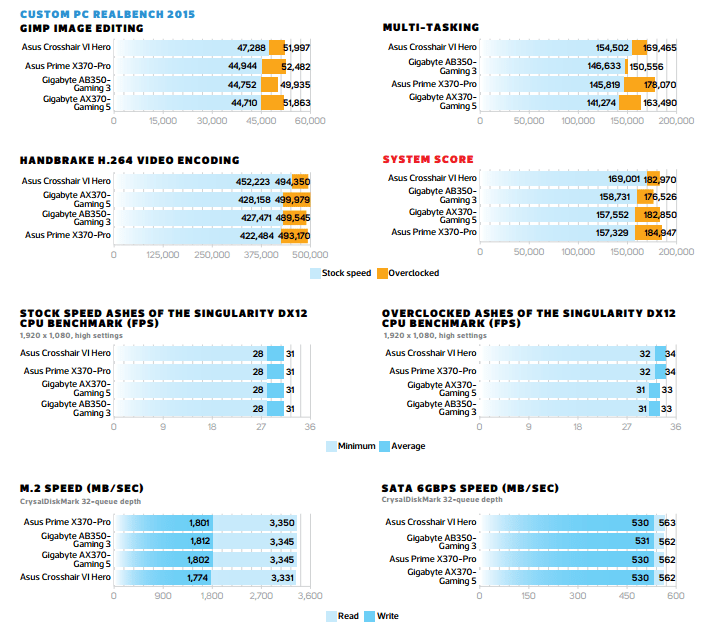 Editor choice
Gigabyte Aorus AX370 - Gaming 5 Review
Supremely stable and bristling with features – a great X370 board.
Add your review