The Aorus X399 Gaming 7 is perhaps the best point of entry to Ryzen Threadripper ownership out of the three boards we tested for this roundup, based on the price point compared to featureset and user experience. Having said that, it's a very tight race and we can see end-users being happy with any of the three.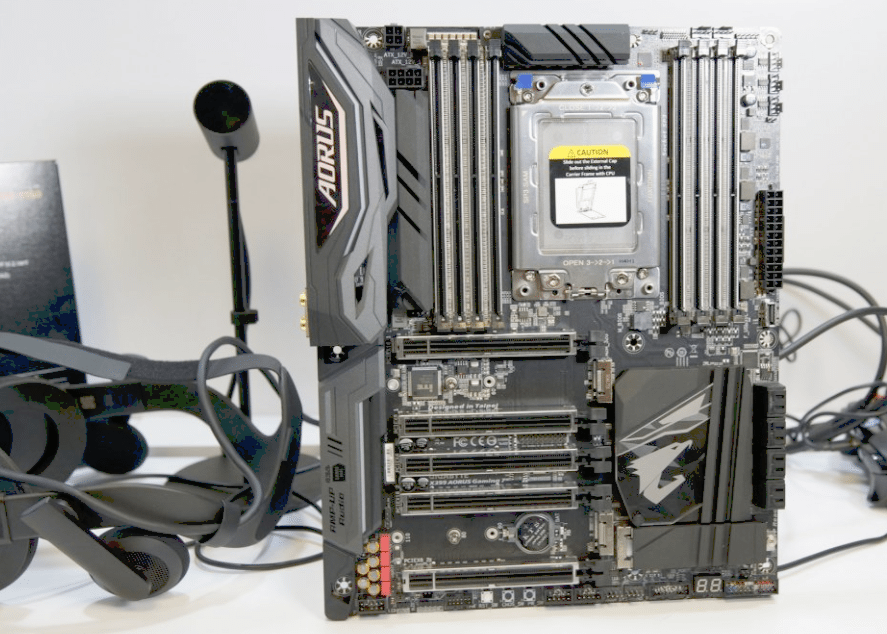 The Gaming 7 presents well with a sleek muted colour palette, accented by metallic highlights in both the VRM heatsinks and the expansion slot reinforcements. This contrast of matte surfaces and metallic lustre leads to a visually appealing and pleasant aesthetic.
Furthermore, if lighting bling is your thing, the Gaming 7 comes packed to the brim with RGB LED integration across the DIMM slots, PCIe slots, PCH heatsink, audio component cover and rear I/O shield — essentially everywhere you could hope to experience millions of colours.
Like its Aorus cousins, the primary network connection — the sole Ethernet port — is driven by a Killer E2500. While we prefer the Intel I211-AT found on competitor offerings, we didn't experience any show­stopping issues with the Killer E2500. Wireless connectivity is delivered by a 2T2R Intel Dual Band Wireless-AC 8265 wireless NIC connected via M.2 and integrated into the motherboard's rear I/O panel. This isn't a new 802.11ac solution and has been seen previously on models from a range of motherboard vendors, but it is a proven capable wireless- AC solution that gets the job done and with minimal fuss.
System I/O is plentiful, featuring a plethora of USB connectivity both on the rear I/O panel and via internal headers for front panel options, sporting both Type-A and Type-C connectors. Storage options are maxed out by support for three M.2 drives, with two slots for 22110 spec NVMe SSDs and one slot for 2280 spec, and support for RAID 0, 1 and 10 options. This is backed by eight SATA 6Gbps ports, rounding out strong storage support.
Interestingly, Gigabyte continues to be the sole proprietor of motherboards with RGBW connectivity, with the Aorus X399 Gaming 7 supporting two such connections for RGBW LED ribbons.
Audio is driven by the Realtek ALC1220 codec, a component we've seen an abundance of throughout motherboard launches in 2017. However, it's the extra supporting components, such as the WIMA FKP2 and Nichicon Fine Gold capacitors, along with additional supporting driver software that assist in lifting the Realtek ALC1220 from being 'just another onboard audio codec'.
In the overall rankings of the APC Labs test results, the Aorus offering brought up the tail, but with a spread of only three points in the podium grand totals (from 21 to 24), the range of difference is slim to say the least. Yet, it is worth noting that the Gaming 7 was particularly proficient at the HWBot X265 4K benchmark, but traded blows with both the ASUS and MSI offerings throughout the suite.
Don't be put off by the fact this motherboard ranked third overall in our test results, as there's only a slim difference and, for the price, the performance and features delivered here are still exceptional.
Josh Collins
Verdict
Gigabyte Aorus X399 Gaming 7 Review
Well featured at a strong price point, the Aorus is a greater pairing for either the 1920X or 1950X.
Add your review
Best Gigabyte Aorus X399 Gaming 7 prices ?
MORE DEALS