MSI X299 SLI Plus – Recommended 4/5
VERDICT
The X299 SLI Plus proves you don't need to spend a fortune to get a brilliant Skylake-X motherboard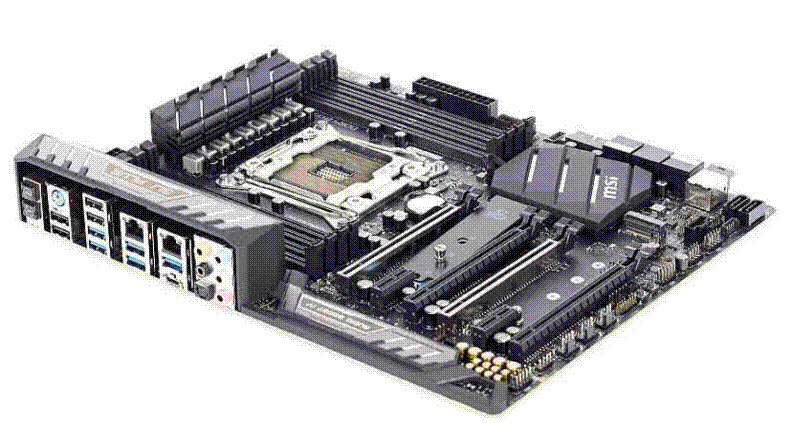 LGA2066 MOTHERBOARD
THERE'S CURRENTLY NO such thing as a 'budget' Intel X299 motherboard, but the MSI X299 SLI Plus is probably the closest thing yet. At it's cheaper than the Asus ROG Strix X299-E Gaming, which was already a relatively cheap way to get going with Intel's latest enthusiast platform, which includes the Skylake-X and Kaby Lake-X CPU families.
There are signs of the X299 SLI Plus's cash-saving nature as soon as you open the box. Instead of the treasure trove of accessories we're used to seeing included with X99 and X299 boards, there are just a couple of SATA cables, the I/O shield and an SLI bridge (despite the name, both Nvidia's SLI and AMD's CrossFire systems are supported).
Whereas the ROG Strix X299-E Gaming banked on PCI-E x4, MSI has opted for four PCI-E x16 slots and two smaller PCI-E x1 slots, along with the X299 trademark of eight RAM slots, allowing for quad-channel DDR4 memory running at up to 4,133MHz. Make do with dual channel, and this increases to 4,500MHz.
THE HEAT IS OFF
A single U.2 port accompanies the dual M.2 ports, which can run two NVMe SSDs in RAID mode. One of the latter is covered with a little removable heatsink, and taking this off is less of a pain than it is with the ROG Strix X299-E's oversized equivalent. Speaking of cooling, the X299 SLI Plus's six fan headers are just about enough for a respectable watercooling setup, or if you want to stuff your case full of fans.
As for external connectivity, the X299 SLI Plus also beats the Asus board on ports, although it does rely a bit more on the slower USB2 platform, and lacks any built-in Wi-Fi or Bluetooth capability. It's the sheer number that enables it to succeed: four USB2 ports, four USB3 ports, one USB3.1 port and a USB Type-C port, with added Flashback and CMOS reset buttons for easier control over the BIOS. That's not to mention the full suite of audio outputs, including optical S/PDIF and C/SUB, and the dual Gigabit Ethernet ports.
To test performance, we installed an Intel Core i7-7740X CPU and 8GB of RAM. This configuration scored 144 in our 4K benchmark's image test, 149 in the video test, 163 in the multitasking test and 155 overall. This final score is four points behind that of
The hardware-monitoring tools provide an exhaustive overview of how your PC is running
the ROG Strix X299-E Gaming, but you'd struggle to see a difference in everyday use.
It's also about as stable as the Asus for overclocking, as the highest stable clock we got out of the Core i7-7740X with the MSI board was 5.2GHz – the same as on the ROG Strix X299-E Gaming. Rerunning our benchmark software, the overall score of 173 was, once again, only four points behind, so that price difference won't buy you much in the way of extra horsepower.
REACH FOR THE SKYLAKE
We should note that the Core i7-7740X is a Kaby Lake-X chip; to get the best out of any current X299 motherboard, you should really get a more upmarket Skylake-X. These provide additional PCI-E lanes, which effectively unlock the most high-end features; for example, two of the X299 SLI Plus's PCI-E x16 slots can run two GPUs in SLI or CrossFire mode at full x16 speeds, but only if you're using a Skylake-X chip with 40 lanes. With a 28-lane CPU, one will run at x16 with the other at x8, and with a 16-lane Kaby Lake-X, you'll only get both slots running at x8 speeds.
We've raved about MSI's BIOS design quite a few times before, and nothing's changed on the X299 SLI Plus. Drop into Advanced mode and you're met with that same bold, easy-to- navigate grid menu, opening up access to every CPU and memory overclocking tool you could possibly want, as well as customisable profiles (for if, say, you want to quickly swap between a gentle overclock and a bigger, more demanding boost). The hardware­ monitoring tools also provide an exhaustive overview of how your PC is running.
The only issue we came across was back in the newbie-oriented EZ Mode. This includes OC Genie 4, which is supposed to detect your CPU and instantly apply a suitable overclock, without the usual fiddling with voltages and core ratios. However, when we attempted this, it failed, the error message blaming the lack of a K-series processor.
It was correct, of course, as we were using the Core i7-7740X, but then there aren't any K-series CPUs that would even fit the motherboard's LGA 2066 socket. To be fair, anyone buying a motherboard like this will almost definitely want to do any overclocking themselves, but it's curious that a seemingly incompatible BIOS feature was just left in.
PLUS POINTS
This weirdness aside, the X299 SLI Plus met and exceeded our expectations as a cheap and cheerful X299 motherboard. Even setting aside its competitive performance and wealth of physical connections, it's been put together in such a way that makes it seem more expensive; from the steel reinforcement around the PCI-E x16 slots to the handy LED readout for error codes, it's certainly not lacking for desirable features. Just make sure you give it the Skylake-X chip it deserves.
James Archer
PROCESSOR SOCKET LGA2066 • DIMENSIONS 244x305mm • CHIPSET Intel X299 • MEMORY SLOTS 8 • PCI-Ex16 SLOTS 4 • PCI-Ex1 SLOTS 2 • PCI SLOTS 0 • USB PORTS 4x USB2,4x USB3,1x USB3.1,1x USB Type-C • VIDEOOUTPUTS None • WARRANTY One year RTB