Format Factory Review – Is converting one file type to another becoming a bit of a pain? A solution is at hand
Although this digital age has brought us many wonders, such as realistic graphics, high definition, lossless audio and the ability to view our pictures on the go, it's also caused us no end of headaches, especially when it comes to file formats.
How many times have you emailed or handed over a file to a friend that won't open on their computer or mobile device? How many times have you tried to open a file that works perfectly fine on your PC but refuses to be recognised on your tablet?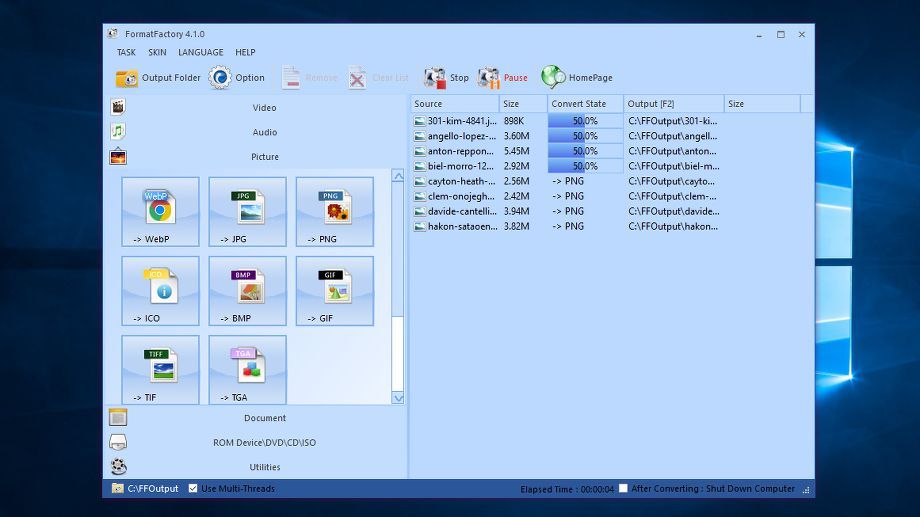 It's a bit of a pain, and thanks to the hundreds of different picture, video and audio file formats already available, we now have to make sure that the file we want to transfer is compatible with multiple systems and platforms.
Format Factory Review: FileFactory
We recently came across FileFactory, a little-known program that can convert audio, video and picture files from one file format to another in a matter of seconds. In addition to the standard conversions, you can also convert DVDs to a range of video files, music CDs to audio files, DVD or CD to .iso or .cso and .iso to CSO and vice versa.
You can join videos of different formats and save them as a single, different format. The same with audio, and you can mix audio and video together and batch rename all media files within a folder.
Of course, there's also a special set of options for mobile devices, which include the default media file types as well as specific Android, iOS, Sony PSP and PS3, Microsoft and Nokia settings that can be tweaked and saved as profiles.
Installation of FileFactory is simple enough and can be found at goo.gl/vv5adR. All you need to do is follow the on-screen prompt, make sure to untick the option for the Ask bar and decline the extra installation of the Speed My PC Up software (or whatever it's called). Indeed, sadly, there is crapware with this particular program.
Once installed, just execute it, choose the file type you want to end up with and point the Explorer browser to the files you want converting.
– FormatFactory is fantastic at converting media files from one type to another
– You can rip music, DVD and convert without loss of quality
Format Factory Review: Features At A Glance
Free
All to MP4/3GP/MPG/AVI/WMV/ FLV/SWF.
All to MP3/WMA/AMR/OGG/ AAC/WAV.
All to JPG/BMP/PNG/TIF/ICO/ GIF/TGA.
Rip DVD to video file, rip Music CD to audio file.
MP4 files support iPod/iPhone/ PSP/BlackBerry format.
Supports RMVB, watermark, AV mux.
Your choices will be added to the list in the main screen, and all you have to do then is click on the 'Start' button from the top bar menu, and away you go.
Format Factory Review: Conclusion
Aside from the Ask bar and the extra Speed My PC software, FileFactory is one of the best all-round conversion tools we've used in a long while. It's quick, can convert more file types that we can possibly mention here and can do all sorts of things with media files for mobile platforms. What's more, the conversion process doesn't drastically alter the quality of the picture, audio or video files, so those high-resolutions images you took will still retain their quality even after being converted to some obscure file format for your relative with the bizarre operating system.
All in all, it's a really handy tool and one that's likely to remain installed on our work PC for some time to come.
Format Factory review
There's no need to download multiple programs to convert files, or rely on slow online tools. Format Factory is powerful, customizable, and completely free.
PROS
Quick batch file conversion
Disc-ripping tools for CDs, DVDs and Blu-rays
File mixing and joining utilities
CONS
Installer includes potentially unwanted programs (though these can be deselected)
Add your review
|
Read reviews and comments